The Debut Dish, a Debut Author Challenge feature, is where you go for the scoop on some pretty awesome debut authors and their new books! Hopefully these interviews will inspire you to add many, many more books to your to-read list. Because, really, who doesn't need more books in their lives?
---
Sing Sweet Nightingale by Erica Cameron
March 4, 2014 from Spencer Hill Press
Add to Goodreads | Author Website
Mariella Teagen hasn't spoken a word in four years.

She pledged her voice to Orane, the man she loves—someone she only sees in her dreams. Each night, she escapes to Paradise, the world Orane created for her, and she sings for him. Mariella never believed she could stay in Paradise longer than a night, but two weeks before her eighteenth birthday, Orane hints that she may be able to stay forever.

Hudson Vincent made a pledge to never fight again.

Calease, the creature who created his dream world, swore that giving up violence would protect Hudson. But when his vow caused the death of his little brother, Hudson turned his grief on Calease and destroyed the dream world. The battle left him with new abilities and disturbing visions of a silent girl in grave danger—Mariella.

Now, Hudson is fighting to save Mariella's life while she fights to give it away. And he must find a way to show her Orane's true intentions before she is lost to Paradise forever.
Describe your book in five words or less.

Dreams, silence, promises, lies, and strength.
Why should readers pick up your book?
One of the things I love about The Dream War world is that it take a lot of things that are usually ordinary and makes them special. Talents people have, dreams, jewelry, all of it takes on special significance in the series. Also, I got to play around with the metaphysical properties of gemstones and crystals, something I grew up knowing about, but a subject most people aren't aware exists. It was a lot of fun and makes for some cool scenes!
What's the best thing about being a debut author?
Well, I can only guess on this one since I don't really have anything to compare it to yet, but probably the freshness of everything. I get to do a bunch of things–meeting bloggers, watching readers discover my book, go through the editing process, see my cover–for the FIRST time. That won't ever happen again with any other book I write. It will all still be awesome, but it won't ever happen again with this level of awe.
What's your favorite movie theater candy?
Snowcaps! And popcorn. Preferably together. I have a thing for salty and sweet in the same bite.
What's the oddest thing on your desk right now?
Coils and coils of jewelry wire. I love making shiny things and tend to drop the wire I'm not using on my desk.
---
The Islands at the End of the World by Austin Aslan
August 5, 2014 from Wendy Lamb Books
Add to Goodreads | Author Website
In this fast-paced survival story set in Hawaii, electronics fail worldwide, the islands become completely isolated, and a strange starscape fills the sky. Leilani and her father embark on a nightmare odyssey from Oahu to their home on the Big Island. Leilani's epilepsy holds a clue to the disaster, if only they can survive as the islands revert to earlier ways.

A powerful story enriched by fascinating elements of Hawaiian ecology, culture, and warfare, this captivating and dramatic debut from Austin Aslan is the first of two novels.
Describe your book in five words or less.

Survival/disaster Sci-fi bonanza. Hawaii!
Why should readers pick up your book?
Because the cover is purdy. Seriously, though: you'll read and love this book because it stars an awesome AWESOME female main character who is full of diversity: half-Hawaiian and epileptic, and who undergoes an amazing, harrowing adventure, not with some dreamy boy toy (fun, sure, but you've all read plenty of that these days) but with her sweet, kinda dorky, well-meaning father in tow. Oh, and: Hawaii!
What's the best thing about being a debut author?
I'm loving the paparazzi following me around everywhere. Can't fill up for gas without someone popping a pic of me with their iPhone. Oh, um, not true. But for reals: I guess it's a boring answer: Living every day with the satisfaction of knowing that I achieved my life's most deeply held dream. I published a book! People like it! Hawaii!
What's your favorite junk food?
I have so many. Do I have to choose? I'm a weird sucker for Doritos and Cheetos. So disappointing, I know. Are Mai Tais junk food? Probably. So, yeah, Mai Tais, too. Hawaii!
What's the oddest thing on your desk right now?
A map of Hawaii! No, seriously, the weirdest thing on my desk right now is a porcelain bobble head of a pig at a desk, Pip, the official mascot of my literary agency, Pippin Properties. It's a very fancy paperweight and I feel honored to have one.
---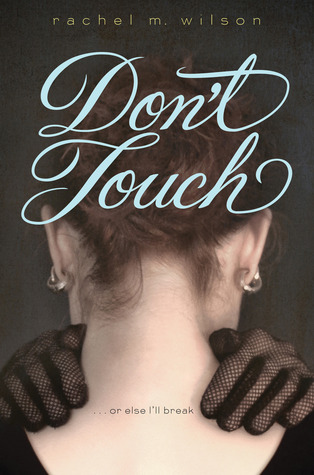 Don't Touch by Rachel M. Wilson
September 2, 2014 from HarperTEEN
Add to Goodreads | Author Website
Step on a crack, break your mother's back. Touch another person's skin, and Dad's gone for good.

Caddie can't stop thinking that if she keeps from touching another person's skin, her parents might get back together… which is why she wears full-length gloves to school and covers every inch of her skin.

It seems harmless at first, but Caddie's obsession soon threatens her ambitions as an actress. She desperately wants to play Ophelia in her school's production of Hamlet. But that would mean touching Peter, who's auditioning for the title role—and kissing him. Part of Caddie would love nothing more than to kiss Peter—but the other part isn't sure she's brave enough to let herself fall.

Perfect for fans of Laurie Halse Anderson, this debut novel from Rachel M. Wilson is a moving story of a talented girl who's fighting an increasingly severe anxiety disorder, and the friends and family who stand by her.
Describe your book in five words or less.

Fear. Touch. Isolation. Friendship. Smooching
Why should readers pick up your book?
Well, for one thing it's highly romantical. There are lots of tense scenes between Caddie and Peter, both on- and offstage as they try to navigate Caddie's fear of touch. At its heart, Don't Touch is a love story. Any lover of theater or Shakespeare will find lots of fun drama, and the Alabama setting is a change of scene from a lot of YA. While I hope this book will be a friend to people who've experience anxiety disorders, we all experience fear at one time or another—fear that can keep us from enjoying the things we love. Anyone can relate to that. Plus, being a friend to someone with severe anxiety can be trying. Though Caddie is the point of view character, this book is for the Mandys and Peters of this world as much as the Caddies.
What's the best thing about being a debut author?
All possibilities are open to me! There's nothing like being shiny and new—I'm like a baby who's never been dropped on my head. People are interested in helping me out and supporting me simply because I'm debuting. All the wonderful things that everyone dreams of for their debut novel could still come to pass.
What's your favorite movie theater candy?
Oh, I was rarely allowed to buy movie theater candy, and I rarely allow myself to do it now. It's so overpriced! BUT, Twizzlers. I still have an affinity for using them as soda straws.
What's the oddest thing on your desk right now?
Definitely a crocheted beer koozy full of batteries. A Texan friend made it for me as a Christmas gift—it even has my initials on it. I do a bit of voice over work, so I use it to protect my handheld recorder and the many batteries it drains.
---
Parallax by Paul Williams
September 4, 2014 from illusio & baquer
Add to Goodreads
Danny Anderson lives in Sulphide, a copper mining town in the outback of Australia. Taking refuge from a gang of bullies who tortures animals, he and his two friends Jennifer and Gustave discover a parallel universe through a cave. In this universe, bullies are eaten by the animals they torture, Animal Police arrest people for the crime of cannibalism (eating meat), and pain inflicted on others is felt by the perpetrators.

But far from being the Eden they first envision, it is a frightening world where justice is harsh. They escape into a series of worlds, but each parallel universe is worse than the previous one, until they discover a perfect utopia, where—it seems—everything they wanted the world to be is true: animal suffering is abolished, humans live in harmony with nature, and justice is done—but not all is as perfect as it appears.
Describe your book in five words or less.
Parallel universes aren't for sissies!
Why should readers pick up your book?
Because if they do, they won't put it down! Seriously though, it will change the way you see the world…
What's the best thing about being a debut author?
Curiosity! I can't wait to see what readers think of my book.
What's your favorite movie theater candy?
Popcorn dripping with butter that lasts the whole movie.
What's the oddest thing on your desk right now?
A rubber cockroach. I keep it on my keyboard when I write. It looks so real, every visitor does a quick shudder dance and an 'eeeiooouh' when they see it.