The Debut Dish, a Debut Author Challenge feature, is where you go for the scoop on some pretty awesome debut authors and their new books! Hopefully these interviews will inspire you to add many, many more books to your to-read list. Because, really, who doesn't need more books in their lives?
---
Upside Down (Off the Map #1) by Lia Riley
August 5, 2014 from Grand Central/Forever
Add to Goodreads | Author Website
Twenty-one-year-old Natalia Stolfi is saying good-bye to the past-and turning her life upside down with a trip to the land down under. For the next six months, she'll act like a carefree exchange student, not a girl sinking under the weight of painful memories. Everything is going according to plan until she meets a brooding surfer with hypnotic green eyes and the troubling ability to see straight through her act.

Bran Lockhart is having the worst year on record. After the girl of his dreams turned into a nightmare, he moved back home to Melbourne to piece his life together. Yet no amount of disappointment could blind him to the pretty California girl who gets past all his defenses. He's never wanted anyone the way he wants Talia. But when Bran gets a stark reminder of why he stopped believing in love, he and Talia must decide if what they have is once in a lifetime . . . or if they were meant to live a world apart.
Describe your book in five words or less:

Offbeat. Witty. Wanderlust. Heart-searching. Chemistry.
Why should readers pick up your book?
Do you like flirty banter, relatable characters, travel and hot guys with accents? Me too! So I started writing books.
What's the best thing about being a debut author?
Besides staring at my cover model? The giddy, terrifying idea that REAL LIVE PEOPLE will read my words. 50% of the time I want to run through a meadow like Maria from The Sound of Music. The other 50% of the time I want to hide in a tree hollow.
What's your favorite movie theater candy?
I smuggle in cola gummies.
What's the oddest thing on your desk right now?
My wisdom teeth.
---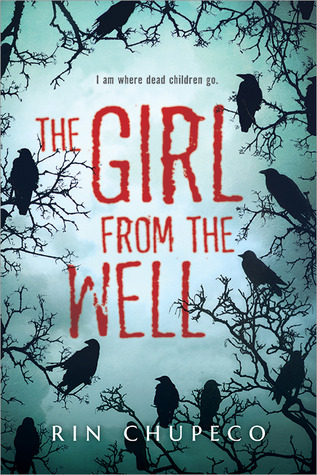 The Girl from the Well by Rin Chupeco
August 5, 2014 from Sourcebooks Fire
Add to Goodreads | Author Website
You may think me biased, being murdered myself. But my state of being has nothing to do with the curiosity toward my own species, if we can be called such. We do not go gentle, as your poet encourages, into that good night.

A dead girl walks the streets.

She hunts murderers. Child killers, much like the man who threw her body down a well three hundred years ago.

And when a strange boy bearing stranger tattoos moves into the neighborhood so, she discovers, does something else. And soon both will be drawn into the world of eerie doll rituals and dark Shinto exorcisms that will take them from American suburbia to the remote valleys and shrines of Aomori, Japan.

Because the boy has a terrifying secret – one that would just kill to get out.

The Girl from the Well is A YA Horror novel pitched as "Dexter" meets "The Grudge", based on a well-loved Japanese ghost story.
Describe your book in five words or less.

Dead girl encounters cursed boy.
Why should readers pick up your book?
I love to experiment, and I'm not above taking risks that other people might not do. I've always had a love for the strange and the wondrously weird, and I think that's always shown in a lot of my writings. I love to subvert tropes and go down the paths less traveled – I like doing things I haven't seen most other writers in my genre do, and individuality and originality (I hope!) has always been something I try to aspire to when it comes to my works. That said, THE GIRL FROM THE WELL turned out to be a very, very unusual experiment – an odd little firstborn changeling I'm rather proud of. If you'd love to read something that's wandered off the beaten path and somehow ended up making friends with the sometimes strange things that live in forests, this might be to your liking!
What's the best thing about being a debut author?
The absolute novelty of being one, mostly. There are so many firsts that's happened in the last year or so – first book announcement, first experiences with agent and publisher contract signing, first revisions, first interview, first cover reveal and, I'm sure, many more firsts to come. There's also that growing realization that one's dreams of becoming a writer is coming true, and with it that lovely feeling of happiness and gratitude for everything and everyone who'd helped me arrive at this point in my life.
What's your favorite movie theater candy?
I have a love-hate relationship with Maltesers candy. I love Maltesers, and hate when it runs out on me, usually a quarter of the way through the movie. (Why are there so few pieces of Maltesers that come with every pack in theaters, anyway? I understand that this might be the company's attempt at restricting binge-eating, but given that they are literally selling addictive chocolate caramel sugar for profit I find this point absolutely moot.) I could buy more packs each time I suppose, but when I go beyond five I always feel the concession lady and the rest of the people in line judging me.
What's the oddest thing on your desk right now?
People might have heard of deconstructed food – generally, food whose ingredients have been taken apart and put back together in some new and unique way, much to the palate's advantage. Well, my husband has a deconstructed desktop computer, the advantage of which I still have trouble seeing. He hates hard computer cases, so the contents of his PC are spilled out on one end of my writing table like a whirring, breathing mass of mechanical intestines, settled on a series of trays in an attempt to appear more organized. You might imagine that would bring up all sorts of problems – dust clogging up the graphic cards and whatnot, for instance – but surprisingly it's lasted the longest out of any gadget we own to date. (The hubby has always been lucky when it comes to technology. On the other hand, I have been known to cause things to malfunction or explode simply by glaring at it.)
---
At Your Service by Jen Malone
August 26, 2014 from Simon & Schuster/ Aladdin M!X
Add to Goodreads | Author Website
Thirteen-year-old Chloe Turner wants nothing more than to follow in Dad's footsteps as a respected concierge in a posh NYC hotel. After all, living at a hotel is heaven, and perks like free concert tickets and all-access passes to boutiques, restaurants, and attractions aren't too shabby either.

When the spoiled brat child of an important guest is only placated by some quick thinking on Chloe's part, Chloe is awarded the role of Junior Concierge. But she might be in over her head when tasked with tending to the every whim of three royal guests: a twelve-year-old princess who can't stand Chloe, a cute fourteen year-old prince(!), and their ten-year-old sister, who has a nasty knack for getting herself lost. After the youngest princess slips Chloe's care, Chloe and the remaining royals must embark on an event-filled hunt for her through NYC's best tourist spots.
Describe your book in five words or less.

Fun-filled adventures of a tween concierge (I always like to cheat a little-hooray for hyphenates!)
Why should readers pick up your book?
AT YOUR SERVICE is all about escape (escape as a plot point and escape for the reader!) It's the sort of fun, happy book I loved- and still love- to read. The kind that, hopefully, leaves you sighing sweetly as you turn the last page. It's also fast-paced and perfect for reluctant readers and, if you have a trip planned to New York City, this will 100% get you in the mood!!
What's the best thing about being a debut author?
The newness of it all and the reaction it evokes in others. Just like people find babies so adorably sweet and innocent, those in the industry tend to smile indulgently at you when you introduce yourself as a debut author. They appreciate that you aren't the least bit jaded and seem to really love bearing witness to a dream coming true.
What's your favorite movie theater candy?
Milk Duds. Geez, easiest question EVER.
What's the oddest thing on your desk right now?
Wow, some days this question could be a real doozy. At the moment it is a charmingly hand-drawn "ticket" for the one-girl show my seven-year-old has planned for this afternoon in our living room. It involves her dancing with a ribbon and is sure to hit Broadway in short order. My presence is not requested, but ordered!