The Debut Dish, a Debut Author Challenge feature, is where you go for the scoop on some pretty awesome debut authors and their new books! Hopefully these interviews will inspire you to add many, many more books to your to-read list. Because, really, who doesn't need more books in their lives?
---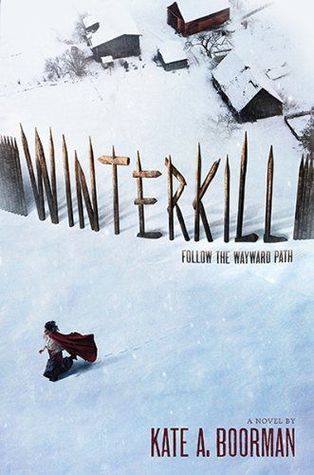 Winterkill by Kate A. Boorman
September 9, 2014 from Abrams/Amulet and Faber & Faber Ltd.
Add to Goodreads | Author Website
Emmeline knows the woods outside her settlement are forbidden. The mysterious enemy that wiped out half her people lurks there, keeping them isolated in an unfamiliar land with merciless winters.

Living with the shame of her grandmother's insubordination, Emmeline has learned to keep her head down and her quick tongue silent. When the settlement leader asks for her hand in marriage, it's a rare opportunity to wash the family stain clean–even if she has eyes for another. But before she is forced into an impossible decision, her dreams urge her out to the woods, where she finds a path she can't help but follow. The trail leads to a secret that someone in the settlement will kill to protect. Her grandmother went down that path and paid the price.

If Emmeline isn't careful, she will be next.
Describe your book in five words or less.
Creepy isolation, forbidden love, dreams.
Why should readers pick up your book?
Because creepy frontier thriller with romance. But seriously, it might very well be the only YA fantasy you read this year that has a pioneer-feel, things that go bump in the night, AND kissing. And starvation and murder AND heart-breakingly beautiful trees. And a physically-vulnerable but strong heroine AND a deadly winter looming. So.
What's the best thing about being a debut author?
They buy you a pony!! Or so I heard. I'm readying my backyard, anyway… Actually I should probably confirm before the hay delivery.
What's your favorite movie theater candy?
Popcorn's not technically candy, so… popcorn. LAYERED with butter.
What's the oddest thing on your desk right now?
An unopened, hand-painted, mini Day of the Dead skull… full of tequila.
---
Spirit's Key by Edith Cohn
September 9, 2014 from Farrar, Straus and Giroux (BYR)
Add to Goodreads | Author Website
By now, twelve-year-old Spirit Holden should have inherited the family gift: the ability to see the future. But when she holds a house key in her hand like her dad does to read its owner's destiny, she can't see anything. Maybe it's because she can't get over the loss of her beloved dog, Sky, who died mysteriously. Sky was Spirit's loyal companion, one of the wild dogs that the local islanders believe possess dangerous spirits. As more dogs start dying and people become sick, too, almost everyone is convinced that these dogs and their spirits are to blame—except for Spirit. Then Sky's ghost appears, and Spirit is shaken. But his help may be the key to unlocking her new power and finding the cause of the mysterious illness before it's too late.
Describe your book in five words or less.

A ghost dog mystery.
Why should readers pick up your book?
Not every book is for every reader. But perhaps if you are an animal lover who wants to imagine your pet could live beyond the grave, then you should experience the magic of Spirit and Sky.
Perhaps also if you like superstitious islands.
Perhaps particularly if you like quirky southern characters.
Perhaps you will be lured by my publisher's pitch: SAVVY meets BECAUSE OF WINN DIXIE.
Perhaps you like classics, if so you may pick up my book because of this fantastic blurb by Newbery Honor winning author Rita Williams-Garcia. "As compelling as it is inventive, Edith Cohn's SPIRIT'S KEY dangles magical charms before the reading mind. Surely a new classic."
What's the best thing about being a debut author?
Getting read by kids. I recently got to sign an advanced copy of SPIRIT'S KEY to a kid reader who won it in a giveaway at the Kids Author Carnival I attended in New York City at the Jefferson Market Library. My first signing to a real live kid! I can't wait for her to read it.
What's your favorite movie theater candy?
Fun Dip. Though only the most special theaters have it now. If you've never seen it, it's a Willy Wonka candy dip stick that comes with three packets of flavored pixy dust sugar. You dip the stick in the sugar and make your face light up with joy.
What's the oddest thing on your desk right now?
A sewing machine. When I'm not writing, I sew dog collars for fancy pups.
---
Crown of Ice by Vicki L. Weavil
September 9, 2014 from Month9Books
Add to Goodreads | Author Website
Thyra Winther's seventeen, the Snow Queen, and immortal, but if she can't reassemble a shattered enchanted mirror by her eighteenth birthday she's doomed to spend eternity as a wraith.

Armed with magic granted by a ruthless wizard, Thyra schemes to survive with her mind and body intact. Unencumbered by kindness, she kidnaps local boy Kai Thorsen, whose mathematical skills rival her own. Two logical minds, Thyra calculates, are better than one. With time rapidly melting away she needs all the help she can steal.

A cruel lie ensnares Kai in her plan, but three missing mirror shards and Kai's childhood friend, Gerda, present more formidable obstacles. Thyra's willing to do anything – venture into uncharted lands, outwit sorcerers, or battle enchanted beasts — to reconstruct the mirror, yet her most dangerous adversary lies within her breast. Touched by the warmth of a wolf pup's devotion and the fire of a young man's desire, the thawing of Thyra's frozen heart could be her ultimate undoing.

CROWN OF ICE is a YA Fantasy that reinvents Hans Christian Andersen's "The Snow Queen" from the perspective of a young woman who discovers that the greatest threat to her survival may be her own humanity.
Describe your book in five words or less.

Dark YA SNOW QUEEN retelling.
Why should readers pick up your book?
H. C. Andersen's classic fairytale is retold from the POV of a seventeen-year-old, mathematically gifted Snow Queen, who must reconstruct a shattered enchanted mirror or spend eternity as a wraith. Set in a magical version of nineteenth-century Scandinavia, Crown features a shimmering kingdom of snow, a loyal wolf pup, a talking reindeer, dueling sorcerers, various enchantments, and a love that just might melt a frozen heart.
What's the best thing about being a debut author?
Being able to share my book with readers.
What's your favorite movie theater candy?
Nonpareils.
What's the oddest thing on your desk right now?
A slinky.
---
Sway by Kat Spears
September 16, 2014 from St. Martin's Griffin
Add to Goodreads | Author Twitter
High school senior Jesse Alderman, or Sway as he's known, could sell hell to a bishop.  He also specializes in getting things people want—term papers, a date with the prom queen, fake IDs.  It's all business with Jesse.  He has few close friends and he never lets emotions get in the way.

But when Ken, captain of the football team, leading candidate for homecoming king, and all around jerk, hires Jesse to help him win the heart of the angelic Bridget Smalley, Jesse finds himself feeling all sorts of things.  While following Bridget and learning the intimate details of her life, he falls helplessly in love for the very first time. He also finds himself in an accidental friendship with Bridget's younger brother who's belligerent and self-pitying after spending a lifetime dealing with cerebral palsy.  Suddenly Jesse is visiting old folks at a nursing home in order to run into Bridget, and offering his time to help the less fortunate, all the while developing a bond with this young man who idolizes him.  The tinman really does have a heart after all.
Describe your book in five words or less.

An antihero comedy.
Why should readers pick up your book?
SWAY delivers an unexpected story with a protagonist who is at once a horrible person, and the coolest guy you could ever meet. Sometimes I still have trouble liking Jesse when I read SWAY, but I will always love him. Jesse can be counted on to say what the rest of us are too polite to say. The humor is not for the faint of heart. In fact, I'm sure my mother hates most of the humor. But it's like my editor said, "If you are afraid to let your mother read it, then we've done a good job," or something to that effect though, I'm sure, much more eloquently stated.
What's the best thing about being a debut author?
For me, the best part about being a debut author is working with a real editor for the first time. You always read about it in author acknowledgments but I really had no concept of how hard I would be pushed by my editor to do my absolute best work. I'm sure the experience is very similar for people who pursue an MFA in creative writing or who take creative writing classes at the university level, but this was a first for me. My editor had a real vision for SWAY–she understood from the beginning what I was trying to accomplish with my characters and my story line and just made it so much better than I ever could have imagined.
What's your favorite movie theater candy?
Twizzlers. They're fat free so, you know, health food.
What's the oddest thing on your desk right now?
I have a little bottle of foot spray. It is supposed to make your feel better if you've had to stand for long periods of time. My job often involves lots of standing and walking, sometimes I don't get to sit down at all during the day. I've never actually used the spray since I would feel a little weird pulling off my shoes and socks in my office and spraying my feet. But there it is, right next to my jar of peanut butter for afternoon snacks. There might be something weirder under the heaps of paper and binders, etc. but finding out would involve desk cleaning which I only do twice a year.