The Debut Dish, a Debut Author Challenge feature, is where you go for the scoop on some pretty awesome debut authors and their new books! Hopefully these interviews will inspire you to add many, many more books to your to-read list. Because, really, who doesn't need more books in their lives?
---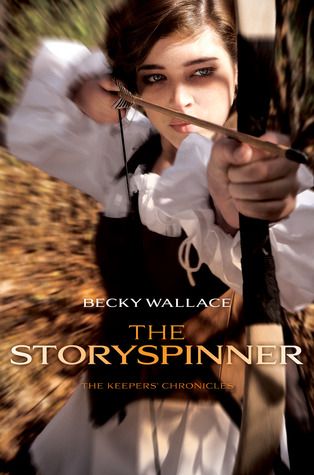 The Storyspinner by Becky Wallace
March 3, 2015 from Simon & Schuster
Add to Goodreads | Author Website
Drama and danger abound in this fantasy realm where dukes play a game for the throne, magical warriors race to find the missing heir, and romance blossoms where it is least expected.

In a world where dukes plot their way to the throne, a Performer's life can get tricky. And in Johanna Von Arlo's case, it can be fatal. Expelled from her troupe after her father's death, Johanna is forced to work for the handsome Lord Rafael DeSilva. Too bad they don't get along. But while Johanna's father's death was deemed an accident, the Keepers aren't so sure.

The Keepers, a race of people with magical abilities, are on a quest to find the princess—the same princess who is supposed to be dead and whose throne the dukes are fighting over. But they aren't the only ones looking for her. And in the wake of their search, murdered girls keep turning up—girls who look exactly like the princess, and exactly like Johanna.

With dukes, Keepers, and a killer all after the princess, Johanna finds herself caught up in political machinations for the throne, threats on her life, and an unexpected romance that could change everything.
Describe your book in five words or less.

Secrets, adventure, murder, & romance!
Why should readers pick up your book?
Because it's awesome! ;) Honestly, it has a huge cast of characters and readers are guaranteed to find someone they love/hate/relate to!
What's the best thing about being a debut author?
Seeing all your hard work come to fruition and being surrounded by people who were in the trenches with you!
What's your favorite movie theater candy?
Junior Mints. Frozen, if you please.
What's the oddest thing on your desk right now?
A TV stacked on plastic containers full of old cassette tapes. I wish I was joking. I share an office with my husband and he plopped a flat screen TV in the middle of our desk to use as a monitor, but it was too low so he used the cassettes to make it "ergonomic." I sit behind the monstrosity. The view is not so good, but the back of the TV is a great place to put sticky notes.
---
Dead to Me by Mary McCoy
March 3, 2015 from Disney-Hyperion
Add to Goodreads | Author Website
LA Confidential for the YA audience. This alluring noir YA mystery with a Golden Age Hollywood backdrop will keep you guessing until the last page.

"Don't believe anything they say."

Those were the last words that Annie spoke to Alice before turning her back on their family and vanishing without a trace. Alice spent four years waiting and wondering when the impossibly glamorous sister she idolized would return to her–and what their Hollywood-insider parents had done to drive her away.

When Annie does turn up, the blond, broken stranger lying in a coma has no answers for her. But Alice isn't a kid anymore, and this time she won't let anything stand between her and the truth, no matter how ugly. The search for those who beat Annie and left her for dead leads Alice into a treacherous world of tough-talking private eyes, psychopathic movie stars, and troubled starlets–and onto the trail of a young runaway who is the sole witness to an unspeakable crime. What this girl knows could shut down a criminal syndicate and put Annie's attacker behind bars–if Alice can find her first. And she isn't the only one looking.
Describe your book in five words or less.

LA Confidential meets Veronica Mars.
Why should readers pick up your book?
My favorite kinds of books are ones where crime is perpetrated and/or solved, secrets are buried and/or uncovered, and vengeance is sought and/or justice is won. So I decided to write a book with all of those things in it.
What's the best thing about being a debut author?
Selling and publishing a book is wonderful, but the best part is the feeling you get when you type the last sentence. Knowing that there was a story you wanted to tell, and that you saw it through all the way to the end, and you TOLD it – that's the best thing.
What's your favorite movie theater candy?
M&Ms mixed in with popcorn.
What's the oddest thing on your desk right now?
A book called You Can Escape. It was published in 1929 and is an inspirational how-to manual filled with stories of people who have successfully broken out of prison.
---
Mosquitoland by David Arnold
March 3, 2015 from Viking Children's
Add to Goodreads | Author Website
I am a collection of oddities, a circus of neurons and electrons: my heart is the ringmaster, my soul is the trapeze artist, and the world is my audience. It sounds strange because it is, and it is, because I am strange.

After the sudden collapse of her family, Mim Malone is dragged from her home in northern Ohio to the "wastelands" of Mississippi, where she lives in a medicated milieu with her dad and new stepmom. Before the dust has a chance to settle, she learns her mother is sick back in Cleveland.

So she ditches her new life and hops aboard a northbound Greyhound bus to her real home and her real mother, meeting a quirky cast of fellow travelers along the way. But when her thousand-mile journey takes a few turns she could never see coming, Mim must confront her own demons, redefining her notions of love, loyalty, and what it means to be sane.

Told in an unforgettable, kaleidoscopic voice, Mosquitoland is a modern American odyssey, as hilarious as it is heartbreaking.
Describe your book in five words or less.

Home.
Why should readers pick up your book?
I wrote Mosquitoland during an especially emotional time of my life. My wife was pregnant (surprise!) with our first child, and we decided I would be a stay-at-home dad. This wasn't really part of the plan, and I ended up discovering a few ugly corners of myself I hadn't encountered before. In a lot of ways, writing this book was my response to those corners, and I think the end result is something far more honest than I would have written otherwise. Not really sure if that answers your question. (Sorry!) Let's try again. Any reader looking for a book that wears its heart on its sleeve might enjoy Mosquitoland. How's that?
What's the best thing about being a debut author?
There's this wonderful community of writers publishing debut novels next year, and what's great about it is we all get to share in each other's excitement. I was in music for years, and generally, music people see the industry as a zero sum game. But that's not true of book people. We can celebrate when good things happen to someone else, because they're our friends. Again, I'm speaking generally — there are always exceptions. But I've made some of my very best friends through this process. Specifically, Adam Silvera (MORE HAPPY THAN NOT, Soho, 6.16.15), Becky Albertalli (SIMON VS. THE HOMO SAPIENS AGENDA, Balzer + Bray, 4.7.15), and Jasmine Warga (MY HEART AND OTHER BLACK HOLES, Balzer + Bray, 2.10.15). Additionally, I have the privilege of being friends with Courtney Stevens (FAKING NORMAL, HarperTeen) who is basically a guru at this stuff. I may be publishing a book without those guys, but I certainly wouldn't be having as much fun doing it.
What's your favorite movie theater candy?
Hmm. Not a huge candy guy. I'd probably get popcorn. (That said, dessert-wise, I love tiramisu and coffee ice cream.)
What's the oddest thing on your desk right now?
Uh, I don't have a desk. I'm currently writing this on my mom's kitchen counter. So… a bowl of apples? No, wait. There's this little Santa figurine/candle thingy. It's kinda creeping me out.