The Debut Dish, a Debut Author Challenge feature, is where you go for the scoop on some pretty awesome debut authors and their new books! Hopefully these interviews will inspire you to add many, many more books to your to-read list. Because, really, who doesn't need more books in their lives?
---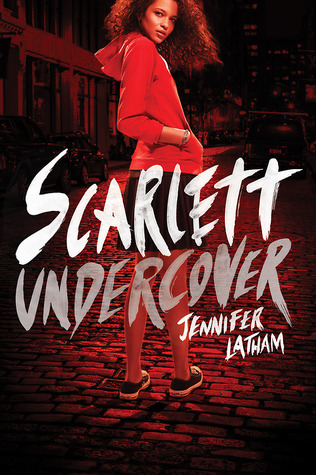 Scarlett Undercover by Jennifer Latham
May 19, 2015 from Little, Brown Books for Young Readers
Add to Goodreads | Author Website
A voice-driven mystery perfect for fans of Veronica Mars.

Meet Scarlett, a smart, sarcastic, kick-butt, Muslim American heroine, ready to take on crime in her hometown of Las Almas. When a new case finds the private eye caught up in a centuries-old battle of evil genies and ancient curses, Scarlett discovers that her own family secrets may have more to do with the situation than she thinks — and that cracking the case could lead to solving her father's murder.

Jennifer Latham delivers a compelling story and a character to remember in this one-of-a-kind debut novel.
Describe your book in five words or less.

Hardboiled girl detective — Muslim twist.
Why should readers pick up your book?
Hopefully because they're on the lookout for a new-school detective story with old-school heart. Or because they like smart main characters, care about diversity, or just want a fun read.
What's the best thing about being a debut author?
The same thing that makes it terrifying: people I don't know are going to read my book.
What's your favorite movie theater candy?
Dots. Twizzlers in a pinch.
What's the oddest thing on your desk right now?
You know, I don't really have one. I work in bed, on the couch, or standing at the counter. There's a shared desk in our kitchen, though, covered in my kids' homework papers and a giant carton of Goldfish crackers and this bolt I found in our driveway…
---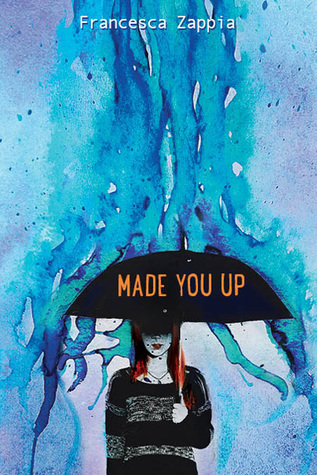 Made You Up by Francesca Zappia
May 19, 2015 from Greenwillow Books
Add to Goodreads | Author Website
Reality, it turns out, is often not what you perceive it to be—sometimes, there really is someone out to get you. Made You Up tells the story of Alex, a high school senior unable to tell the difference between real life and delusion. This is a compelling and provoking literary debut that will appeal to fans of Wes Anderson, Silver Linings Playbook, and Liar.

Alex fights a daily battle to figure out the difference between reality and delusion. Armed with a take-no-prisoners attitude, her camera, a Magic 8-Ball, and her only ally (her little sister), Alex wages a war against her schizophrenia, determined to stay sane long enough to get into college. She's pretty optimistic about her chances until classes begin, and she runs into Miles. Didn't she imagine him? Before she knows it, Alex is making friends, going to parties, falling in love, and experiencing all the usual rites of passage for teenagers. But Alex is used to being crazy. She's not prepared for normal.

Funny, provoking, and ultimately moving, this debut novel featuring the quintessential unreliable narrator will have readers turning the pages and trying to figure out what is real and what is made up.
Describe your book in five words or less.

Schizophrenic girl wants normalcy, please.
Why should readers pick up your book?
Readers should pick up MADE YOU UP if they like contemporaries, or stories about mental illness, or slow-building romances. (Also if they enjoy lobsters, history, or Germans.) Overall it's more lighthearted and hopeful than I think most people expect from mental illness, and I hope that will encourage more people to read.
What's the best thing about being a debut author?
The best thing about being a debut author is getting to see my book as a real thing. It's been on my computer as a Word doc for such a long time, it's very surreal to hold it in my hands, and hear from complete strangers that they read it and that it meant something to them.
What's your favorite movie theater candy?
The kind I bring from home. Okay but really, if I had to pick, probably Junior Mints. All the non-chocolate candy gives me headaches and anything chocolate without mint or peanut butter in it is just a waste of time.
What's the oddest thing on your desk right now?
Maybe it's not the oddest of all the things, but for Christmas one of my best friends gave me a picture frame containing motivational posters with very vulgar Scarface quotes on them. It's my favorite of the odd things, and I keep it right next to my computer so I can see it while I'm writing.
---
Conviction by Kelly Loy Gilbert
May 19, 2015 from Disney-Hyperion
Add to Goodreads | Author Website
Ten years ago, God gave Braden a sign, a promise that his family wouldn't fall apart the way he feared.

But Braden got it wrong: his older brother, Trey, has been estranged from the family for almost as long, and his father, the only parent Braden has ever known, has been accused of murder. The arrest of Braden's father, a well-known Christian radio host, has sparked national media attention. His fate lies in his son's hands; Braden is the key witness in the upcoming trial.

Braden has always measured himself through baseball. He is the star pitcher in his small town of Ornette, and his ninety-four-mile-per-hour pitch al- ready has minor league scouts buzzing in his junior year. Now the rules of the sport that has always been Braden's saving grace are blurred in ways he never realized, and the prospect of playing against Alex Reyes, the nephew of the police officer his father is accused of killing, is haunting his every pitch.

Braden faces an impossible choice, one that will define him for the rest of his life, in this brutally honest debut novel about family, faith, and the ultimate test of conviction.
Describe your book in five words or less.

Impossible, high-stakes moral dilemma.
Why should readers pick up your book?
CONVICTION is the story of seventeen-year-old Braden Raynor, who questions everything he ever held true when his father Mart, a conservative Christian talk show celebrity, is accused of murdering a police officer.
As Mart awaits trial, Braden's estranged older brother returns to their small town to assume custody of Braden, and the brothers navigate a complicated relationship as Braden tries to unearth family secrets.
Braden is a key witness in his father's trial. He's also a heavily-scouted pitcher, and in an upcoming game is going to have to face off against the nephew of the police officer who was killed.
As both the trial and the game approach, Braden faces an impossible choice.
I wrote CONVICTION because I wanted to write a book about people who couldn't face their truest selves, and I wanted to explore the ways people endure their own transgressions.
At its heart CONVICTION is about a moral crisis I think a lot of teens and a lot of people face: what to do when you're forced to choose between the beliefs that have always defined you––and maybe even the people who've always defined you, too.
It's about how to live in a world that turns out not to be as black and white and as simple as you always thought it was, and who you are when nothing is what you always believed.
What's the best thing about being a debut author?
The writing community–such incredible, talented, wonderful people. And, of course, sharing the characters who mean so much to me with the world.
What's your favorite movie theater candy?
Milk Duds, if I had to pick one. But really I could pick about a thousand.
What's the oddest thing on your desk right now?
A Valentine's Day card from my aunt with an otter wearing heart-shaped glasses (it's so cute!).