The Debut Dish, a Debut Author Challenge feature, is where you go for the scoop on some pretty awesome debut authors and their new books! Hopefully these interviews will inspire you to add many, many more books to your to-read list. Because, really, who doesn't need more books in their lives?
---
They Call Me Alexandra Gastone by T.A. Maclagan
May 20, 2015 from Full Fathom Five Digital
Add to Goodreads | Author Website
When your life is a lie, how do you know what's real?

Alexandra Gastone has a simple plan: graduate high school, get into Princeton, work for the CIA, and serve her great nation.

She was told the plan back when her name was Milena Rokva, back before the real Alexandra and her family were killed in a car crash.

Milena was trained to be a sleeper agent by Perun, a clandestine organization from her true homeland of Olissa. There, Milena learned everything she needed to infiltrate the life of CIA analyst Albert Gastone, Alexandra's grandfather, and the ranks of America's top intelligence agency.

For seven years, "Alexandra" has been on standby and life's been good. Grandpa Albert loves her, and her strategically chosen boyfriend, Grant, is amazing.

But things are about to change. Perun no longer needs her at the CIA in five years' time. They need her active now.

Between her cover as a high school girl—juggling a homecoming dance, history reports, and an increasingly suspicious boyfriend—and her mission in this high-stakes spy game, the boundaries of her two lives are beginning to blur.

Will she stay true to the country she barely remembers, or has her loyalty shattered along with her identity?
Describe your book in five words or less.

Spy. Identity Crisis. Twists galore.
Why should readers pick up your book?
If your life's a lie, how do you know what's real?
Is family? Friendship? Love?
Those questions are the essence of They Call Me Alexandra Gastone. Being a teenager is hard enough but what if you were a teen sleeper agent, living a life that was meant for someone else? A life you wouldn't have chosen for yourself?
It's a situation that is open to so many different and intriguing scenarios, many of which are explored in They Call Me Alexandra Gastone. Plus, the book has all the suspense and twists you'd expect from a spy novel.
What's the best thing about being a debut author?
You write the book solo but getting the book out into the wild involves meeting so many awesome new people from my agent, editors and publicist, to other authors, to the readers. I'm really looking forward to the reader stage because they are who I wrote it for! It sounds cheesy, but it's very true.
What's your favorite movie theater candy?
Sour Patch Kids! There's something about the sourness, then the sweet that really floats my boat.
What's the oddest thing on your desk right now?
That would be the two bungee cords I took off my son yesterday. He was trying to hook them onto both my computer chair and his dump truck. I thought this was cute at first, but then I started to worry about an eye injury.
---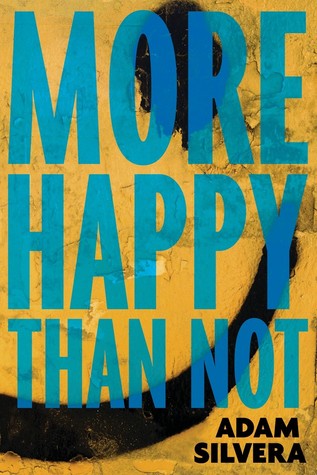 More Happy Than Not by Adam Silvera
June 2, 2015 from Soho Teen
Add to Goodreads | Author Website
The Leteo Institute's revolutionary memory-relief procedure seems too good to be true to Aaron Soto — miracle cure-alls don't tend to pop up in the Bronx projects. But Aaron can't forget how he's grown up poor or how his friends aren't always there for him. Like after his father committed suicide in their one bedroom apartment. Aaron has the support of his patient girlfriend, if not necessarily his distant brother and overworked mother, but it's not enough.

Then Thomas shows up. He has a sweet movie-watching setup on his roof, and he doesn't mind Aaron's obsession with a popular fantasy series. There are nicknames, inside jokes. Most importantly, Thomas doesn't mind talking about Aaron's past. But Aaron's newfound happiness isn't welcome on his block. Since he's can't stay away from Thomas or suddenly stop being gay, Aaron must turn to Leteo to straighten himself out, even if it means forgetting who he is.

Adam Silvera's extraordinary debut novel offers a unique confrontation of race, class and sexuality during one charged near-future summer in the Bronx.
Describe your book in five words or less.

Boy seeks out memory erasure.
Why should readers pick up your book?
More Happy Than Not explores the struggles of sexuality and grief, and what life would look like if a teenager could change being gay to save his own life. I think it shows how sexuality isn't a choice, which is something anti-homosexual heterosexuals don't always understand.
What's the best thing about being a debut author?
Not to be lame or chorus a billion others, but it's a dream come true. And you only get to debut once so I'm happy it's with the book of my heart.
What's your favorite movie theater candy?
Anything sour or gummy, preferably both at once. Though I'm on a Candy Ban right now that will likely last another week or until the next time I go to the movies because eating sunflower seeds was NOT a good movie snack.
What's the oddest thing on your desk right now?
A pack of Oreos and it's odd because I haven't eaten them yet–Oreos don't usually survive this long.