You'd have to be living under a rock if you didn't know that Winter by Marissa Meyer, the conclusion to the best series ever (The Lunar Chronicles), is coming out in less than one week! The question is: Are you ready? If you're not, the lovely people at Macmillan have got you covered! As addicting as this series is, I know you'll fly through all the books in time to join us in reading Winter on November 10th. I assure you, I'll be stalking my mailman that day. I think we all will. So, join us! Enter to win a paperback copy of Cinder (the first book in the series), a Winter button, and some Lunar Chronicles shimmer tattoos (I'm modeling some of them below). And, do yourself a favor… just go pre-order the rest of the series as well (Winter even has an awesome pre-order giveaway going on right now). You'll thank me later.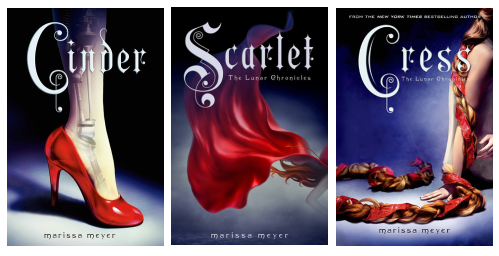 While you're here, check out my reviews of Cinder, Scarlet, Cress, and Fairest (just in case you needed any more coaxing).
Here's what you can win!