The Debut Dish, a Debut Author Challenge feature, is where you go for the scoop on some pretty awesome debut authors and their new books! Hopefully these interviews will inspire you to add many, many more books to your to-read list. Because, really, who doesn't need more books in their lives?
This is the final Debut Dish post of 2015! Make sure you sign up for the 2016 Debut Author Challenge by clicking on the button on my sidebar!
---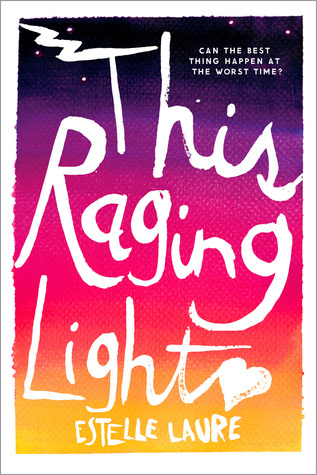 This Raging Light by Estelle Laure
December 22, 2015 from HMH Kids
Add to Goodreads | Author Website
Can the best thing happen at the worst time?

Her dad went crazy. Her mom left town. She has bills to pay and a little sister to look after. Now is not the time for level-headed seventeen-year-old Lucille to fall in love. But love—messy, inconvenient love—is what she's about to experience when she falls for Digby Jones, her best friend's brother. With blazing longing that builds to a fever pitch, Estelle Laure's soulful debut will keep readers hooked and hoping until the very last page.
Describe your book in five words or less.

Everyone's got crazy hidden somewhere.
What is your favorite scene in your book?
I don't have a favorite scene any more than I have a favorite color, but today my favorite is the scene in Philly. My main character Lucille, who has been abandoned by her parents and is taking care of her little sister while trying to go to school, escapes one day with her very taken love interest. The way they get to know each other on that day is special, though they've known each other since they were little. I get a little breathless every time I read it, like I'm falling for those characters all over again. And today, in case you wondered, my favorite color is white because it's snowing!
Where were you when you found out you were being published?
I was at the carwash waiting for my car, four days after we had gone out with the manuscript. My agent called me to tell me there was an offer in. I immediately began dry heaving and nearly passed out. Fortunately there was a tree nearby for me to lean on. Trees are good like that.
What's your favorite junk food?
You know those Petit Ecolier cookies? They're my nemesis. I can eat a whole box before I get to the checkout. Then I have to have a whole apology conversation with the checker for accidentally ripping the scanning label in my haste. But I mean, it a slab of delicious chocolate on TOP of a delicious cookie. What IS that?
What's the oddest thing on your desk right now?
A pool of sweat from the panic attack I'm having trying to think of something interesting. My desk is perfectly clean. Everything else in my house on the other hand….
---
A Carpet of Purple Flowers by Tracey-anne McCartney
October 17, 2015 from Urbane Publications
Add to Goodreads | Author Website
Bea lives a simple life residing in a SW London second-hand bookshop. It'd been an especially difficult year, first with Bea's uncle dying, then splitting up with Brandon, her philandering, druggie boyfriend. The shops trivial daily conversations, local faces and ordinary calm was all she desired but that was all about to change. No-one expects to bump into supernatural beings, let alone two opposing sects of a forgotten race. Bea's quiet existence turns into turmoil as she slowly starts to unravel a secret past, a lost history in which love, revenge, betrayal, magic, power and karma are not mere cycles of a soul, but a sacred journey upon a web of many possibilities. The future is not set in stone, and the choices that Bea makes ripple through the cosmos. As the secret unfolds she realises that no matter what form your soul takes there are consequences for your actions in which time has no relevance we call it karma, they call it Vororbla.

Will she cope with the heartbreak and truths revealed before her? What would you do if your very existence came into question?

Join Bea on her journey as she uncovers the truth of her past via A Carpet of Purple Flowers.
Describe your book in five words or less.

Love, revenge, betrayal, magic, and karma.
Why should readers pick up your book?
A Carpet of Purple Flowers is a different kind of love story. It transports you into a world within a world that you never knew existed. A place where earthly boundaries do not apply, making paranormal events seem perfectly natural.
What's the best thing about being a debut author?
Sharing the story that started in your heart out into the world. There's nothing more magical.
What's your favorite movie?
Can I have more than one? Moulin Rouge, The Departed, Pride and Prejudice 1995, The Life of Pi, Lord of the Rings, The Last Samuri, The Matrix.
What's the oddest thing on your desk right now?
A dogs paw, both of my fur babies keep me company when I write. :o)