I'm here today to talk a little about one of my most anticipated debut novels of 2016, Rebel of the Sands by Alwyn Hamilton! I've been hearing amazing things about the story, and I can't wait to read it and see what all the hype is about! Penguin contacted me and asked if I would like to participate in a fun little campaign they have running in celebration of its release, and it sounded like so much fun that I couldn't possibly say no!
In a world where metal and magic clash with deadly consequences, Amani (our heroine) finds herself becoming a myth in the making, legendary for her sharp-shooting skills. She is known as "more gunpowder than girl". Inspired by Amani's reputation, Penguin asked me to come up with my own blogger reputation post, highlighting skills, behaviors, designs, or habits that I would be famous for in the blogosphere. Immediately, I knew what I would be famous for:
That Artsy Reader Girl is known for holding books captive.
People know me as that girl who can't let a book go once she owns it. I hoard them. I don't have the room and I don't even LOVE everything I own, but I have a really hard time letting a book go once it's mine. I've got books on my shelves that I bought 15 years ago because I thought they were pretty and sounded like something I might want to try. My tastes have changed and I'm not interested in all of them anymore, but I can't get rid of them! I feel like I'm finally starting to get better at letting books go, especially when I can donate them to a good cause or give them homes with my friends. But the separation anxiety is strong in me. I guess it's not the worst thing in the world, but if I die young I know it will be because my piles of books fell on me and smothered me to death! This is getting ridiculous.
What is your reputation in the bookish world? Are you too ruthless with your DNF's? Do you dog ear your book pages? Penguin and I want to know!
Read a little bit about Rebel of the Sands (available for pre-order now!) and see if it sounds like something you'd enjoy putting on your to-read list! And don't forget to enter the giveaway, hosted by Penguin, for a copy of the book, a Penguin tote bag, and a really pretty shimmering sand hourglass!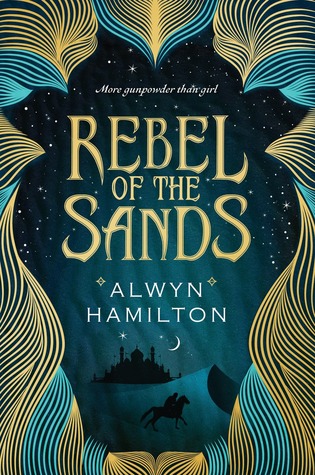 Rebel of the Sands by Alwyn Hamilton
March 8, 2016 from Penguin
Add to Goodreads | Pre-Order
She's more gunpowder than girl—and the fate of the desert lies in her hands.

Mortals rule the desert nation of Miraji, but mystical beasts still roam the wild and barren wastes, and rumor has it that somewhere, djinni still practice their magic. But there's nothing mystical or magical about Dustwalk, the dead-end town that Amani can't wait to escape from.

Destined to wind up "wed or dead," Amani's counting on her sharpshooting skills to get her out of Dustwalk. When she meets Jin, a mysterious and devastatingly handsome foreigner, in a shooting contest, she figures he's the perfect escape route. But in all her years spent dreaming of leaving home, she never imagined she'd gallop away on a mythical horse, fleeing the murderous Sultan's army, with a fugitive who's wanted for treason. And she'd never have predicted she'd fall in love with him…or that he'd help her unlock the powerful truth of who she really is.
---