Welcome to me spot along the HarperTeen Summer 2016 tour, hosted by The Irish Banana Review! I'm day 44 of 50 days of awesome books, so you NEED to run around and check them all out!
---
I'm pretty excited to be spotlighting Wanderlost by Jen Malone today. I love traveling. Actually, I went on a whirlwind trip through Europe just like our heroine, Aubree, does in this book. I had a lot of pretty insane and wonderful experiences. Just some of these include getting a bad case of pneumonia while on a transatlantic cruise from Fort Lauderdale, Florida to Civitavecchia (Rome), Italy; breaking a rib while coughing in Florence; almost being abducted in Venice; being epically pooped on by a pigeon in Delft, The Netherlands; being hit on by a server in Bellagio, who gave me free chocolate on my gelato; making my way uphill both ways through Siena; eating the best nutella crepe ever in Paris; and getting caught in a downpour in Interlaaken, Switzerland. I discovered who I am, how tough I am, and how wonderful this world is. I learned what I'm capable of, how far I can push myself, how much I love art and architecture and culture and pizza, and how special and loved I am. Even though I came home a very sick puppy six weeks after I left, I was a brand new person with more confidence and love in my heart.
This is what traveling can do to a person. At least, this is what traveling does to me. I loved my time in Europe, and I would go back in Europe. There's just something so special about discovering the world while discovering yourself. I wish everyone could have the kind of experience I had, but if all you can do is experience it through a book then Wanderlost is a fantastic option.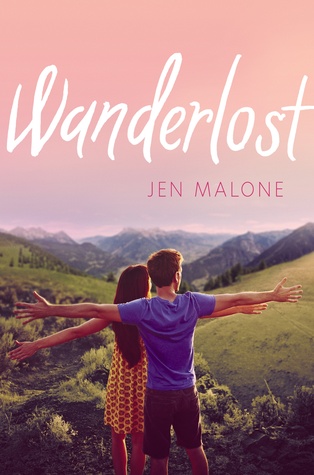 Wanderlost by Jen Malone
Published by HarperTeen
Releasing on May 31, 2016
Add to Goodreads
Amazon | B&N | IndieBound | The Book Depository
Not all those who wander are lost, but Aubree Sadler most definitely is on this novel's whirlwind trip through Europe.

Aubree can't think of a better place to be than in perfectly boring Ohio, and she's ready for a relaxing summer. But when her older sister, Elizabeth, gets into real trouble, Aubree is talked into taking over Elizabeth's summer job, leading a group of senior citizens on a bus tour through Europe.

Aubree doesn't even make it to the first stop in Amsterdam before their perfect plan begins unraveling, leaving her with no phone, no carefully prepared binder full of helpful facts, and an unexpected guest: the tour company owner's son, Sam. Considering she's pretending to be Elizabeth, she absolutely shouldn't fall for him, but she can't help it, especially with the most romantic European cities as the backdrop for their love story.

But her relationship with Sam is threatening to ruin her relationship with her sister, and she feels like she's letting both of them down. Aubree knows this trip may show her who she really is—she just hopes she likes where she ends up.
Make sure you enter to win all the prizes!
#1 – A Harper Teen Summer 2016 Catalog prize pack of 45+ books*. (USA Only)
*Titles not included: The Crown by Kiera Cass, Escape from Asylum by Madeline Roux, Sing by Vivi Greene, & United As One by Pittacus Lore
In addition to the one massive prize winner, we will also have 4 winners who will be able to select 3 titles they want from the Summer 2016 Catalog.
#2 – 5 Finished Copies from the Harper Teen Fall 2015 Catalog. (USA Only)
5 books are: Front Lines by Michael Grant, Revenge & the Wild by Michelle Modesto, The Lifeboat Clique by Kathy Parks, Symptoms of Being Human by Jeff Garvin, & The Girl from Everywhere by Heidi Heilig
How to enter:
Collect the daily word from each blog stop during the Harper Summer 2016 Tour (a total of 50). Once you've collected them all, email the complete saying to: HarperTeenTour@gmail.com
Today's code word is bolded and in all caps at the beginning of this post.
Prize Rules:
1.) Winner must have a valid US mailing address to receive the prize
2.) Winner must be over 13
3.) Only one (1) entry per person for Prize #2 – duplicates will be deleted.
4.) Only a completed phrase will be accepted as an entry – do not email each word/phrase daily. Wait until you have the complete saying and then email in.
5.) All email submissions must be received by 11:59 PM EST 3/31/2016.
6.) Winners will be selected 4/1/2016 and will have 48 hours to claim their prize before another is selected.
7.) Participating blogs and bloggers are not responsible for unsent, damaged, and/or stolen prizes offered by the publisher.