This is a really exciting day on the blog! I LOVE LOVE LOVE The Remnant Chronicles, and cannot believe it's all coming to an end with The Beauty of Darkness. I've read it already, so keep an eye out for my review in the coming weeks!
Today Mary E. Pearson, the author of this amazing trilogy, is stopping by the blog to tell us about her inspirations for the world of the series as part of the official blog tour hosted by Macmillan! I love her post because it really brings everything to life for me. I love traveling and I love settings, so I'm really excited that she included pictures! Following her post, read more about Mary and The Beauty of Darkness!
---
I asked Mary: The world in this series is so dynamic, with so many different locations and types of people. Were you inspired by any places or people in our own world when you created Morrighan, Terravin (the small village Lia fled to), and Venda, not to mention the terrain they crossed traveling between locales? 
Mary: Yes, I was inspired by many real places. Several years ago I visited the small island of Burano, just a ferry ride away from Venice, Italy.  I adored the beauty of it—including the houses painted in all kinds of bright colors.  I was told by a local that originally, the homes were painted with different colors so they would stand out from the rest and the fishermen who were out at sea could see their own home distinctly as they returned, and would watch for their loved ones who might be waiting and waving to them. It was all so beautiful and charming and inviting that I knew I wanted to base Terravin, in part, on this tiny colorful Italian island.
I also visited the coastal town of Avila Beach in California, just north of Santa Barbara. It is tucked away behind hills and down a winding road, and it has a beautiful little jewel of a bay. The town is quite small and out of the way, like Terravin.
I've also visited various deserts, from California to Utah, so I drew from that experience to create the desert scenes in the first book.
Venda, the Sanctum in particular, was based partially on overcrowded cities and slums that I researched, and in part from my love for the artist M.C. Escher. His play with perspective and depictions of architecture are a mad mix of whimsy and razor sharp calculation. Trying to follow a path can unsettle you, or at the very least, lead you in circles, very much like the Sanctum. Stairways and paths come out of nowhere. It also came from my travels and observations of old European architecture (I'm one of those people who takes pictures of walls–details fascinate me) and how centuries of stone and brick are sewn together like a piece of fabric, old meeting new, doorways bricked up, materials reused, a trail of clues left that hint to generations re-purposing what came before and adding to it.
The Sanctum is also based on one particular city—but I imagined it as it would look  centuries after cataclysmic events had caused it to fall into ruin.
In The Beauty of Darkness there are more familiar cities, Civica for instance with its unique features, including the rocky island of lost souls in the middle of the bay and the leaning spire of Golgata. We'll also revisit the book that Aster stole from the caverns which will reveal another clue about this long ago world. Many details that may seem offhand and imaginary, actually have roots in a concrete world.
If you visit my Pinterest board for The Remnant Chronicles, you will find tons of other images that helped inspire "moods" and atmosphere for the story.
Thank you for having me at your blog Jana!
---
How much did you LOVE Mary's post? I've been to Murano, Italy, which is very close to Burano… but now I want to go visit Burano! Thanks so much for writing such a fun post for us, Mary!
Are you even more excited for The Beauty of Darkness now? Or maybe Mary's post has made you want to give the trilogy a try? You really should.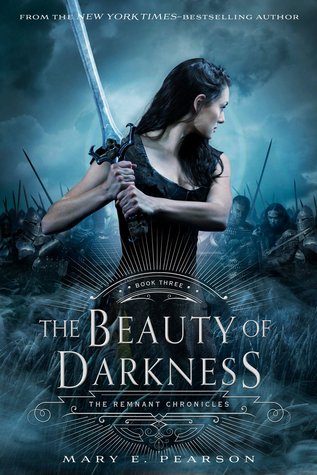 The Beauty of Darkness by Mary E. Pearson
Series: The Remnant Chronicles #3
My reviews of the trilogy: The Kiss of Deception, The Heart of Betrayal, The Beauty of Darkness
Published by Henry Holt & Co. BYR on August 2, 2016
Pages: 688
Add to Goodreads
Amazon • B&N • Book Depository
Lia and Rafe have escaped Venda and the path before them is winding and dangerous – what will happen now? This third and final book in The Remnant Chronicles is not to be missed.

Bestselling author Mary E. Pearson's combination of intrigue, suspense, romance and action make this a riveting page turner for teens.
The Kiss of Deception | The Heart of Betrayal | The Beauty of Darkness
The Kiss of Deception Synopsis

A princess must find her place in a reborn world.

She flees on her wedding day.

She steals ancient documents from the Chancellor's secret collection.

She is pursued by bounty hunters sent by her own father.

She is Princess Lia, seventeen, First Daughter of the House of Morrighan.

The Kingdom of Morrighan is steeped in tradition and the stories of a bygone world, but some traditions Lia can't abide. Like having to marry someone she's never met to secure a political alliance.

Fed up and ready for a new life, Lia flees to a distant village on the morning of her wedding. She settles in among the common folk, intrigued when two mysterious and handsome strangers arrive—and unaware that one is the jilted prince and the other an assassin sent to kill her. Deceptions swirl and Lia finds herself on the brink of unlocking perilous secrets—secrets that may unravel her world—even as she feels herself falling in love.
---
About Mary E. Pearson
Mary E. Pearson is the author of bestselling, award-winning novels for teens. The Miles Between was named a Kirkus Best Book of the Year, and The Adoration of Jenna Fox was listed as a Bank Street Best Children's Book of the Year, an IRA Young Adult Choice, NYPL Stuff for the Teen Age, and a School Library Journal Best Book of the Year. She is also the author of A Room on Lorelei Street, David v. God, and Scribbler of Dreams. Pearson studied art at Long Beach State University, and worked as an artist before earning her teaching credential at San Diego State University. She writes full-time from her home in Carlsbad, California, where she lives with her husband and two dogs.
---
Visit the rest of the tour stops!
July 20 – What Sarah Read
July 21 – Vilma's Book Blog
July 22 – Good Books & Good Wine
July 23 – Adventures of a Book Junkie
July 24 – Bookiemoji
July 25 – Step Into Fiction
July 26 – Tales of the Ravenous Reader
July 27 – Dark Faerie Tales
July 28 – Stuck in YA Books
July 29 – Two Chicks On Books
July 30 – The Book Hookup
July 31 – That Artsy Reader Girl (You're here!)
August 1 – Jenuine Cupcakes
August 2 – My Friends are Fiction
August 3 – Mundie Moms
August 4 – The Eater of Books!
August 5 – Belle of the Literati