The Debut Dish, a bi-monthly Debut Author Challenge feature, is where you go for the scoop on some pretty awesome debut authors and their new books! Hopefully these interviews will inspire you to add many, many more books to your to-read list. Because, really, who doesn't need more books in their lives?
This issue of The Debut Dish features Chris Russell (Songs About a Girl) and Karen Fortunati (The Weight of Zero).
---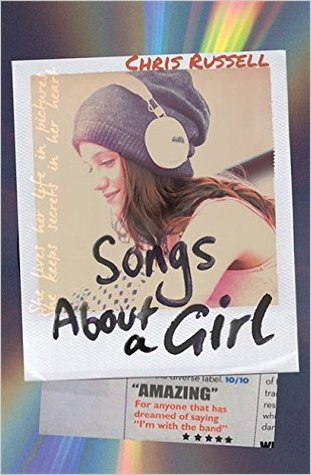 Songs About a Girl by Chris Russell
July 28, 2016 from Hodder Children's Books
Add to Goodreads | Author Website
Charlie Bloom never wanted to be 'with the band'. She's happiest out of the spotlight, behind her camera, unseen and unnoticed. But when she's asked to take backstage photos for hot new boy band Fire&Lights, she can't pass up the chance.

Catapulted into a world of paparazzi and backstage bickering, Charlie soon becomes caught between gorgeous but damaged frontman, Gabriel West, and his boy-next-door bandmate Olly Samson. Then, as the boys' rivalry threatens to tear the band apart, Charlie stumbles upon a mind-blowing secret, hidden in the lyrics of their songs…
Describe your book in five words or less.

Heartbreak, obsession, pop music, fame.
Tell us about your favorite scene in your book.
I'm rather fond of the scene where my main character, Charlie, first gets to know Gabriel, the gorgeous but damaged frontman of world-conquering boy band Fire&Lights. They're on an empty stage in a massive venue, and they lie back on a podium, staring up at the bright lights above them. Gabriel points out clusters of lights as if they were constellations, and they share secrets with each other for the first time.
Where were you when you found out you were being published?
I was in my kitchen in South London, having lunch. I can't remember exactly what I was eating, but I can tell you I was eating it off a chopping board (I eat all my meals off a chopping board; makes me feel like I'm in a fancy restaurant). My phone rang, and it was my agent, Ed. When your agent calls you, it normally means the news is either too good or too bad to be delivered by e-mail, so seeing their number on your screen sends you into a bit of a tailspin – maybe you've got a book deal, maybe it's the dawn of the apocalypse. On this occasion, the news was about as good as it gets. I remember literally punching the air, then doing a small victory jig.
What's your favorite junk food?
My band, The Lightyears, has been lucky enough to tour America several times, and we're full-on OBSESSED with your food. Thinking about Taco Bell actually makes me a bit giddy. I would also drop-kick my own grandma for a Wendy's burger, or a Wawa sub. Or an authentic Philly Cheesesteak from Pat's King Of Steaks. Also, I know it's not junk food, but I once ate fresh corn-in-the-cob at a BBQ in New Jersey and I thought my head was going to explode.
When I'm in the UK, though… McDonald's. I love a cheeky McDonald's. I always order a cheeseburger to go on the side of my Big Mac, like a starter. A McCanapé, if you will.
What's the oddest thing on your desk right now?
This may be slightly dodging the question, but the oddest thing *about* my desk is that it's well over a metre tall. I stand up to work, as we all should (much better for your health, y'know). IKEA don't actually make metre-tall desks, so I build mine every morning by stacking a bedside table on top of a coffee table, along with a couple of super-chunky textbooks for extra height. It's a feat of engineering.
---
The Weight of Zero by Karen Fortunati
October 11, 2016 from Delacorte Press
Add to Goodreads | Author Website
Seventeen-year-old Cath knows Zero is coming for her. Zero, the devastating depression born of Catherine's bipolar disease, has almost triumphed once, propelling Catherine to her first suicide attempt. With Zero only temporarily restrained by the latest med du jour, time is running out. In an old ballet shoebox, Catherine stockpiles meds, preparing to take her own life when Zero next arrives.

But Zero's return is delayed. Unexpected relationships along with the care of a new psychiatrist start to alter Catherine's perception of her diagnosis. But will this be enough? This is a story of loss and grief and hope and how the many shapes of love – maternal, romantic and platonic – impact a young woman's struggle with mental illness.
Describe your book in five words or less.

YA hopeful realistic mental health.
Tell us about your favorite scene in your book.
The last five chapters or so are my favorite collection of scenes. I can't really describe them without giving away the resolution. What I can say is that they are exactly what I had first envisioned when this story came to me and even now, when I go back and read them, I am thrilled and grateful.
Where were you when you found out you were being published?
Visiting my parents in Florida! It was amazing to share that with them!
What's your favorite junk food?
I'm easy – anything with chocolate = favorite. Chocolate chip cookies or ice cream or cake or brownies. All good.
What's the oddest thing on your desk right now?
I write at the kitchen table so there's usually food stuff. When I move to the sofa, I'm usually sandwiched between my two dogs.