Welcome to the official Stealing Snow blog tour, hosted by Bloomsbury Children's! I get to kick this tour off with Danielle's mood board (done on Pinterest) for the book, and I just love it. It gives off all the feelings the book does, and really gives readers an idea of what they are getting into with the story. I've showcased some of my favorite images from her board, but make sure you click the link to go see the rest of them! After looking over her mood board, read more about Stealing Snow and enter to win a copy of your own!
---
Danielle's Mood Board for Stealing Snow
See more images and read Danielle's comments on her Pinterest board!
---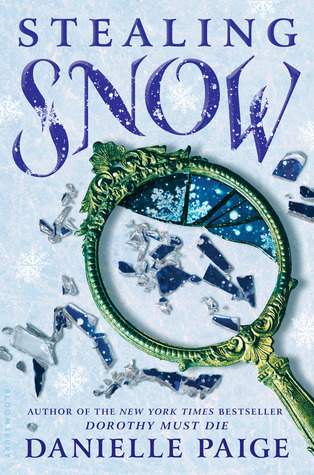 Stealing Snow by Danielle Paige
Series: Stealing Snow #1
Also in this series: Before the Snow (#.01), Queen Rising (#.02)
Published by Bloomsbury Children's on September 20, 2016
Genres: Young Adult, Fantasy, Fairy Tale, Retelling
Amazon • B&N • Book Depository • Add to Goodreads
Seventeen-year-old Snow has spent the majority of her life within the walls of the Whittaker Institute, a high security mental hospital in upstate New York. Deep down, she knows she's not crazy and doesn't belong there. When she meets a mysterious, handsome new orderly and dreams about a strange twisted tree she realizes she must escape and figure out who she really is.

Using her trusting friend Bale as a distraction, Snow breaks free and races into the nearby woods. Suddenly, everything isn't what it seems, the line between reality and fantasy begins to blur, and she finds herself in icy Algid–her true home–with witches, thieves, and a strangely alluring boy named Kai, none of whom she's sure she can trust. As secret after secret is revealed, Snow discovers that she is on the run from a royal lineage she's destined to inherit, a father more powerful and ruthless than she could have imagined, and choices of the heart that could change the fate of everything…including Snow's return to the world she once knew.

This breathtaking first volume begins the story of how Snow becomes a villain, a queen, and ultimately a hero.
---
About Danielle Paige
Danielle Paige is the New York Times bestselling author of the Dorothy Must Die series, and the upcoming  Stealing Snow series (Bloomsbury, 2016). In addition to writing young adult books, she works in the television industry, where she's received a Writers Guild of America Award and was nominated for several Daytime Emmys. She is a graduate of Columbia University and currently lives in New York City. You can find her on twitter and instagram.
---