Woohoo! Today I get to spotlight the amazing Cristin Terrill, who will be joining us at Apollycon in Orlando next year! Cristin's book, All Our Yesterdays, is one of my FAVORITE books ever (so sad about no sequels!). I reviewed it on my blog many moons ago, and here's some of the highlights of that review:
"Your mind will be blown, and your eyes will get huge, and your brain will try to comprehend it but it's really wacky. And amazing."
"I loved the sweet relationships between Marina and James. To me, it kind of felt like Corey and Topanga from Boy Meets World."
"Romance blooms, romance fades, new feelings grow, old feelings are explored. People flip flop. Lots happens. In the midst of all of it, the characters learn a lot about themselves."
Yeah. I loved this book. So I'm super excited to feature Cristin today!
---
The Fast Five Q&A with Cristin
Thing you're most excited about for Apollycon 2017:
Getting to hang out with all the other authors and readers!
Last book you read:
The Sisters Who Would Be Queen by Leanda de Lisle. Just a bit of research for something I'm toying with at the moment (and an interesting examination of Jane Grey's less famous sisters).
Best moment as an author:
Probably my first real book signing at BEA a couple of months before ALL OUR YESTERDAYS released. It's all a bit of a haze but I think that was when I really realized that my book was going to be published and people were going to read it and my life was going to change.
Last thing you treated yourself to:
A chocolate frozen custard for surviving a miserable day without hurting anyone.
Last thing that made you laugh:
While typing my previous answer, my cat jumped for a bookcase and totally missed and I evil cackled. Maybe not very nice, but true.
Cristin Terrill is a young adult author and aspiring grown-up. She grew up semi-nomadic and graduated from Vassar College with a degree in drama. After getting her masters in Shakespeare Studies from the Shakespeare Institute in Stratford-upon-Avon, she lived in London, Austin, Boston, and Washington, DC while working as a theatrical stage manager. Now she writes and leads creative writing workshops for DC-area kids and teens. All Our Yesterdays is her first novel.
Website | Facebook | Twitter | Instagram
---
All Our Yesterdays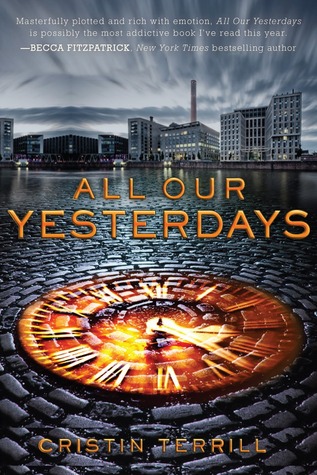 What would you change?

Imprisoned in the heart of a secret military base, Em has nothing except the voice of the boy in the cell next door and the list of instructions she finds taped inside the drain.

Only Em can complete the final instruction. She's tried everything to prevent the creation of a time machine that will tear the world apart. She holds the proof: a list she has never seen before, written in her own hand. Each failed attempt in the past has led her to the same terrible present—imprisoned and tortured by a sadistic man called the doctor while war rages outside.

Marina has loved her best friend, James, since they were children. A gorgeous, introverted science prodigy from one of America's most famous families, James finally seems to be seeing Marina in a new way, too. But on one disastrous night, James's life crumbles, and with it, Marina's hopes for their future. Marina will protect James, no matter what. Even if it means opening her eyes to a truth so terrible that she may not survive it… at least, not as the girl she once was. Em and Marina are in a race against time that only one of them can win.

All Our Yesterdays is a wrenching, brilliantly plotted story of fierce love, unthinkable sacrifice, and the infinite implications of our every choice.
Add to Goodreads | Amazon | B&N | Book Depository
---
All 2017 Apollycon attendees are eligible to win one of these awesome prizes! Gift Cards will be distributed to the winners at Apollycon 2017 to be used within the Apollycon bookstore. The passes will allow you to skip to the front of one author's signing line (your choice).