The Debut Dish, a bi-monthly Debut Author Challenge feature, is where you go for the scoop on some pretty awesome debut authors and their new books! Hopefully these interviews will inspire you to add many, many more books to your to-read list. Because, really, who doesn't need more books in their lives?
This is the final Debut Dish issue of the 2016 Debut Author Challenge! I can't believe it!
This issue of The Debut Dish features Audrey Coulthurst (Of Fire and Stars), Molly Booth (Saving Hamlet), and Erica M. Chapman (Teach Me to Forget).
---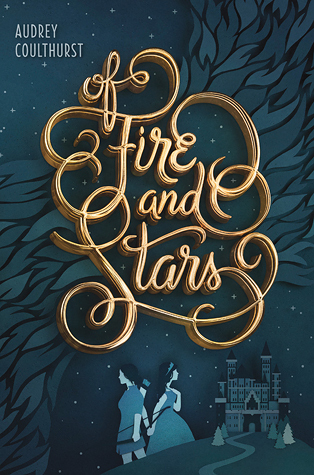 Of Fire and Stars by Audrey Coulthurts
November 22, 2016 from Balzer + Bray
Add to Goodreads | Author Website
Betrothed since childhood to the prince of Mynaria, Princess Dennaleia has always known what her future holds. Her marriage will seal the alliance between Mynaria and her homeland, protecting her people from other hostile lands. But Denna has a secret. She possesses an Affinity for fire—a dangerous gift for the future queen of a kingdom where magic is forbidden.

Now, Denna must learn the ways of her new home while trying to hide her growing magic. To make matters worse, she must learn to ride Mynaria's formidable warhorses—and her teacher is the person who intimidates her most, the prickly and unconventional Princess Amaranthine—called Mare—the sister of her betrothed.

When a shocking assassination leaves the kingdom reeling, Mare and Denna reluctantly join forces to search for the culprit. As the two become closer, Mare is surprised by Denna's intelligence and bravery, while Denna is drawn to Mare's independent streak. And soon their friendship is threatening to blossom into something more.

But with dangerous conflict brewing that makes the alliance more important than ever, acting on their feelings could be deadly. Forced to choose between their duty and their hearts, Mare and Denna must find a way to save their kingdoms—and each other.
Describe your book in five words or less.

Magic, assassinations, and lesbian princesses.
Tell us about your favorite scene in your book.
One of the scenes I had the most fun writing was Princess Dennaleia's first horseback riding lesson. She wants to make a good impression, but she's nervous and Princess Amaranthine (Mare) is not thrilled to be teaching her. Dennaleia also hasn't quite figured out why she gets even more anxious every time Mare touches her.
Where were you when you found out you were being published?
I was at my day job and I couldn't find a free room to take the call, so I was running around through the halls all panicked. I ended up in a reception area staring out at the Pacific Ocean.
What's your favorite junk food?
I have a real weakness for ice cream, especially if it involves an alarming amount of chocolate. In weirder things, one of my critique partners got me addicted to Dutch licorice, which can only be described as vaguely reminiscent of roadkill or cat litter and yet is still somehow delicious.
What's the oddest thing on your desk right now?
A paperweight made out of the leaping cat hood ornament from a 1959 Mark IX Jaguar. My mom drove it through the side of a building when she was in college and apparently it was the only part of the front end of the car that survived.
---
Saving Hamlet by Molly Booth
November 1, 2016 from Disney-Hyperion
Add to Goodreads | Author Website
I wanted sophomore year to be different, but this was a little much.

Emma Allen couldn't be more excited to start her sophomore year. Not only is she the assistant stage manager for the drama club's production of Hamlet, but her crush Brandon is directing, and she's rocking a new haircut that's sure to get his attention. But soon after school starts, everything goes haywire. Emma's suddenly promoted to stage manager, her best friend, Lulu, stops talking to her, and Josh—the sweet soccer player who's been cast as the lead—turns out to be a disaster. It's up to Emma to fix it all, but she has no clue where to start.

One night after rehearsal, Emma stays behind to think through her life's latest crises and distractedly falls through the stage's trap door…landing in the basement of the Globe Theater.

It's London, 1601, and with her awesome new pixie cut, everyone thinks Emma's a boy—even Will Shakespeare himself. Dropped into the middle of the original production of Hamlet, Emma gamely plays her role as backstage assistant, jumping at the chance to experience theatre history and rub shoulders with legends. But the Globe's Hamlet has its own problems, and once Emma starts traveling back and forth through time, things get really confusing. In which reality does she belong? And can she possibly save two epically tragic productions of Hamlet before time runs out?
Describe your book in five words or less.

Time traveling Shakespeare drama teens!
Tell us about your favorite scene in your book.
My favorite scene in the book is where the main character, Emma Allen, goes out to an Elizabethan-style cast party, in 1601, with Shakespeare's theatre company. It's an eye-opening evening for her, and it was a total blast to write.
Where were you when you found out you were being published?
I was in Vermont, visiting my alma mater, Marlboro College! Specifically, I was sitting in a best friend's car, overlooking gorgeous Vermont mountains. I had to tell my literary agent to put the phone down, so I could scream xD.
What's your favorite junk food?
Potato chips. Forever and ever potato chips.
What's the oddest thing on your desk right now?
A purple, glittery skull.
---
Teach Me to Forget by Erica M. Chapman
December 2, 2016 from Merit Press
Add to Goodreads | Author Website
This is the story of Ellery, a girl who learns how to live while waiting for the date she chose to die.

Ellery's bought the gun, made arrangements for her funeral, and even picked the day. A Wednesday. Everything has fallen into place.

Now all she has to do is die.

When her plans go awry and the gun she was going to kill herself with breaks, she does the one thing she has control over–return it and get a new one. After tormenting the crusty customer service associate by trying to return the gun with the wrong receipt, Ellery gets caught by the security guard who also happens to be someone she knows–the annoyingly perfect Colter Sawyer from her English class.

Colter quickly uncovers what she's hiding and is determined to change her mind. After confessing a closely held secret of his own, he promises not to tell hers. Ellery tries to fight her attraction to him as the shadows of her past cling tight around her, but when she's faced with another tragedy, she must decide whether she can learn to live with what she's done or follow through with her plan to die.
Describe your book in five words or less.

Guilt-ridden Ellery wants to die.
Tell us about your favorite scene in your book.
Oh boy. Let's see… My favorite scene is toward the end of the book. I call it "The Bridge Scene". Without giving too much away, it's where everything in the story reaches the breaking point. I cried so much writing this story but that scene in particular really got me. It's emotional, desperate, and it's where the reader finds out a lot about who the protagonist, Ellery really is.
Where were you when you found out you were being published?
Actually I was at work. I missed the call! I can't remember exactly what I said to my co-workers but I know they heard my gasp and shock ;o) I wish it was more interesting than that. Like I was sky-diving and checked my phone and saw the message. Or maybe that I was on a plane and the choir traveling to a competition serenaded me with "Celebration" by Kool in the Gang.
What's your favorite junk food?
Okay. I'm in love with the Hickory BBQ Wavy Lays and Peanut Butter M&Ms, oh and Taffy. I love Taffy. Wait, was I only supposed to give one.
What's the oddest thing on your desk right now?
I'm obsessed with ampersands. I've got a tattoo of one, I buy anything ampersand so I have a lot of them on my desk and around my place. The oddest thing on my desk is probably the ampersand that I stole (legally, no worries) from a NY & Co. store that left the mall I worked for. It follows me to every job.