Welcome to my stop along the official blog tour for Sheryl Scarborough, and her debut YA book, To Catch a Killer! Today we bring you a special bonus issue of the Debut Dish, which is a bi-monthly 2017 Debut Author Challenge feature that gives you the scoop on some pretty awesome debut authors and their new books!!
---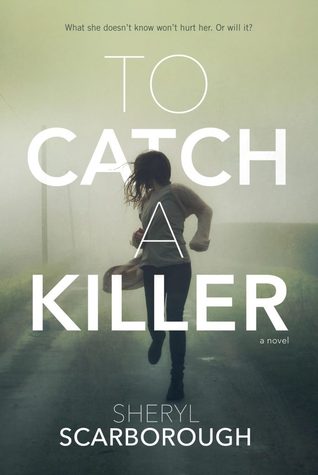 To Catch a Killer by Sheryl Scarborough
February 7, 2017 from Tor Teen
Add to Goodreads | Author Website
Erin Blake has one of those names. A name that, like Natalee Holloway or Elizabeth Smart, is inextricably linked to a grisly crime. As a toddler, Erin survived for three days alongside the corpse of her murdered mother, and the case—which remains unsolved—fascinated a nation. Her father's identity unknown, Erin was taken in by her mother's best friend and has become a relatively normal teen in spite of the looming questions about her past.

Fourteen years later, Erin is once again at the center of a brutal homicide when she finds the body of her biology teacher. When questioned by the police, Erin tells almost the whole truth, but never voices her suspicions that her mother's killer has struck again in order to protect the casework she's secretly doing on her own.

Inspired by her uncle, an FBI agent, Erin has ramped up her forensic hobby into a full-blown cold-case investigation. This new murder makes her certain she's close to the truth, but when all the evidence starts to point the authorities straight to Erin, she turns to her longtime crush (and fellow suspect) Journey Michaels to help her crack the case before it's too late.
1. Describe your book in five words or less.
Girl almost killed, catches killer.
2. Tell us about your favorite scene in your book.
I have two favorite scenes in this book. I described one on the Dark Fairie Tales blog [date: ] but the other one is a scene between Erin, my main character, and her crush, Journey Michaels. Someone is trying to frame one or both of them as killers so they decide they must work together to try to catch the killer.
Journey, who might actually be the killer, takes Erin to a secluded—and scary place—so she can inspect his van for evidence. At this scary place three things happen: Erin and Journey almost kiss, Erin finds evidence and Erin is almost killed.
This scene is the turning point in Erin and Journey's relationship. And it's when I think the hooks are really set in this story.
3. Where were you when you found out you were being published?
I love telling this story. It was a Friday. I was on my way from Los Angeles to Omaha to speak at an SCBWI Conference. I missed my plane and was going to be delayed in Phoenix for FIVE hours. Oh, and it was my birthday! No lie. This could have been worst day ever.
I checked my phone upon landing in at 2:30 p.m. Phoenix time to find a message from my agent. As far as I knew my book hadn't been on submission for months. The message said she was leaving at 5:30 p.m. NYC time. I fired off a quick reply telling her I was waiting to deplane. She wrote back that she would wait for me to call.
I stepped into the airport looking for a quiet place to talk. The airline lounge was directly across from the gate. I figured what the heck…paid the fee and went inside. That's when I learned that an offer was coming in on Monday. Needless to say, I was thrilled. To celebrate, I upgraded to First Class for the rest of my flight.
4. What's your favorite junk food?
Is chocolate a junk food? I think I read somewhere that it's a vegetable.
5. What's the oddest thing on your desk right now?
The oddest thing on my desk is a ceramic jar labeled "Brilliant Ideas." The sad thing is…it's empty!
SHERYL SCARBOROUGH is an award-winning writer for children's television, having written for shows such as Kim Possible, Doug, Tiny Toon Adventures and Punky Brewster, among many other credits. She holds an MFA in Writing for Children and Young Adults from Vermont College of Fine Arts, lives in Washington state, and has always had an obsession with forensics. When she was twelve, her home was the target of a Peeping Tom. Sheryl diligently photographed his footprints and collected the candy wrappers he left behind. Unfortunately, he was never caught. But the desire to use evidence to solve a great mystery was sparked inside Scarborough all the same. To Catch a Killer is her debut.