The Debut Dish, a bi-monthly Debut Author Challenge feature, is where you go for the scoop on some pretty awesome debut authors and their new books! Hopefully these interviews will inspire you to add many, many more books to your to-read list. Because, really, who doesn't need more books in their lives?
This issue of The Debut Dish features Cecilia Vinesse (Seven Days of You), Lilliam Rivera (The Education of Margot Sanchez), Peternelle van Arsdale (The Beast Is An Animal), and Rebecca Denton (This Beats Perfect).
---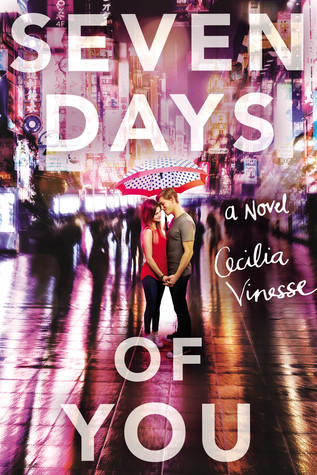 Seven Days of You by Cecilia Vinesse
March 7, 2017 from Little, Brown Books for Young Readers
Add to Goodreads | Author Website
Sophia has seven days left in Tokyo before she moves back to the States. Seven days to say good-bye to the electric city, her wild best friend, and the boy she's harbored a semi-secret crush on for years. Seven perfect days…until Jamie Foster-Collins moves back to Japan and ruins everything.

Jamie and Sophia have a history of heartbreak, and the last thing Sophia wants is for him to steal her leaving thunder with his stupid arriving thunder. Yet as the week counts down, the relationships she thought were stable begin to explode around her. And Jamie is the one who helps her pick up the pieces. Sophia is forced to admit she may have misjudged Jamie, but can their seven short days of Tokyo adventures end in anything but good-bye?
Describe your book in five words or less.

Tokyo + crushes + karaoke + friends + good-byes.
Tell us about your favorite scene in your book.
I loved writing the scene where two of the characters spend all night wandering around Shibuya–a fun, bright, noisy district in Tokyo. I grew up in Tokyo and miss it every day so getting to dive back in and wander the streets again was such a joy. I would usually work on this scene till the early hours of the morning and fall asleep with the sounds of Tokyo still playing in my dreams.
Where were you when you found out you were being published?
I was *just* about to take my dog on a walk and ended up wandering the streets for hours and standing by the harbor (I lived in Scotland by the North Sea then) for a long time. I remember feeling buoyed and elated and it was all probably very confusing for my dog.
What's your favorite junk food?
Enormous, warm, chocolatey cookies. I could write them a book of sonnets.
What's the oddest thing on your desk right now?
A tiny light-up squid one of my best friend's gave me the last time I moved away from Japan in 2012. I miss her and I miss Japan so I'm pretty attached to it.
---
The Education of Margot Sanchez by Lilliam Rivera
February 21, 2017 from Simon & Schuster
Add to Goodreads | Author Website
Pretty in Pink comes to the South Bronx in this bold and romantic coming-of-age novel about dysfunctional families, good and bad choices, and finding the courage to question everything you ever thought you wanted—from debut author Lilliam Rivera.

THINGS/PEOPLE MARGOT HATES:

Mami, for destroying my social life
Papi, for allowing Junior to become a Neanderthal
Junior, for becoming a Neanderthal
This supermarket
Everyone else

After "borrowing" her father's credit card to finance a more stylish wardrobe, Margot
Sanchez suddenly finds herself grounded. And by grounded, she means working as an indentured servant in her family's struggling grocery store to pay off her debts.

With each order of deli meat she slices, Margot can feel her carefully cultivated prep school reputation slipping through her fingers, and she's willing to do anything to get out of this punishment. Lie, cheat, and maybe even steal…

Margot's invitation to the ultimate beach party is within reach and she has no intention of letting her family's drama or Moises—the admittedly good looking but outspoken boy from the neighborhood—keep her from her goal.
Describe your book in five words or less.

A Bronx Princesa gets schooled.
Tell us about your favorite scene in your book.
My favorite scene in the book would be when Margot Sanchez is up on the roof with Moises. They are watching fireworks and trying to figure each other out. I love how magical that scene is and the struggle Margot has with her feelings. Rooftops in New York city hold so many amazing moments for me.
Where were you when you found out you were being published?
I was away at a six-week writing workshop in San Diego called Clarion when I heard that editor Zareen Jaffrey at Simon & Schuster was interested in the novel. Because I was so involved in this writing workshop, attending classes and writing short stories, I had no time to completely freak out. I freaked out internally. I had to wait until I left to share the news with my friends. But when I did, they both screamed!
What's your favorite junk food?
My favorite junk food is M&Ms. I can't get enough of them. They fuel my writing as does most candy.
What's the oddest thing on your desk right now?
I don't actually have a desk. I work off of my kitchen table. I guess the oddest thing right now on my kitchen table would be the semi-naked Taylor Lautner in Twilight doll that belongs to my 5 year old but she insisted I needed it.
---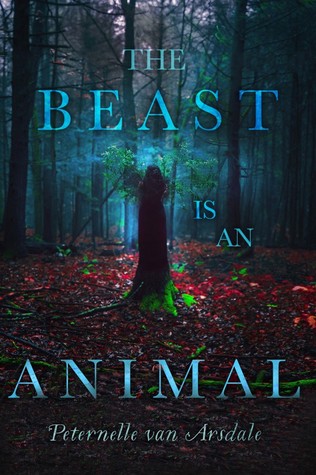 The Beast Is An Animal by Peternelle van Arsdale
February 28, 2017 from Margaret K. McElderry Books
Add to Goodreads | Author Website
A girl with a secret talent must save her village from the encroaching darkness in this haunting and deeply satisfying tale.

Alys was seven when the soul eaters came to her village.

These soul eaters, twin sisters who were abandoned by their father and slowly morphed into something not quite human, devour human souls. Alys, and all the other children, were spared—and they were sent to live in a neighboring village. There the devout people created a strict world where good and evil are as fundamental as the nursery rhymes children sing. Fear of the soul eaters—and of the Beast they believe guides them—rule village life. But the Beast is not what they think it is. And neither is Alys.

Inside, Alys feels connected to the soul eaters, and maybe even to the Beast itself. As she grows from a child to a teenager, she longs for the freedom of the forest. And she has a gift she can tell no one, for fear they will call her a witch. When disaster strikes, Alys finds herself on a journey to heal herself and her world. A journey that will take her through the darkest parts of the forest, where danger threatens her from the outside—and from within her own heart and soul.
Describe your book in five words or less.

An original, dark fairytale.
Tell us about your favorite scene in your book.
My favorite scene is when my protagonist, an orphan named Alys, is caught looking at a book she shouldn't. The books I read as a child that I suspected were too old for me or contained secret knowledge that adults might not want me to have are highly memorable to me.
Where were you when you found out you were being published?
Oh! I was standing in a knitting store on West 79th Street when I found out my agent felt the novel was ready to be sent out. That was the most dramatic moment for me, because I had a feeling that once she was happy with it, she'd sell it. Then I was prosaically home at my desk when I found out that Margaret K. McElderry books would be my publisher–and that they were acquiring a second novel by me as well. That was a very exciting moment, and not necessarily what I expected back when I was standing in the knitting shop.
What's your favorite junk food?
I confess I'm not a junk food eater. The closest thing I could call my junk food is roasted, salted peanuts. I could probably (definitely) happily live off of them.
What's the oddest thing on your desk right now?
Not odd but kind of fabulous: I ordered Wonder Woman stamps from the U.S. Postal Service, and they just arrived. I like to send thank you notes, so Wonder Woman is going to be thanking some people for me. We all need some Wonder Woman right now.
---
This Beats Perfect by Rebecca Denton
February 2, 2017 from Atom Books
Add to Goodreads | Author Website
Amelie Ayres has impeccable taste in music. Bowie. Bush. Bob. So when she finds herself backstage at The Keep's only UK gig she expects to hate it; after all they are world's most tragic band. In fact she feels a grudging respect – not (obviously) for their music, but for the work that goes in to making them megastars. And when lead singer, 'Maxx', is not dressed up as a cross between Elvis and a My Little Pony, he is actually rather normal, talented and has creative struggles not too dissimilar to her own.

But the next morning she wakes up rolls over and discovers a million new @'s on social media. Overnight a photo of her backstage has made her a subject of global speculation. Suddenly the world needs to know #Who'sThatGirl? – but for all the wrong reasons.

All Amelie wants is to play her music. She's got the guitar, the songs, the soul and, in the safety of her bedroom, she's got the voice. But when it comes to getting up on stage, she struggles with self-doubt.

Immaculate's a concept. Flawless is fake. But just sometimes music – and hearts – can rock a perfect beat.
Describe your book in five words or less.

Boys, Bands and Breaking Through
Tell us about your favorite scene in your book.
I love the scene at The Moth Club where Maxx and Amelie are competing over their knowledge of music. I did this so many times with boys I had just started dating.
Where were you when you found out you were being published?
I was at work – in a news room – surrounded by very serious people doing newsy things and I squealed a lot and rang my old boss, hot Seb. I don't know why I rang him, I guess you call the people you want to be proud of you and my mum was asleep (time zones!). Critically I was pregnant so I couldn't drink anything to celebrate. But I more than made up for it….
What's your favorite junk food?
I don't really like junk food. I know that sounds lame, but I feel *crap* after i eat it so I just tend to avoid it. That said, I cannot turn down fish and chips with curry sauce.
What's the oddest thing on your desk right now?
I don't have a writing desk, I have a shed with a day bed and write with my lap top on my knees. I'm surrounded by torches, head lamps and candles though, since there's no electricity here.