The Debut Dish, a bi-monthly Debut Author Challenge feature, is where you go for the scoop on some pretty awesome debut authors and their new books! Hopefully these interviews will inspire you to add many, many more books to your to-read list. Because, really, who doesn't need more books in their lives?
Today's special edition of The Debut Dish is brought to you by Penguin and their blog tour for Katie Bayerl's A Psalm for Lost Girls.
---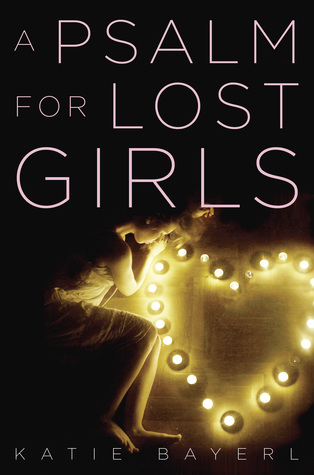 A Psalm for Lost Girls by Katie Bayerl
March 14, 2017 from G.P. Putnam's Sons Books for Young Readers
Add to Goodreads | Author Website
Tess da Costa is a saint — a hand-to-god, miracle-producing saint. At least that's what the people in her hometown of New Avon, Massachusetts, seem to believe. And when Tess suddenly and tragically passes away, her small city begins feverishly petitioning the Pope to make Tess's sainthood official. Tess's mother is ecstatic over the fervor, while her sister Callie, the one who knew Tess best, is disgusted – overcome with the feeling that her sister is being stolen from her all over again.

The fervor for Tess's sainthood only grows when Ana Langone, a local girl who's been missing for six months, is found alive at the foot of one of Tess's shrines. It's the final straw for Callie.

With the help of Tess's secret boyfriend Danny, Callie's determined to prove that Tess was something far more important than a saint; she was her sister, her best friend and a girl in love with a boy. But Callie's investigation uncovers much more than she bargained for: a hidden diary, old family secrets, and even the disturbing truth behind Ana's kidnapping.
Describe your book in five words or less.

Sainthood is hella complicated.
Tell us about your favorite scene in your book.
Tough one! I have to go with a flashback, a memory that has stuck with Callie of the night when her sister's reputation as a saint really began. I won't give the whole scene away, but Tess hears a mysterious voice that calls her down to the city's docks before dawn. Callie (ever the loyal sister) goes with Tess to meet the captain of a fishing boat Tess believes is in danger. What happens then is history…
Where were you when you found out you were being published?
I got the heads-up email when I was in my car at the intersection of Columbus Ave and Malcolm X Blvd in Boston (vivid memory! and it was a red light, I swear!)
I was on the Red Line (subway) when the official call came in.
Theme: transportation
What's your favorite junk food?
Cheese-Its.
What's the oddest thing on your desk right now?
A small stuffed flying pig. (I won a writing contest sponsored by the Flying Pig Bookstore a few years ago.)
When Katie Bayerl isn't penning stories, she coaches teens and nonprofits to tell theirs. She holds an MFA in Writing for Children and Young Adults from Vermont College of Fine Arts and has taught creative writing in schools and a variety of community settings. Katie has an incurable obsession with saints, bittersweet ballads, and murder. A Psalm for Lost Girls is her first novel.
---
Two Giveaway Opportunities!
Tour Wide:
Enter for a chance to win one (1) of five (5) copies of A Psalm for Lost Girls by Katie Bayerl (ARV: $17.99 each).
NO PURCHASE NECESSARY. Enter between 12:00 AM Eastern Time on March 13, 2017 and 12:00 AM on March 27, 2017. Open to residents of the fifty United States and the District of Columbia who are 13 and older. Winners will be selected at random on or about March 29, 2017. Odds of winning depend on number of eligible entries received. Void where prohibited or restricted by law.
Exclusive to That Artsy Reader Girl:
This giveaway is sponsored by Katie Bayerl, who will be mailing the prize to the winner. Entrants must be 13 years old or older, and must honestly follow the rules for entries. Entrants caught cheating will be eliminated in full from the giveaway. This giveaway is open to residents of the USA and Canada only.