The Debut Dish, a bi-monthly Debut Author Challenge feature, is where you go for the scoop on some pretty awesome debut authors and their new books! Hopefully these interviews will inspire you to add many, many more books to your to-read list. Because, really, who doesn't need more books in their lives?
This issue of The Debut Dish features Sara Biren (The Last Thing You Said), Whitney Taylor (Definitions of Indefinable Things), Jessica Strawser (Almost Missed You), Danielle Mages Amato (The Hidden Memory of Objects), and Michael Miller (Shadow Run).
---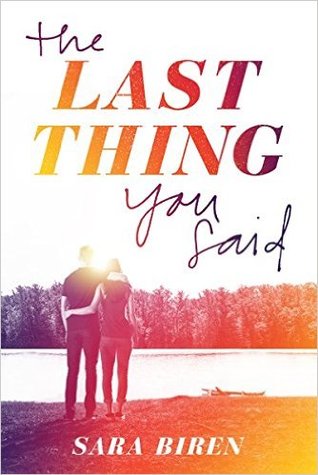 The Last Things You Said by Sara Biren
April 4, 2017 from Amulet Books
Add to Goodreads | Author Website
Last summer, Lucy's and Ben's lives changed in an instant. One moment, they were shyly flirting on a lake raft, finally about to admit their feelings to each other after years of yearning. In the next, Trixie—Lucy's best friend and Ben's sister—was gone, her heart giving out during a routine swim. And just like that, the idyllic world they knew turned upside down, and the would-be couple drifted apart, swallowed up by their grief. Now it's a year later in their small lake town, and as the anniversary of Trixie's death looms, Lucy and Ben's undeniable connection pulls them back together. They can't change what happened the day they lost Trixie, but the summer might finally bring them closer to healing—and to each other.
Describe your book in five words or less.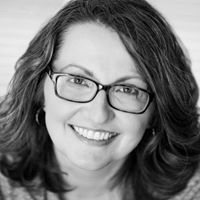 First love, loss, grief, forgiveness.
Tell us about your favorite scene in your book.
My favorite scene takes place at Ben's cousin's wedding. The wedding itself was inspired by my niece Maria's wedding in July of 2011, the month I started writing the book. There's so much tension and longing between the two main characters, and an unexpected slow dance, followed by harsh words and more heartbreak.
Where were you when you found out you were being published?
At my kitchen table, about to make dinner for my kids.
What's your favorite junk food?
White Cheddar Cheez-It Grooves.
What's the oddest thing on your desk right now?
The Minnesota Motor Vehicle Registration Card for my very first car, a 1987 red 4-door Pontiac Sunbird, which I sold in August of 1998.
---
Definitions of Indefinable Things by Whitney Taylor
April 4, 2017 from HMH Books for Young Readers
Add to Goodreads | Author Website
This heartbreaking, humorous novel is about three teens whose lives intersect in ways they never expected.

Reggie Mason is all too familiar with "the Three Stages of Depression." She believes she's unlocked the secret to keeping herself safe: Nobody can hurt you if you never let them in.

Reggie encounters an unexpected challenge to her misanthropy: a Twizzler-chomping, indie film-making narcissist named Snake. Snake's presence, while reassuring, is not exactly stable—especially since his ex-girlfriend is seven months pregnant. As Reggie falls for Snake, she must decide whether it's time to rewrite the rules that have defined her.
Describe your book in five words or less.

Depression. Fear. Friendship. Love. Hope.
Tell us about your favorite scene in your book.
There's an awkward scene in which the MC, Reggie, gets stuck taking her arch-frenemy and crush's baby mama, Carla, to a birthing class. It was one of my favorite scenes to write because it's a refreshing break from the heaviness of the book, and starts to sew the seeds that eventually blossom into an unlikely and satisfying female friendship.
Where were you when you found out you were being published?
Honestly? This may be TMI….but I was on the toilet. (My agent called me a few minutes after she said she would, and I couldn't hold my pee any longer! Sue me!)
What's your favorite junk food?
Good ol' fashioned potato chips. Salty. Greasy. Will probably clog my arteries and kill me one day. Just my speed.
What's the oddest thing on your desk right now?
A package of tissues that I refuse to blow my nose in because they're cute.
---
Almost Missed You by Jessica Strawser
March 28, 2017 from St. Martin's Press
Add to Goodreads | Author Website
Violet and Finn were "meant to be," said everyone, always. They ended up together by the hands of fate aligning things just so. Three years into their marriage, they have a wonderful little boy, and as the three of them embark on their first vacation as a family, Violet can't help thinking that she can't believe her luck. Life is good.

So no one is more surprised than she when Finn leaves her at the beach—just packs up the hotel room and disappears. And takes their son with him. Violet is suddenly in her own worst nightmare, and faced with the knowledge that the man she's shared her life with, she never really knew at all.

Caitlin and Finn have been best friends since way back when, but when Finn shows up on Caitlin's doorstep with the son he's wanted for kidnapping, demands that she hide them from the authorities, and threatens to reveal a secret that could destroy her own family if she doesn't, Caitlin faces an impossible choice.

Told through alternating viewpoints of Violet, Finn and Caitlin,Almost Missed You is a powerful story of a mother's love, a husband's betrayal, connections that maybe should have been missed, secrets that perhaps shouldn't have been kept, and spaces between what's meant to be and what might have been.
Describe your book in five words or less.

"Perfect" couple questions fate's role.
Tell us about your favorite scene in your book.
Because the story is not told chronologically, it's virtually impossible to describe any of my favorites without inadvertently including a spoiler–which is lucky for me, because it lets me off the hook of having to decide which one is my top pick! (I'm awful at choosing favorites.)
Where were you when you found out you were being published?
I'd taken the day off work to chaperone my 4-year-old's pre-K pumpkin patch field trip, and saw that I'd missed the call while corralling the kids under cover when it started to rain on the farm. I didn't have good enough cell phone reception to call my agent back until I was well into my drive home–the suspense was killing me!
What's your favorite junk food?
Ice cream (preferably with some sort of chocolate and peanut butter ripples involved) with pretzels sprinkled on top.
What's the oddest thing on your desk right now?
I'm at my daytime desk at the Writer's Digest office right now, so here, it's a tie between an origami elephant (sent in a holiday card from one of our contributors) and a 16″ lifelike Mark Twain doll (which, believe it or not, came with my house, left for me by the previous owners after they learned I was an editor and writer).
---
The Hidden Memory of Objects by Danielle Mages Amato
March 21, 2017 from Balzer + Bray
Add to Goodreads | Author Website
Megan Brown's brother, Tyler, is dead, but the cops are killing him all over again. They say he died of a drug overdose, potentially suicide—something Megan cannot accept. Determined to figure out what happened in the months before Tyler's death, Megan turns to the things he left behind. After all, she understands the stories objects can tell—at fifteen, she is a gifted collage artist with a flair for creating found-object pieces. However, she now realizes that her artistic talent has developed into something more: she can see memories attached to some of Tyler's belongings—and those memories reveal a brother she never knew.

Enlisting the help of an artifact detective who shares her ability and specializes in murderabilia—objects tainted by violence or the deaths of their owners—Megan finds herself drawn into a world of painful personal and national memories. Along with a trusted classmate and her brother's charming friend, she chases down the troubling truth about Tyler across Washington, DC, while reclaiming her own stifled identity with a vengeance.
Describe your book in five words or less.

Mystery, History, Murderabilia, Grief, Adventure
Tell us about your favorite scene in your book.
I might have a favorite character rather than a favorite scene, because I pretty much love every scene that Eric Bowling (my book BFF) is in. He was a joy to write, because he's just so wholehearted and curious and quirky and unafraid. Which made it a pleasure to unleash him anytime he appears.
Where were you when you found out you were being published?
I was at the DENTIST, of all places, waiting in the lobby to have my teeth cleaned. When my phone rang and I saw it was my agent, I stepped outside to take the call. Screaming and jumping up and down followed. Of course, I had overlooked the fact that I was standing in front of a big picture window, so everyone inside the dentist's office could see me. When I came back in, they all demanded to know what had happened. That is how a room full of random strangers knew I was going to be a published author before my own family did. All the strangers clapped — they were probably the happiest group of people in a dentist's office ever. Then I had my teeth cleaned.
What's your favorite junk food?
Anything that combines mint and chocolate. In any form. Anywhere. Thin mints, peppermint patties, peppermint bark. MUST CONSUME.
What's the oddest thing on your desk right now?
I have two young children, so there is never a shortage of odd things on my desk (and in my purse). Right now there's a handful of feathers, some plastic doll hair, and assorted mini bouncy balls. But the oddest thing *I* keep on my desk is probably a set of Abe Lincoln salt and pepper shakers. Keeping it honest! :-)
---
Shadow Run by Michael Miller and AdriAnne Strickland
March 21, 2017 from Delacorte Press
Add to Goodreads | Michael Miller's Website
Firefly meets Dune in this action-packed sci-fi adventure about a close-knit, found family of a crew navigating a galaxy of political intrigue and resource-driven power games.

Nev has just joined the crew of the starship Kaitan Heritage as the cargo loader. His captain, Qole, is the youngest-ever person to command her own ship, but she brooks no argument from her crew of orphans, fugitives, and con men. Nev can't resist her, even if her ship is an antique.

As for Nev, he's a prince, in hiding on the ship. He believes Qole holds the key to changing galactic civilization, and when her cooperation proves difficult to obtain, Nev resolves to get her to his home planet by any means necessary.

But before they know it, a rival royal family is after Qole too, and they're more interested in stealing her abilities than in keeping her alive.

Nev's mission to manipulate Qole becomes one to save her, and to survive, she'll have to trust her would-be kidnapper. He may be royalty, but Qole is discovering a deep reservoir of power–and stars have mercy on whoever tries to hurt her ship or her crew.
Note from Jana: Debut author Michael Miller is the one answering these questions.
Describe your book in five words or less.

Firefly meets Dune!
Tell us about your favorite scene in your book.
My absolute favorite scene in the book is when Qole, our seventeen year old starship captain, finds herself very out of her element on a world very different from her own. My co-author actually wrote it, but it's by turns funny, touching, insightful, and tense. An all around excellent bit of writing.
If you mean that I actually wrote, my absolute favorite scene would be riddle with spoilers. There is a scene earlier in the book where we visit the home planet of Basra, the genderfluid trader on board the Kaitan. It was a chance to introduce a number of characters that feature only briefly, but actually have tremendous back stories. I love that sort of stuff.
Where were you when you found out you were being published?
Wow, good question! I vividly remember where I was when I first talked to our agent, because I was in the middle of an on-site with a client and had to duck into an empty conference room. But when the deal was actually closed with Delacorte? Again, at work, but it didn't feel real until later… so the moment didn't sink in until clashing beer glasses with my co-author to celebrate.
What's your favorite junk food?
I love all chips, chips are truly one of the great leaps that humanity has made, but in the pantheon of chips, one chip rules supreme: The Dorito.
Nacho Cheese, specifically.
What's the oddest thing on your desk right now?
My desk is typically my lap, as I'm footloose and fancy free with this laptop of mine. So I can't answer! At least not in any way that wouldn't be somewhat surrealist.