The Debut Dish, a bi-monthly Debut Author Challenge feature, is where you go for the scoop on some pretty awesome debut authors and their new books! Hopefully these interviews will inspire you to add many, many more books to your to-read list. Because, really, who doesn't need more books in their lives?
This issue of The Debut Dish features Sonia Belasco (Speak of Me as I Am), Andrew DeYoung (The Exo Project), Jessika Fleck (The Castaways), and Joanne O'Sullivan (Between Two Skies).
---
Speak of Me as I Am by Sonia Belasco
April 4, 2017 from Philomel Books
Add to Goodreads | Author Website
A moving story of grief, honesty, and the healing power of art—the ties that bind us together, even when those we love are gone.

Melanie and Damon are both living in the shadow of loss. For Melanie, it's the loss of her larger-than-life artist mother, taken by cancer well before her time. For Damon, it's the loss of his best friend, Carlos, who took his own life.

As they struggle to fill the empty spaces their loved ones left behind, fate conspires to bring them together. Damon takes pictures with Carlos's camera to try to understand his choices, and Melanie begins painting as a way of feeling closer to her mother. But when the two join their school's production ofOthello, the play they both hoped would be a distraction becomes a test of who they truly are, both together and on their own. And more than anything else, they discover that it just might be possible to live their lives without completely letting go of their sadness.
Describe your book in five words or less.

Love, death and Shakespeare.
Tell us about your favorite scene in your book.
I really like the scene in my book where one of the protagonists, Damon, confronts a memory of his friend Carlos outside of the U.S. Capitol. Carlos is so vivid to Damon, even though he's dead, and in that moment Damon realizes how much he didn't know about his best friend, even though he thought he knew everything.
Where were you when you found out you were being published?
When I got the news from Penguin, I was actually at my parents' house in DC. It was awesome because I got to tell them in person, and I hadn't had the chance to share any of my other publishing news that way.
What's your favorite junk food?
Chocolate. Chocolate is definitely my vice.
What's the oddest thing on your desk right now?
I have a photograph of my grandfather with President Johnson. My grandfather worked in the White House under Johnson, and I keep it there as a kind of reminder of the importance of the hustle. My grandfather believed in hard work, whatever it was you were doing. In my less motivated moments, that photo helps me push through.
---
The Exo Project by Andrew DeYoung
April 4, 2017 from Boyds Mills Press
Add to Goodreads | Author Website
This fast-paced, sharply written multiple-perspective YA science-fiction debut opens on a future Earth ravaged by solar radiation. Desperate for money to save his sick mother, seventeen-year-old Matthew agrees to participate in the Exo Project, a government plan to save the human race by flying across the galaxy in search of a habitable planet for resettlement. He thinks he's been given a death sentence: 100 years in cryostasis, followed by a quick death on some barren world. But then he lands on Gle'ah, discovering the strange, beautiful creatures who live there, including Kiva, the captivating teenage girl who leads her planet's matriarchal society. Kiva views Matthew as a threat and for good reason—if he tells Earth that he's found a suitable planet, it will mean the end of her people's way of life. But then Kiva and Matthew discover an emotional connection they never expected—and as they begin to delve into the secrets of Matthew's mission and the dark truth behind the seeming paradise of Gle'ah, the choices they make will have consequences for both of their worlds.
Describe your book in five words or less.

Boy meets alien. Worlds collide.
Tell us about your favorite scene in your book.
This is hard! I think I'd pick the scene where Kiva, the girl who leads a matriarchal society on another planet, tells Matthew, the human boy who's come to her world in search of a replacement for Earth, her people's creation myth. I love it because I got to try my hand at creating a new mythology for a fictional alien race, and also because of a bit of dialogue that happens after Kiva's done telling the myth.
Matthew asks, "Is it true? Did it really happen like that?"
And Kiva answers, "It's a story. It doesn't have to be true to be true."
I love that line.
Where were you when you found out you were being published?
I was in a birthing class with my wife, who was expecting at the time. (Our daughter is now a year and a half old.) We were learning about something or other—breathing techniques? The stages of labor? I was having a little trouble concentrating, because I knew that we'd gotten some interest on the book and my publisher was chatting with the publishing company that had expressed interest. Then my phone buzzed and I glanced at the screen to see it was an email from my agent. During a break in the middle of the class I furtively checked my email to discover that it was now a done deal—I was going to be published!
What's your favorite junk food?
In Minnesota we have these things made by a local candy company called Nut Goodies which are a layer of maple-flavored cream covered in chocolate and peanuts. My temptation to buy one basically every time I go to the grocery store is strong.
What's the oddest thing on your desk right now?
A big wooden ampersand. I honestly don't know where it came from. I share a desk with my wife, who's a designer and a super-crafty person who's always making something or other, so it's probably a leftover from one of her projects.
---
The Castaways by Jessika Fleck
April 3, 2017 from Entangled Teen
Add to Goodreads | Author Website
"A page-turning fantastical mystery with heartfelt characters." -Julie Cross, New York Times bestselling author of Tempest

The Castaway Carnival: fun, mysterious, dangerous.

Renowned for its infamous corn maze…and the kids who go missing in it.

When Olive runs into the maze, she wakes up on an isolated and undetectable island where a decades-long war between two factions of rival teens is in full swing.

Trapped, Olive must slowly attempt to win each of her new comrades' hearts as Will—their mysterious, stoically quiet, and handsome leader—steals hers.

Olive is only sure about one thing: her troop consists of the good guys, and she'll do whatever it takes to help them win the war and get back home.
Describe your book in five words or less.

Cornmaze. Stranded. Family. War. Be.
Tell us about your favorite scene in your book.
Oh man, this is a tough one. So many options! Without giving any spoilers, one of my faves is definitely when Olive arrives on the island. She's taken in by one group of kids and ends up pretending to be knocked out. Eyes closed, she tries to figure out what's going on, who's who, what sort of shelter she's in, if these people are kind or not, etc… Being in Olive's point-of-view, I had to explain everything minus her visual cues. Also, this is the first scene the reader meets anyone from the island and there are four characters, other than Olive, in one room. It was a great challenge and so fun to write.
Where were you when you found out you were being published?
At home. I was about to make lunch for my kids and my (now) editor emailed me with the news. Her first line said, "Are you sitting down?" (I was) I read it, whispered, "Holy crap", stood up, walked in a few circles, sat back down, reread it, and then responded.
What's your favorite junk food?
French fries. In ketchup. Covered in cheese. Slathered in mustard. Dipped in ice cream. All. Day. Long.
What's the oddest thing on your desk right now?
A wooden plague doctor-esque skeleton. If you push your thumb under the stand, it bends and moves. I love odd.
---
Between Two Skies by Joanne O'Sullivan
April 25, 2017 from Candlewick
Add to Goodreads | Author Website
Hurricane Katrina sets a teenage girl adrift. But a new life — and the promise of love — emerges in this rich, highly readable debut.

Bayou Perdu, a tiny fishing town way, way down in Louisiana, is home to sixteen-year-old Evangeline Riley. She has her best friends, Kendra and Danielle; her wise, beloved Mamere; and back-to-back titles in the under-sixteen fishing rodeo. But, dearest to her heart, she has the peace that only comes when she takes her skiff out to where there is nothing but sky and air and water and wings. It's a small life, but it is Evangeline's. And then the storm comes, and everything changes. Amid the chaos and pain and destruction comes Tru — a fellow refugee, a budding bluesman, a balm for Evangeline's aching heart. Told in a strong, steady voice, with a keen sense of place and a vivid cast of characters, here is a novel that asks compelling questions about class and politics, exile and belonging, and the pain of being cast out of your home. But above all, this remarkable debut tells a gently woven love story, difficult to put down, impossible to forget.
Describe your book in five words or less.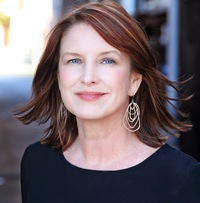 Love, loss, longing and hope.
Tell us about your favorite scene in your book.
It's the penultimate scene of the book, when after a very sad event, fate intervenes to bring my main character exactly what she needs and wants. I like it because it has that bitter-sweet feeling that often accompanies some of the most important things that happen in life!
Where were you when you found out you were being published?
On my couch with my then 13-year-old daughter. But only for a second because then I got up and started jumping around and pacing! : )
What's your favorite junk food?
Nutella.
What's the oddest thing on your desk right now?
A pair of glasses that my dog chewed up. First, it's odd that he chewed up glasses- what is appealing about that for him? Second, it's odd that I kept them. They are undeniably beyond repair! But they were my favorite frames and somehow I can't let go!