The Debut Dish, a bi-monthly Debut Author Challenge feature, is where you go for the scoop on some pretty awesome debut authors and their new books! Hopefully these interviews will inspire you to add many, many more books to your to-read list. Because, really, who doesn't need more books in their lives?
This issue of The Debut Dish features Kerry Winfrey (Love and Other Alien Experiences), Lauren Karcz (The Gallery of Unfinished Girls), and Katy Upperman (Kissing Max Holden).
---
Love and Other Alien Experiences by Kerry Winfrey
July 11, 2017 from Feiwel & Friends
Add to Goodreads | Author Website
I'm never going outside again.

Mallory hasn't left the house in sixty-seven days–since the day her dad left. She attends her classes via webcam, rarely leaves her room (much to her brother's chagrin), and spends most of her time watching The X-Files or chatting with the always obnoxious BeamMeUp on New Mexico's premier alien message board.

But when she's shockingly nominated for homecoming queen, her life takes a surprising turn. She slowly begins to open up to the world outside. And maybe if she can get her popular jock neighbor Brad Kirkpatrick to be her homecoming date, her classmates will stop calling her a freak.

In this heartwarming and humorous debut, Mallory discovers first love and the true meaning of home–just by taking one small step outside her house.
Describe your book in five words or less.

Anxiety, aliens, homecoming, and kissing.
Tell us about your favorite scene in your book.
Probably the scene where some of the characters go to an amusement park after hours. Not to spoil anything, but it involves all the stuff I like to write about: romantic tension, subtext-laden conversations, and someone barfing.
Where were you when you found out you were being published?
I wish it happened somewhere glamorous or exciting, but I was just at my desk in my home office. Maybe I should make up a better story.
What's your favorite junk food?
I could eat a truly obscene amount of chocolate chip cookies. Like, imagine how many you think a person could eat, and then double that, and then it's probably more.
What's the oddest thing on your desk right now?
My Louis Tomlinson/One Direction key chain. 1D may be on hiatus, but his benevolent presence watches over me always.
---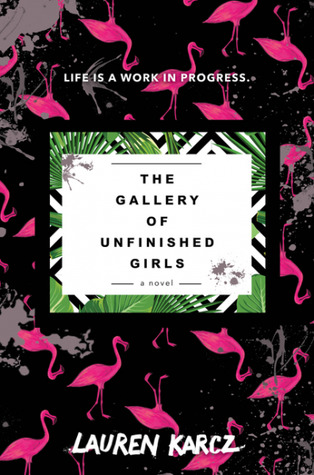 The Gallery of Unfinished Girls by Lauren Karcz
July 25, 2017 from HarperTEEN
Add to Goodreads | Author Website
Mercedes Moreno is an artist. At least, she thinks she could be, even though she hasn't been able to paint anything worthwhile since her award-winning piece Food Poisoning #1 last year.

Her lack of inspiration might be because her abuela is lying comatose in faraway Puerto Rico after suffering a stroke. Or the fact that Mercedes is in love with her best friend, Victoria, but is too afraid to admit her true feelings.

Despite Mercedes's creative block, art starts to show up in unexpected ways. A piano appears on her front lawn one morning, and a mysterious new neighbor invites Mercedes to paint with her at the Red Mangrove Estate.

At the Estate, Mercedes can create in ways she never has before. She can share her deepest secrets and feel safe. But Mercedes can't take anything out of the Estate, including her new-found clarity. As her life continues to crumble around her, the Estate offers more solace than she could hope for. But Mercedes can't live both lives forever, and ultimately she must choose between this perfect world of art and truth and a much messier reality.
Describe your book in five words or less.

Girls, court, art, and danger.
Tell us about your favorite scene in your book.
It's a kissing scene. It's the midpoint of the book. Those middle scenes are always my favorite to write, actually. The midpoint is usually either a false victory or a false defeat for the main character. For my main character, Mercedes, she's got herself a false victory, which she finds out just one scene later. Alas.
Where were you when you found out you were being published?
I was at my day job. I saw an e-mail from my agent that HarperTeen had officially made an offer on my book… and then I immediately had to go to a meeting with my boss. I remember I was shaking practically the whole meeting, amazed that my manuscript was going to have readers outside my agent and my critique group!
What's your favorite junk food?
Dark chocolate covered pretzels. Trader Joe's brand would be my preference.
What's the oddest thing on your desk right now?
It's a notebook with a picture of a white cat on the front. The white cat isn't the weird part — it's that I've had this notebook since I was about 8 years old. I found it in a drawer a couple months ago and saw that it was still about half blank, so I started using it for to-do lists and critique notes. But it's also got relics from Little Me in it: my 4th grade best friend's phone number, drawings of characters I used to write about, star ratings of every movie I saw when I was about 11 (The Sound of Music and North by Northwest each got four stars). Such an interesting time capsule.
---
Kissing Max Holden by Katy Upperman
August 1, 2017 from Swoon Reads
Add to Goodreads | Author Website
Kissing Max Holden was a terrible idea…

After his father has a life-altering stroke, Max Holden isn't himself. As his long-time friend, Jillian Eldridge only wants to help him, but she doesn't know how. When Max climbs through her window one night, Jill knows that she shouldn't let him kiss her. But she can't resist, and when they're caught in the act by her dad, Jill swears it'll never happen again. Because kissing Max Holden is a terrible idea.

With a new baby sibling on the way, her parents fighting all the time, and her dream of culinary school up in the air, Jill starts spending more and more time with Max. And even though her father disapproves and Max still has a girlfriend, not kissing Max is easier said than done. Will Jill follow her heart and allow their friendship to blossom into something more, or will she listen to her head and stop kissing Max Holden once and for all?
Describe your book in five words or less.

Girl kisses boy; trouble ensues.
Tell us about your favorite scene in your book.
My book is called KISSING MAX HOLDEN for a reason — there's a lot of kissing! But not all kisses are created equally. Jilly's first kiss with Max isn't exactly romantic, and it creates a lot of problems for the two of them. But later, there's this mistletoe kiss that totally makes up for that messy first smooch. I love this particular scene because it's swoony and also sort of funny, and it's one of the few scenes that's remained almost entirely unchanged through years of rewrites and revisions.
Where were you when you found out you were being published?
I had just climbed into my car after a full day of substitute teaching. I checked my email before pulling out of the parking lot, and found a letter from Swoon Reads, asking if we could schedule a phone call to chat about them possibly publishing my manuscript. Needless to say, I was THRILLED!
What's your favorite junk food?
Any sort of sweet, carb-heavy baked good. I make an especially tasty chocolate chip cookie, but I love brownies and carrot cake and croissants with chocolate drizzle and jelly beans, too.
What's the oddest thing on your desk right now?
Probably my collection of makeup brushes. My desk is multipurpose — I write at it, and it doubles as a vanity.