Magic, Myth, & Mischief, hosted by me and Bonnie, is a month-long event that celebrates fairy tales and mythological retellings, as well as retellings of favorite classic novels and books featuring mythical beasts such as mermaids, dragons, and fae! Find the schedule of events and other information here.
The Debut Dish, a bi-monthly Debut Author Challenge feature, is where you go for the scoop on some pretty awesome debut authors and their new books! Hopefully these interviews will inspire you to add many, many more books to your to-read list. Because, really, who doesn't need more books in their lives?
---
Today I'm welcoming Heather Fawcett back to the blog to tell us more about herself and her debut book, Even the Darkest Stars. Heather guest posted earlier this month as part of her blog tour, and I had to invite her back to tell us more about the amazing world she created in her book.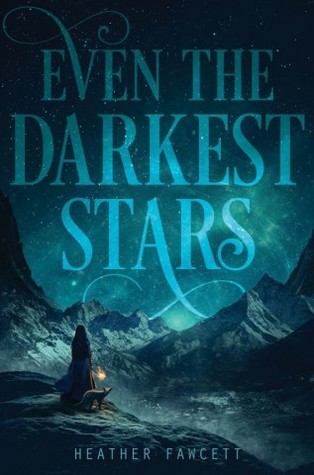 Even the Darkest Stars by Heather Fawcett
September 5, 2017 from Balzer + Bray
Add to Goodreads | Author Website
Kamzin has always dreamed of becoming one of the Emperor's royal explorers, the elite climbers tasked with mapping the wintry, mountainous Empire and spying on its enemies. She knows she could be the best in the world, if only someone would give her a chance.

But everything changes when the mysterious and eccentric River Shara, the greatest explorer ever known, arrives in her village and demands to hire Kamzin—not her older sister Lusha, as everyone had expected—for his next expedition. This is Kamzin's chance to prove herself—even though River's mission to retrieve a rare talisman for the emperor means climbing Raksha, the tallest and deadliest mountain in the Aryas. Then Lusha sets off on her own mission to Raksha with a rival explorer who is determined to best River, and Kamzin must decide what's most important to her: protecting her sister from the countless perils of the climb or beating her to the summit.

The challenges of climbing Raksha are unlike anything Kamzin expected—or prepared for—with avalanches, ice chasms, ghosts, and even worse at every turn. And as dark secrets are revealed, Kamzin must unravel the truth of their mission and of her companions—while surviving the deadliest climb she has ever faced.
1. Describe your book in 5 words or less.

Magic, monsters, and girl mountaineers.
2. Tell us about your experience as a debut author.
I've enjoyed it. Becoming an author means becoming part of a community of like-minded people who are all as passionate about books as you are. It's fantastic to connect with fellow authors, readers, and bloggers.
3. What makes your book magical, mythical, and/or mischievous?
Love this! I'm going to answer for all three.
Magical: the primary magic system in this world revolves around talismans and incantations. It's a very specific, controlled sort of magic. Anyone can do it, but some people are better than others.
Mythical: the story features heroes and monsters, and some characters who tread the line between the two.
Mischievous: Some of the animal characters fit this description!
4. When you think of the dragons in your story, what do they look like?
They're small–perhaps a bit bigger than your average house cat, with a sinuous, almost snake-like shape. They are bioluminescent, like fireflies, with a light in their abdomen that is usually either green or blue.
5. Would you rather be a hero or a villain?
As a Gryffindor with Ravenclaw tendencies, I'd say hero, of course!
6. Who do you feel are the most romantic couples from fairytales or mythology?
Ah, good question. One of my all-time favourite myths (because, yes, I have favourite myths. Ravenclaw.) is Orpheus and Eurydice. And, of course, you can't go wrong with Beauty and the Beast.
7. If you could be any mythical creature, which one would you choose to be and why?
Probably a hobbit, honestly. They're not very glamorous, it's true, but they generally seem to be very happy creatures who like good food and have a sense of fun. What more could you want?
8. If you could live in any fairy tale or mythical world, which one would you choose?
There are so many worlds I'd love to visit, but in terms of *living* in one, I'd have to say the Oxford of Philip Pullman's His Dark Materials trilogy. I've always wondered what my daemon would be.
9. Do you have any images you used as inspiration for your world or characters that you would like to share with us?
I looked at a lot of images of the Himalayas, particularly at night under starry skies. In fact, that's my current desktop background.
10. What magical power do you wish you had?
I love this question, though my answer tends to change depending on my mood! Immortality usually ranks near the top. Not invulnerability, because I think you'd stop appreciating life if yours was never in any danger. Actually having time to get through my TBR would be great.