Welcome to my stop along the blog tour for Heather Fawcett's Even the Darkest Stars, hosted by The Fantastic Flying Book Club! I'm delighted to have Heather here today to talk about her debut novel as part of September's Magic, Myth, & Mischief event going on here and on Bonnie's blog!
For Heather's guest post today she's provided short answers to three questions I asked her about Even the Darkest Stars! If her answers don't make you want to run out and get a copy, then nothing will!
---
1. EVEN THE DARKEST STARS has many magical and mystical elements. Can you tell us a little about them and how they enrich your story?
The main magical system in Even the Darkest Stars involves shamans, who cast spells using incantations and talismans of different materials. In this world, anyone can do magic, but some have more natural talent than others. There are also various magical creatures—among the most important to the story are familiars, which are animals that attach themselves to certain people, particularly heroes. These are very rare. Kamzin, the main character of Even the Darkest Stars, has a fox familiar. Her sister has two ravens.
2. EVEN THE DARKEST STARS has a creature called a fiangul, which is super unique and not like anything I've heard of before. Can you tell us about it? What inspired its creation? How did you decide what it was going to look like?
There are lots of stories about monsters who lurk in the darkness, and I thought it would be interesting to develop a creature that lurks in storms. The fiangul are completely invented and aren't based on any existing folklore or myths that I'm aware of, though the basic concept of them may have been at least partly inspired by the antagonists of one of my favourite TV shows, Firefly (for those who are into sci-fi!). I always find monsters more interesting (and frightening) when they have some element of humanity. The fiangul attack travellers who become lost in storms, and transform them into evil, winged creatures like them. That adds an extra layer of scariness, I think, because it means that they can do more than kill you—they can take away who you are.
3. In EVEN THE DARKEST STARS, people keep dragons as pets. What do these dragons look like? What do they add to the lives of their owners?
The dragons are small, perhaps a little larger than a house cat, with a sinuous, almost serpentine body. They have lights (commonly blue or green) in their bellies, making them bioluminescent, like fireflies—thus they're domesticated for use as travelling light sources. Dragons are expensive and not everyone can afford them—Kamzin, as the daughter of the village Elder, grew up with several in her household. They're viewed more as working animals than pets, sort of like farm cats.
---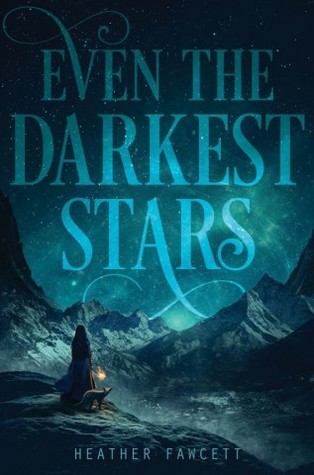 Even the Darkest Stars by Heather Fawcett
Series: Even the Darkest Stars #1
Published by Balzer+Bray on September 5, 2017
Genres: Fantasy
Amazon • Barnes and Noble • Book Depository • iBooks • Kobo
Add to Goodreads
Kamzin has always dreamed of becoming one of the Emperor's royal explorers, the elite climbers tasked with mapping the wintry, mountainous Empire and spying on its enemies. She knows she could be the best in the world, if only someone would give her a chance.

But everything changes when the mysterious and eccentric River Shara, the greatest explorer ever known, arrives in her village and demands to hire Kamzin—not her older sister Lusha, as everyone had expected—for his next expedition. This is Kamzin's chance to prove herself—even though River's mission to retrieve a rare talisman for the emperor means climbing Raksha, the tallest and deadliest mountain in the Aryas. Then Lusha sets off on her own mission to Raksha with a rival explorer who is determined to best River, and Kamzin must decide what's most important to her: protecting her sister from the countless perils of the climb or beating her to the summit.

The challenges of climbing Raksha are unlike anything Kamzin expected—or prepared for—with avalanches, ice chasms, ghosts, and even worse at every turn. And as dark secrets are revealed, Kamzin must unravel the truth of their mission and of her companions—while surviving the deadliest climb she has ever faced.
---
About Heather Fawcett
I was born and raised in Vancouver, Canada, where I enjoy wandering around in the wilderness and only occasionally getting lost. I've also spent extended periods of time in Italy, where I learned very little Italian but ate quite a lot of pizza, and Ireland, where I searched half-successfully for puffins and selkies.

Before becoming a writer I worked, among other things, as an archaeologist, a technical writer, and a backstage assistant for a Shakespearean theatre company (which I could write several novels about). I have a Master's degree in English Literature and briefly considered becoming a professor, before I realized it involved more than reading books, drinking excessive amounts of tea, and wearing colourful elbow patches.

I'm represented by the amazing Brianne Johnson at Writers House. EVEN THE DARKEST STARS, my first novel, was purchased by HarperCollins/Balzer+Bray at auction in a six-figure, two-book deal.
Website • Goodreads • Twitter • Instagram • Tumblr
---
Tour Schedule
9/5
Pink Polka Dot Books – Welcome Post
9/6
That Artsy Reader Girl – Guest Post
The Reading Life – Promo
Will Read Anything – Review
9/7
Lauren's Crammed Bookshelf – Review
Musings of a YA Reader – Review
9/8
Hardcover Haven – Review
Book Munchies – Review & Favorite Quotes
Kariny's Book Frenzy – Review
9/9
Here's to Happy Endings – Q&A
The Clever Reader – Review & Favorite Quotes
9/10
Library of a Book Witch – Review
Queen of Books – Review
9/11
Bibliobibuli YA – Q&A
When Curiosity Killed the Cat – Review
Maddie. TV – Review