Welcome to my stop along the official blog tour for Marissa Meyer's Renegades, hosted by Fierce Reads! This tour asks us all to choose a side: are you a renegade (a hero who uses their powers to rebuild Gatlon City and return the world to order) or an anarchist (a villain who wants to take back power and give it to the people)? I've thought long and hard about this, and I have chosen my side. I have chosen the…
I know, I know. I'm usually all about the good guys, but everyone loves a sexy villain, right? Everyone loves the bad boy/girl. I believe that the power should be in the hands of the people, and not the power-hungry Renegades who pretend they're all that, but are just in it for themselves.
Marissa Meyer is here to exclusively introduce the Anarchists that you will be reading about in Renegades. I'm pretty sure you're going to decide you're on their side as well.
Things You Should Know
• Take this nifty quiz to discover your superpower and choose your side!
• Tell us on social media which side you've chosen (meet the Renegades here) using the hashtags #Renegades and #ChooseASide.
• If you pre-order Renegades (out November 7th) and upload your proof of purchase here, you'll receive some cool buttons that correspond with the side you've chosen.
---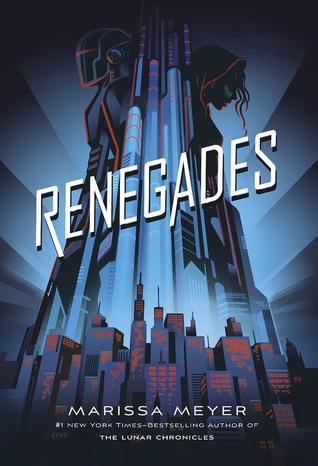 Renegades by Marissa Meyer
Series: Renegades #1
Published by Feiwel & Friends on November 7, 2017
Add to Goodreads
Pre-order from Amazon • B&N 
Secret Identities. Extraordinary Powers. She wants vengeance. He wants justice.

The Renegades are a syndicate of prodigies—humans with extraordinary abilities—who emerged from the ruins of a crumbled society and established peace and order where chaos reigned. As champions of justice, they remain a symbol of hope and courage to everyone…except the villains they once overthrew.

Nova has a reason to hate the Renegades, and she is on a mission for vengeance. As she gets closer to her target, she meets Adrian, a Renegade boy who believes in justice—and in Nova. But Nova's allegiance is to a villain who has the power to end them both.
About Marissa Meyer
Marissa Meyer is the #1 New York Times–bestselling author of The Lunar Chronicles series, as well as the graphic novel Wires and Nerve: Vol. 1, and The Lunar Chronicles Coloring Book. Her first stand alone novel, Heartless, was also a #1 New York Times bestseller. She lives in Tacoma, Washington, with her husband and their two daughters.
Author Website | Twitter | Facebook | Pinterest | Instagram | Universe of Marissa Meyer