I'm so excited to welcome debut author Gloria Chao to the blog today as part of the American Panda blog tour hosted by Fantastic Flying Book Club! Gloria is here to tell us what she learned while writing her first novel. Following her post, read more about Gloria and her book, plus enter to win a copy of American Panda for yourself!
---
10 Things I Learned While Writing American Panda
by Gloria Chao
1. Writing is a form of therapy.
2. Sometimes during the writing process, you need to put your head on the desk or lie on the floor and that's okay.
3. Sometimes, for the sake of your book, you need to face your demons and ask your mother why she was so strict, why she didn't let you date, and other horrible questions that are terrifying but necessary.
4. Don't look at the word count—only bad things will follow. (How bad? Think Mei's grandma with a knife threatening to cut off her forehead mole to "help her catch a man." [p. 87 of American Panda])
5. Humor makes writing more fun!
6. Humor is tough and needs a lot of cutting and reworking.
7. Humor is subjective and scary.
8. Everything about writing is subjective and scary, especially sending your book out into the world.
9. And yet it is so rewarding and wonderful, and I want to hug the readers who so kindly let me know how much they connected with the characters, the story, the jokes, the cover, etc.
10. There is nothing in the world quite like writing, and I am the luckiest person that I get to do this as my job, even if it is a roller coaster.
---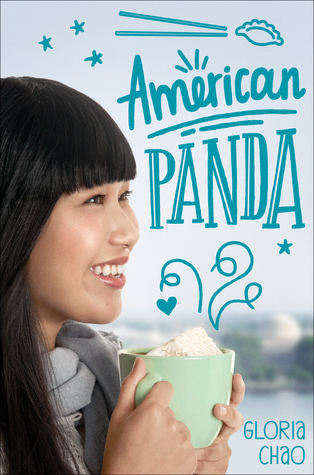 American Panda by Gloria Chao
Published by Simon Pulse on February 6, 2018
Genres: Contemporary, Fiction
Add to Goodreads
Amazon • Barnes & Noble • Book Depository • IndieBound • Kobo
An incisive, laugh-out-loud contemporary debut about a Taiwanese-American teen whose parents want her to be a doctor and marry a Taiwanese Ivy Leaguer despite her squeamishness with germs and crush on a Japanese classmate.

At seventeen, Mei should be in high school, but skipping fourth grade was part of her parents' master plan. Now a freshman at MIT, she is on track to fulfill the rest of this predetermined future: become a doctor, marry a preapproved Taiwanese Ivy Leaguer, produce a litter of babies.

With everything her parents have sacrificed to make her cushy life a reality, Mei can't bring herself to tell them the truth–that she (1) hates germs, (2) falls asleep in biology lectures, and (3) has a crush on her classmate Darren Takahashi, who is decidedly not Taiwanese.

But when Mei reconnects with her brother, Xing, who is estranged from the family for dating the wrong woman, Mei starts to wonder if all the secrets are truly worth it. Can she find a way to be herself, whoever that is, before her web of lies unravels?
---
About Gloria Chao
Gloria Chao is an MIT grad turned dentist turned writer. AMERICAN PANDA is her debut novel, coming out February 6, 2018 from Simon Pulse/Simon & Schuster.

Gloria currently lives in Chicago with her ever-supportive husband, for whom she became a nine-hole golfer (sometimes seven). She is always up for cooperative board games, Dance Dance Revolution, or soup dumplings. She was also once a black belt in kung-fu and a competitive dancer, but that side of her was drilled and suctioned out.

Visit her tea-and-book-filled world at gloriachao.wordpress.com and find her on Twitter @gloriacchao.
Website | Goodreads | Twitter | Facebook | Instagram | Tumblr
---