The Debut Dish, a bi-monthly Debut Author Challenge feature, is where you go for the scoop on some pretty awesome debut authors and their new books! Hopefully these interviews will inspire you to add many, many more books to your to-read list. Because, really, who doesn't need more books in their lives?
This issue of The Debut Dish features Rebecca Ross (The Queen's Rising), Farrah Penn (Twelve Steps to Normal), Adrianne Finlay (Your One & Only), and Deborah Schaumberg (The Tombs).
---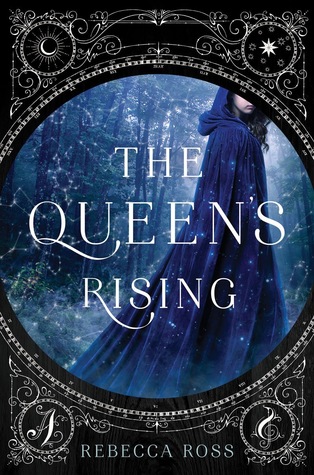 The Queen's Rising by Rebecca Ross
February 6, 2018 from HarperTeen
Add to Goodreads | Author Website
When her seventeenth summer solstice arrives, Brienna desires only two things: to master her passion and to be chosen by a patron.

Growing up in the southern Kingdom of Valenia at the renowned Magnalia House should have prepared her for such a life. While some are born with an innate talent for one of the five passions—art, music, dramatics, wit, and knowledge—Brienna struggled to find hers until she belatedly chose to study knowledge. However, despite all her preparations, Brienna's greatest fear comes true—the solstice does not go according to plan and she is left without a patron.

Months later, her life takes an unexpected turn when a disgraced lord offers her patronage. Suspicious of his intent, and with no other choices, she accepts. But there is much more to his story, and Brienna soon discovers that he has sought her out for his own vengeful gain. For there is a dangerous plot being planned to overthrow the king of Maevana—the archrival kingdom of Valenia—and restore the rightful queen, and her magic, to the northern throne. And others are involved—some closer to Brienna than she realizes.

With war brewing between the two lands, Brienna must choose whose side she will remain loyal to—passion or blood. Because a queen is destined to rise and lead the battle to reclaim the crown. The ultimate decision Brienna must determine is: Who will be that queen?
Describe your book in five words or less.

Girls overthrowing kings.
Tell us about your favorite scene in your book.
My favorite scene is a HUGE spoiler, so I'll go with my second favorite, which is when Brienna is about to ride out into battle. There is this moment of peace that comes over her, even though she doesn't know what's about to unfold. We truly see her transform from an uncertain young girl into a brave woman dressed in armor who is about to wage war.
Where were you when you found out you were being published?
I had just clocked out at work and was walking to my car in the parking lot when my agent texted me, asking if she could call me. I was like, YES, call me! And then I sat in my car and waited a moment for that phone call, thinking I probably shouldn't attempt to drive just yet. So I was sitting in my car when it happened :)
What's your favorite junk food?
I have a terrible weakness for Sour Patch Kids.
What's the oddest thing on your desk right now?
A jar of Kombucha. I drink this nearly every day.
---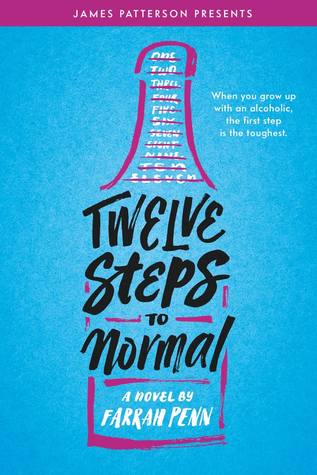 Twelve Steps to Normal by Farrah Penn
March 13, 2018 from JIMMY Patterson Books/Little, Brown
Add to Goodreads | Author Website
James Patterson presents this emotionally resonant novel that shows that while some broken things can't be put back exactly the way they were, they can be repaired and made even stronger.

Kira's Twelve Steps To A Normal Life

1. Accept Grams is gone.
2. Learn to forgive Dad.
3. Steal back ex-boyfriend from best friend…

And somewhere between 1 and 12, realize that when your parent's an alcoholic, there's no such thing as "normal."
When Kira's father enters rehab, she's forced to leave everything behind–her home, her best friends, her boyfriend…everything she loves. Now her father's sober (again) and Kira is returning home, determined to get her life back to normal…exactly as it was before she was sent away.

But is that what Kira really wants?

Life, love, and loss come crashing together in this visceral, heartfelt story by BuzzFeed writer Farrah Penn about a girl who struggles to piece together the shards of her once-normal life before his alcoholism tore it apart.
Describe your book in five words or less.

Love, loss, and repairing relationships.
Tell us about your favorite scene in your book.
Oh man, I am a big fan of kissing scenes. My book is set during the school year, and one character is working on building an enormous Audrey II puppet for the upcoming musical, Little Shop of Horrors. This might be a mild spoiler, but there's a kissing scene that happens inside the giant Audrey II that was fun and swoony to write.
Where were you when you found out you were being published?
I'd left work on my lunch break to run an errand and my agent called me when I was driving. I pulled over into a gas station after she told me the news because I was so shocked and overwhelmed with excitement. I think I kept repeating, "What? Oh my god!" That lunch break lasted longer than I intended because I also had to immediately call my mom and sister—but I don't think anyone at work noticed, haha.
What's your favorite junk food?
Pirate's Booty, cheddar cheese and Wheat Thins, Ghiradelli Dark Chocolate and Sea Salt Carmel, warm chocolate chip cookies are all tied for first place.
What's the oddest thing on your desk right now?
Pencils that have food puns written on the side and a coffee mug that says "Luke's Diner" on the front. (I love Gilmore Girls)
---
Your One & Only by Adrianne Finlay
February 6, 2018 from HMH Books for Young Readers
Add to Goodreads | Author Website
Jack is a walking fossil. The only human among a sea of clones. It's been hundreds of years since humanity died off in the slow plague, leaving the clones behind to carry on human existence. Over time they've perfected their genes, moving further away from the imperfections of humanity. But if they really are perfect, why did they create Jack?

While Jack longs for acceptance, Althea-310 struggles with the feeling that she's different from her sisters. Her fascination with Jack doesn't help. As Althea and Jack's connection grows stronger, so does the threat to their lives. What will happen if they do the unthinkable and fall in love?
Describe your book in five words or less.

The future, clones, love, humanity
Tell us about your favorite scene in your book.
This is a tough question! Some of my favorite scenes give a bit too much away and would probably be called spoiler-y, so I'll choose the scene where Althea-310 and Jack kiss. It's not a first kiss for either of them, and their past experiences make them wary for different reasons, but they're still willing to risk their emotions. It's complicated for both of them, but I love the way Jack handles his need to be cautious.
Where were you when you found out you were being published?
In a home improvement store near a display of sinks. It felt pretty random, but a lot of the time big news feels that way regardless of where you are when you hear it.
What's your favorite junk food?
Potato chips with french onion dip. Crispy, salty, creamy–what else could you want? I can't have it in the house or it'll be gone and I'll have regrets.
What's the oddest thing on your desk right now?
A shrimp bubble. It's a glass globe self-contained ecosystem with 5 little shrimp swimming around in it. It's the best I can manage for a pet, only because it requires zero effort on my part.
---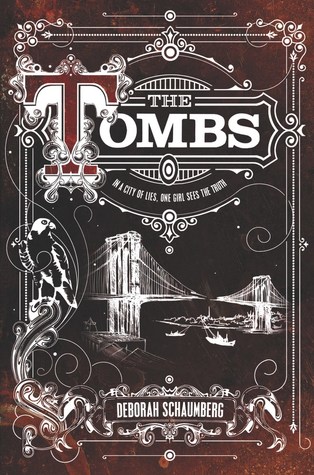 The Tombs by Deborah Schaumberg
February 20, 2018 from HarperTeen
Add to Goodreads | Author Website
Gangs of New York meets Cassandra Clare in this debut YA fantasy set in 1882 Brooklyn

New York, 1882. A dark, forbidding city, and no place for a girl with unexplainable powers.

Sixteen-year-old Avery Kohl pines for the life she had before her mother was taken. She fears the mysterious men in crow masks who locked her mother in the Tombs asylum for being able to see what others couldn't. Avery denies the signs in herself, focusing instead on her shifts at the ironworks factory and keeping her inventor father out of trouble. Other than secondhand tales of adventure from her best friend, Khan, an ex-slave, and caring for her falcon, Seraphine, Avery spends her days struggling to survive.

Like her mother's, Avery's powers refuse to be contained. When she causes a bizarre explosion at the factory, she has no choice but to run from her lies, straight into the darkest corners of the city. Avery must embrace her abilities and learn to wield their power—or join her mother in the cavernous horrors of the Tombs. And the Tombs has secrets of its own: strange experiments are being performed on "patients"…and no one knows why.
Describe your book in five words or less.

Aura seers – sinister underground asylum.
Tell us about your favorite scene in your book.
So hard to choose, especially without spoilers! There are two that come to mind – one where Avery and her drunk father reminisce about a happier time before her mother was taken. And another when Avery stumbles upon a greenhouse in The Tombs, an enchanting place inhabited by one of my favorite characters.
Where were you when you found out you were being published?
Wednesday, 3/16/16 at 5:09 pm. I was home, after a long, very ordinary day. I checked my email and the day became magical! My agent informed me that Kristen Pettit at Harper Collins was prepared to make an offer; but she wanted to speak with me first! After an agonizing, jumping-out-of-my-skin, two-day wait, we talked on the phone, and our vision of the book was in perfect alignment! She said she would make the offer! Needles to say, my family and I celebrated that Friday night!
What's your favorite junk food?
Ice cream, especially anything chocolatey and peanut-buttery! I can eat it every night.
What's the oddest thing on your desk right now?
Hmmm…what's not odd on my desk? I tend to collect odd things! Right now there is a vertebrae of some animal, fossils, crystals, used bullet cartridges, a naked troll doll from my childhood…I could go on.