I'm excited to welcome 2018 debut author, Jaime Questell, to the blog today to share with us her mood board for By a Charm and a Curse! She chose some really pretty pictures, and I love her reasonings for choosing them.
Jaime Questell's Mood Board for By a Charm and a Curse
I'm the kind of writer who finds mood boards incredibly helpful when writing. If I feel a little stumped or unsure what to write next, then I go back to my mood boards to try to recapture that feeling the picture inspired. So here are a few of the photos that I collected while writing By a Charm and a Curse.
To start, obviously, a Ferris wheel. That was one of the first images I had in my mind when I came up with the story and one of the first I found for my mood board. I love the glowing lights and the rickety little cars. And this photo of a Ferris wheel against a twilight sky, feels exactly the way I wanted the start of my novel to feel.
One of the next photos I found was this vintage photo of three tumblers. As someone who is very uncoordinated, I was immediately taken in by how in control these three are, and how each is dependent on the other. The Moretti brothers, for all their faults, operate under that inherent trust and belief in each other.
The Dresden Dolls were a big inspiration for this novel, and this photo of their drummer, Brian Viglione, helped shape my early imaginings of Sidney into a real character. I love how in this pic, Viglione is wearing vintage clothes but seems completely modern, like a person stuck in time. And while the Sidney on the page doesn't match up exactly with Viglione in this photo, I think the spirit is still there.
Much like the vintage photo of the tumblers, when I came across this vintage photo of a young equestrian being trained by (in my imagination, if not in fact) her dad, I knew I needed characters like this.
Anyone who's read the book knows that a pivotal scene takes place on a carousel, and I took that opportunity to fill the ride with as many fantastic creatures and bright colors as I could, all while coming back to the soft glow of this photo. I have always loved carousels (my husband and I even took our engagement photos on one!), especially the art of them, the deeply saturated colors and movement captured in the figures.
This photo of a woman in a modified ringmaster's costume always made me think of Leslie. The confident way she's holding herself, the sense you get that, even though she's not looking at the camera, she's surveying that which belongs to her. All that's missing to really make her Leslie is blond curls.
And finally, this photo of a carnival as seen from above, in the early morning. Or at least, what I'm choosing to believe is early morning and not sunset. That was a feeling I wanted to capture: what does a carnival feel like when it's not teeming with people? I hope I succeeded, at least a little.
---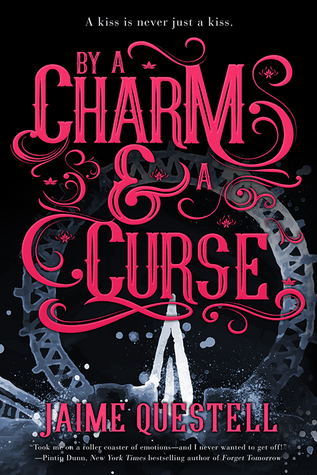 By a Charm and a Curse by Jaime Questell
Published by Entangled Teen on February 6, 2018
Genres: Fantasy, Young Adult
Add to Goodreads
Buy from Amazon
Le Grand's Carnival Fantastic isn't like other traveling circuses. It's bound by a charm, held together by a centuries-old curse, that protects its members from ever growing older or getting hurt. Emmaline King is drawn to the circus like a moth to a flame…and unwittingly recruited into its folds by a mysterious teen boy whose kiss is as cold as ice.

Forced to travel through Texas as the new Girl in the Box, Emmaline is completely trapped. Breaking the curse seems like her only chance at freedom, but with no curse, there's no charm, either—dooming everyone who calls the Carnival Fantastic home. Including the boy she's afraid she's falling for.

Everything—including his life—could end with just one kiss.
Editorial Reviews for By a Charm and a Curse
"A dark idea for a YA story, executed deftly and with feeling." — Kirkus Reviews, starred review
"A real page-turner! I was so charmed by this book filled with mystery and magical mayhem that I wasn't able to put it down until the end." — Brenda Drake, New York Times bestselling author
"What a ride! From the very first page, By a Charm and a Curse took me on a roller coaster of emotions—and I never wanted to get off!" — Pintip Dunn, New York Times bestselling author
---
About Jaime Questell
Jaime Questell is a writer and graphic designer from Houston, Texas. She has also been a bookseller, a professional knitter, a semi-professional baker, and an administrative assistant. None of these jobs involved wrangling corgis, which is quite sad. She lives in the 'burbs with her husband, children, and pets.
Author Website | Twitter | Instagram | Goodreads | Pinterest | Newsletter