The Debut Dish, a bi-monthly Debut Author Challenge feature, is where you go for the scoop on some pretty awesome debut authors and their new books! Hopefully these interviews will inspire you to add many, many more books to your to-read list. Because, really, who doesn't need more books in their lives?
This issue of The Debut Dish features Kim Chance (Keeper), Ashley Woodfolk (The Beauty That Remains), Jen Petro-Roy (P.S. I Miss You), and Sarah Nicole Smetana (The Midnights).
---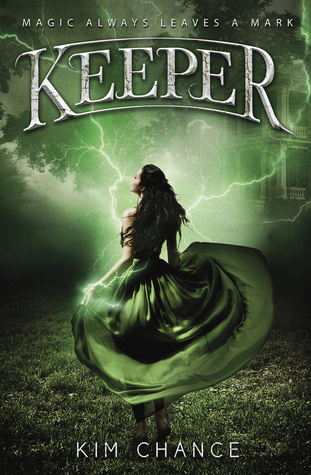 Keeper by Kim Chance
January 30, 2018 from Flux Books
Add to Goodreads | Author Website
When a 200-year-old witch attacks her, sixteen-year-old bookworm Lainey Styles is determined to find a logical explanation. Even with the impossible staring her in the face, Lainey refuses to believe it—until she finds a photograph linking the witch to her dead mother.

After consulting a psychic, Lainey discovers that she, like her mother, is a Keeper: a witch with the exclusive ability to unlock and wield the Grimoire, a dangerous but powerful spell book. But there's a problem. The Grimoire has been stolen by a malevolent warlock who is desperate for a spell locked inside it—a spell that would allow him to siphon away the world's magic.

With the help of her comic-book-loving best friend and an enigmatic but admittedly handsome street fighter, Lainey must leave her life of college prep and studying behind to prepare for the biggest test of all: stealing back the book.
Describe your book in five words or less.

Magic Always Leaves a Mark.
I sorta cheated, but this is the tagline of the book, and in my opinion, nothing could describe it more perfectly!
Tell us about your favorite scene in your book.
Oh gosh, there are so many! Without giving any spoilers, I think I'd have to say that my favorite scene is the moment when my main character, Lainey, decides to take control of her own destiny. She goes through a lot in the book, and when she finally decides to be active in her fate, not just react to what's happening to her is a really cool moment. It was a lot of fun to write!
Where were you when you found out you were being published?
I was in the middle of class! My students were working independently on an assignment, so I decided to do a quick check of my email. When I saw the message, I literally squealed out loud! I got to share the news with my students first, which was so special! I wrote the book with those kids in mind, so getting to share the joy of the moment with them was an awesome experience!
What's your favorite junk food?
I have a major sweet tooth, so anything with chocolate! I especially love white chocolate and Reese cups! For writing sessions though, I have to have jolly ranchers or my caramel apple suckers–I can't write without them!
What's the oddest thing on your desk right now?
I have to have a pretty clean space when I work. A cluttered desk stresses me out–I'm a type A personality–so there's not much on it! I guess the oddest thing is a pacifier and a baby monitor. I have three kids and my youngest is only five months old. I have to balance mom life and writer life pretty much every day!
---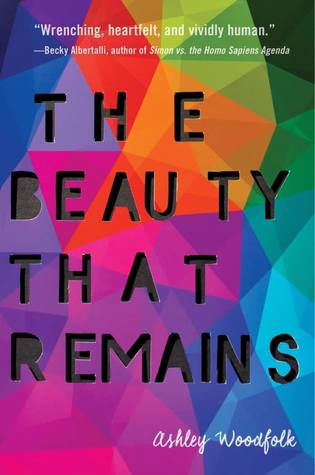 The Beauty That Remains by Ashley Woodfolk
March 6, 2018 from Delacorte Press
Add to Goodreads | Author Website
Music brought Autumn, Shay, and Logan together. Death wants to tear them apart.

Autumn always knew exactly who she was—a talented artist and a loyal friend. Shay was defined by two things: her bond with her twin sister, Sasha, and her love of music. And Logan always turned to writing love songs when his love life was a little less than perfect.

But when tragedy strikes each of them, somehow music is no longer enough. Now Logan can't stop watching vlogs of his dead ex-boyfriend. Shay is a music blogger struggling to keep it together. And Autumn sends messages that she knows can never be answered.

Despite the odds, one band's music will reunite them and prove that after grief, beauty thrives in the people left behind.
Describe your book in five words or less.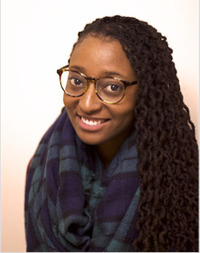 Three teens. All the feels.
Tell us about your favorite scene in your book.
My favorite scene is the scene after two of my characters kiss for the first time. Their romance simmers for a little more than half of the novel, and when they finally kiss, it's pretty epic. But in the scene that follows the male character, Dante, who is the strong, silent type opens up to Autumn, and it feels real and earned and sweet.
Where were you when you found out you were being published?
At work. My agent called my cell and left a message and the second I listened to it I jumped up and down in my office all alone.
What's your favorite junk food?
Salty: Doritos. Sweets: Donuts.
What's the oddest thing on your desk right now?
About four different essential oils.
---
P.S. I Miss You by Jen Petro-Roy
March 6, 2018 from Feiwel & Friends
Add to Goodreads | Author Website
In this epistolary middle-grade debut novel, a girl who's questioning her sexual orientation writes letters to her sister, who was sent away from their strict Catholic home after becoming pregnant.

Eleven-year-old Evie is heartbroken when her strict Catholic parents send her pregnant sister away to stay with a distant great-aunt. All Evie wants is for her older sister to come back. But when her parents forbid her to even speak to Cilla, she starts sending letters. Evie writes letters about her family, torn apart and hurting. She writes about her life, empty without Cilla. And she writes about the new girl in school, June, who becomes her friend, and then maybe more than a friend.

As she becomes better friends with June, Evie begins to question her sexual orientation. She can only imagine what might happen if her parents found out who she really is. She could really use some advice from Cilla. But Cilla isn't writing back.
Describe your book in five words or less.

Strict parents; crushing on girl.
Tell us about your favorite scene in your book.
It's so hard to narrow it down, but one of my favorite scenes is when Evie (my main character) and June, her crush, are working on the scenery for set crew and start to realize they might like each other. It's a mix of tween girl blushing and hiding and denial, and I just love how it came out.
Where were you when you found out you were being published?
I'm a librarian in addition to being a writer, and I was working at my last job as a teen librarian when I got the call from my agent. I had kept my phone on and with me because I knew I might be hearing something that day, but the call still surprised me. I was in the middle of preparing for a program, and after talking to my agent and basically having my dream come true, it was reallllllly hard to concentrate on work after that!
What's your favorite junk food?
I have a soft-spot for mini-Reese's Peanut Butter cups. They're perfect writing fuel!
What's the oddest thing on your desk right now?
I don't know if it's odd, but I love my collection of literary and pop culture Funko Pop! figures. My latest acquisitions are Leslie Knope and Ron Swanson from Parks and Recreation.
---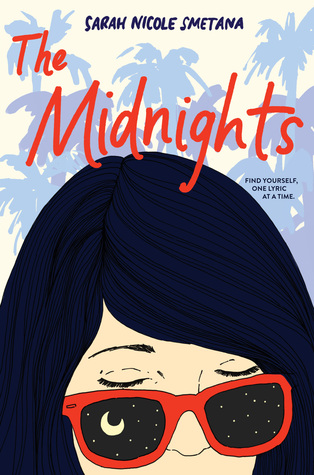 The Midnights by Sarah Nicole Smetana
March 6, 2018 from HarperTeen
Add to Goodreads | Author Website
Susannah Hayes has never been in the spotlight, but she dreams of following her father, a former rock star, onto the stage. As senior year begins, she's more interested in composing impressive chord progressions than college essays, certain that if she writes the perfect song, her father might finally look up from the past long enough to see her. But when he dies unexpectedly her dreams—and her reality—shatter.

While Susannah struggles with grief, her mother uproots them to a new city. There, Susannah realizes she can reinvent herself however she wants: a confident singer-songwriter, member of a hip band, embraced by an effortlessly cool best friend. But Susannah is not the only one keeping secrets, and soon, harsh revelations threaten to unravel her life once again.
Describe your book in five words or less.

Music, California, grief, secrets, heartbreak.
Tell us about your favorite scene in your book.
I have so many favorites, but if I have to pick one: This scene on New Year's Eve, when Susannah first performs onstage. It's a huge moment for her as an artist, and there's a lot of emotion that follows. The high of being on stage and playing her own song mixes with the disappointment of other events not going as planned, and wishing her father could have been there. Then *spoilery things* happen, resulting in an empowering—but somewhat dangerous—internal shift.
Where were you when you found out you were being published?
I was on the subway. This was before we had wifi in the stations, but my train travels over the Manhattan Bridge, and I was on that stretch when I got a voicemail from my agent. I immediately called her back, without even listening to the voicemail, and was like, "I'm on the train and I'm going to lose service any second but I couldn't wait WHAT HAPPENED!?!" Pretty sure I then promptly lost service, although not before learning there was an offer.
What's your favorite junk food?
Chocolate, preferably paired with coffee or tea.
What's the oddest thing on your desk right now?
A fuzzy Totoro pouch, for which I have absolutely no use, but 100% needed to own anyway.