The Debut Dish, a bi-monthly Debut Author Challenge feature, is where you go for the scoop on some pretty awesome debut authors and their new books! Hopefully these interviews will inspire you to add many, many more books to your to-read list. Because, really, who doesn't need more books in their lives?
This issue of The Debut Dish features Jessica Leake (Beyond a Darkened Shore), Emma Berquist (Devils Unto Dust), Kaitlyn Sage Patterson (The Diminished), and Carolyn O'Doherty (Rewind).
---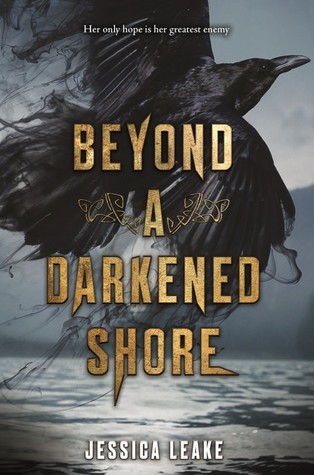 Beyond a Darkened Shore by Jessica Leake
April 10, 2018 from HarperTeen
Add to Goodreads | Author Website
The ancient land of Éirinn is mired in war. Ciara, Princess of Mide, has never known a time when Éirinn's kingdoms were not battling for power, or Northmen were not plundering their shores.

The people of Mide have thankfully always been safe because of Ciara's unearthly ability to control her enemies' minds and actions. But lately, a mysterious crow has been appearing to Ciara, whispering warnings of an even darker threat. Although her clansmen dismiss her visions as pagan nonsense, Ciara fears this coming evil will destroy not just Éirinn, but the entire world.

Then the crow leads Ciara to Leif, a young Northman leader. Leif should be Ciara's enemy, but when Ciara discovers that he, too, shares her prophetic visions, she knows he's something more. Leif is mounting an impressive army, and with Ciara's strength in battle the two might have a chance to save their world.

With evil rising around them, they'll do what it takes to defend the land they love…even if it means making the greatest sacrifice of all.
Describe your book in five words or less.

Action-packed mythological fantasy & romance.
Tell us about your favorite scene in your book.
One of my non-spoilery scenes comes in the beginning of the book when the main character Ciara meets the Morrigan for the first time. The Morrigan forces her to watch all the horrible things that can happen to Ciara's world and family if she doesn't do anything to stop the coming evil, and it's creepy and intense and dark…just like the Morrigan herself.
Where were you when you found out you were being published?
I had just had my fourth baby the week before, so I was at home in that state of happy exhaustion, and I saw that I had a missed call from my agent. I listened to the voicemail right away, of course, (I actually still have the voicemail lol) and she said that I needed to call her immediately, that if I was driving, I needed to pull over and call her right away. So my mom was there helping with my other kids, and she excitedly told me to hurry up and call my agent back. I went into my room, and I listened in a state of shocked confusion as my agent told me that HarperCollins had offered to buy not just one, but TWO books!! I remember I just kept saying, "What?!" over and over. And then I went out of my room and told my mom, and she cried. Such an incredible surprise! One of my happiest memories, for sure.
What's your favorite junk food?
Chocolate and just about anything sweet. I try to tell myself eating dark chocolate isn't really the same as eating junk food, but I'm pretty sure it is when I chase a square of it with chocolate-chip cookies 😆.
What's the oddest thing on your desk right now?
I just cleaned out my office so I can answer this definitively: a small figurine of Willow from the movie Willow circa 1988.
---
Devils Unto Dust by Emma Berquist
April 10, 2018 from Greenwillow
Add to Goodreads | Author Website
Ten years ago, a horrifying disease began spreading across the West Texas desert. Infected people—shakes—attacked the living and created havoc and destruction. No one has ever survived the infection. Daisy Wilcox, known as Willie, has been protecting her siblings within the relatively safe walls of Glory, Texas. When Willie's good-for-nothing father steals a fortune from one of the most dangerous shake-hunters in town, she finds herself on the hook for his debt. With two hunters, including the gruff and handsome Ben, to accompany her, she sets out across the desert in search of her father. But the desert is not kind to travelers, and not everyone will pass through alive.

Western meets horror for this riveting story about survival, family, and inner strength. Tense, short chapters propel readers from one action-packed scene to the next, while Willie's distinctive, introspective voice deepens the emotional stakes with every turn of the page. High concept and character-driven, Emma Berquist's debut will satisfy fans of The Magnificent Seven, Rae Carson's Walk on Earth a Stranger, and HBO's Westworld.
Describe your book in five words or less.

No Country For Young Adults
Tell us about your favorite scene in your book.
I'm a sucker for the quiet moments that sneak up in-between all the chaos. I tried to give Willie a few of those moments, and they stuck with me the most.
Where were you when you found out you were being published?
I'd just finished taking my dog out, and I got tangled up trying to get the leash off while lunging for the phone. I could barely hear anything, I was breathing so hard.
What's your favorite junk food?
Tough to choose just one. I'm partial to a giant bowl of popcorn with olive oil, salt and pepper. That or a spoon in a jar of peanut butter.
What's the oddest thing on your desk right now?
Random plug adaptor that I'm sure belongs to something I've already lost. A tiny cake made out of clay.
---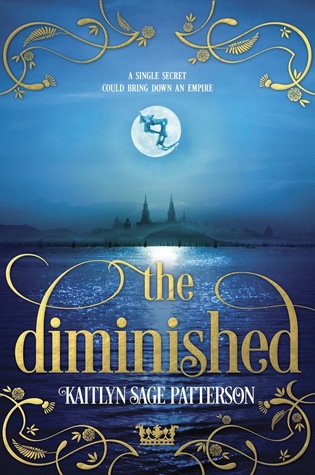 The Diminished by Kaitlyn Sage Patterson
April 10, 2018 from Harlequin Teen
Add to Goodreads | Author Website
In the Alskad Empire, nearly all are born with a twin, two halves to form one whole…yet some face the world alone.

The singleborn

A rare few are singleborn in each generation, and therefore given the right to rule by the gods and goddesses. Bo Trousillion is one of these few, born into the royal line and destined to rule. Though he has been chosen to succeed his great-aunt, Queen Runa, as the leader of the Alskad Empire, Bo has never felt equal to the grand future before him.

The diminished

When one twin dies, the other usually follows, unable to face the world without their other half. Those who survive are considered diminished, doomed to succumb to the violent grief that inevitably destroys everyone whose twin has died. Such is the fate of Vi Abernathy, whose twin sister died in infancy. Raised by the anchorites of the temple after her family cast her off, Vi has spent her whole life scheming for a way to escape and live out what's left of her life in peace.

As their sixteenth birthdays approach, Bo and Vi face very different futures—one a life of luxury as the heir to the throne, the other years of backbreaking work as a temple servant. But a long-held secret and the fate of the empire are destined to bring them together in a way they never could have imagined.
Describe your book in five words or less.

Siblings, grief, politics, loneliness, rebellion
Tell us about your favorite scene in your book.
My favorite scene in THE DIMINISHED is a kissing scene that takes place in a pool on board a ship. It's all about letting go and living in the moment, which is really hard for my main characters.
Where were you when you found out you were being published?
I was in a board room, making a presentation to my bosses. I'd forgotten to put my phone on silent, and it started blaring "Formation" by Beyoncé. You cannot imagine the blushes.
What's your favorite junk food?
Ruffles and canned french onion dip 4eva.
What's the oddest thing on your desk right now?
Is it weird to keep hot sauce AND nail polish on your desk? I don't know what's normal anymore. I'm too deep in my deadline.
---
Rewind by Carolyn O'Doherty
April 10, 2018 from Boyds Mills Press
Add to Goodreads | Author Website
Sixteen-year-old Alex is a Spinner–she has the ability to rewind time to review past events. Hated and feared because of their ability to find the truth, the small population of Spinners is restricted to Centers–compounds created to house and protect them. Alex's society uses the Spinners' skills to solve major crimes, but messing with time comes with consequences: no Spinner lives past the age of twenty. At sixteen, Alex is in her prime–until time sickness strikes early. When she is offered an experimental treatment, Alex sees a future for herself for the first time. But the promising medication offers more than just a cure–it also brings with it dire consequences.
Describe your book in five words or less.

Teenagers who can freeze time.
Tell us about your favorite scene in your book.
My favorite scene is when Alex wakes up in the clinic and discovers her time freezing skills have changed. It's a pivotal event in her life and a place in the story where the stakes start to ratchet up. It was also a super fun scene to write — especially in a book where my main character doesn't get to have too many lighthearted moments.
Where were you when you found out you were being published?
You know what's crazy? I'm not 100% sure. It was two years ago and I think I was at work, but I'd imagined the scene in my head so many times it's possible I'm remembering the fantasy rather than the reality!
What's your favorite junk food?
Salt and vinegar potato chips.
What's the oddest thing on your desk right now?
A big bag of sweet li hing mui (pickled plums). I grew up in Hawaii and these were my favorite snack so I bought some for my son's birthday. They were not a hit. Now the whole bag is for me!