In celebration of Sandy Hall's A Prom to Remember (4/24/18), my friends at Macmillan Children's Publishing are throwing a YA Prom and everyone is invited to attend! I was super excited to participate when one of the publicists from Mac Kids Books reached out and invited me to share a mood board of what my YA prom would look like. Check it out and then read more about the book below!
---
My high school Prom kind of sucked. lol. I'd much rather go to the Prom I've dreamed up! This plum purple dress I've found reminds me a lot of a pastel lavender dress that Kate Middleton wore to the BAFTA Brits To Watch Event in 2011. I think it's so elegant, and I love the color. It looks way more comfortable than the satin, multi-layer gown with a petticoat that I wore to my Prom. I'd keep things simple and classy with a silver cubic zirconia tennis necklace with matching bracelet and earrings.
My date is James, a.k.a. Red, from Unbreak My Heart by Melissa Walker. What a likeable, happy, artistic, charismatic, and hilarious guy. I love his philosophy, which is basically this: you can be sad and you can mourn what you've lost, but the memories you created before that loss are yours forever. Never discount the happy times in life, just because they ended unhappily. Anyway, I've been binging NBC's Timeless and LOVE it. Matt Lanter reminds me so much of what I picture James, so I went and found a pic of teenaged Matt. He was swoony then, too! I would have had a major crush on this face in high school.
The corsage is simple and elegant, with rose gold colored roses. James would pick me up for the dance in his shiny royal blue C5 Corvette (the car everyone dreamed of my senior year of high school, 2005), and he'd whisk me off to this super elegant ballroom to dance the night away. You can't see it, but there's a garden courtyard outside where he'd kiss me under the stars.
---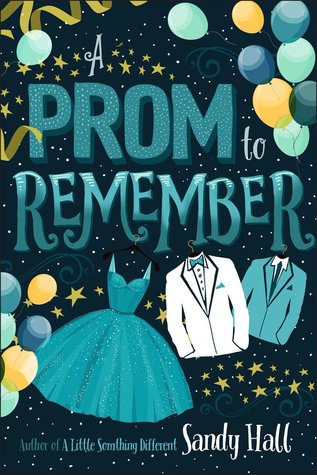 A Prom to Remember by Sandy Hall
Published by Swoon Reads on April 24, 2018
Genres: Contemporary. Young Adult
Amazon • Add to Goodreads
Seven seniors, seven problems, one senior prom.

Cora: Head of the Prom Committee (and basically every other club in school). Has been dating Perfect Boyfriend Jamie™ for approximately forever, and has NO IDEA how to break up with him….

Paisley: Sarcastic feminist who wants nothing to do with prom. Has somehow managed to nominate her anxiety-ridden best friend for prom king…

Henry: Quiet ballplayer who hates social situations. Invited to prom by the most popular girl in school. SEND HELP!

Otis: Charming, popular, and one half of one of the cutest couples in his class. Doesn't know how to tell his boyfriend that he's not quite ready for a post-prom hotel room experience…

Lizzie: A little bit shy, and a lot excited to finally get out of her comfort zone and go to prom. With a boy. Whose name she doesn't know.

Cameron: Loner with two jobs and zero friends. Is so done with high school and this whole town: the only thing he still wants to do is meet the mysterious girl who's been leaving him notes…

Jacinta: Unnamed Nerd Girl #3. Determined to become the star of her own life, starting with prom. Now if only she could find a date….

A Prom to Remember, the newest book from Sandy Hall (author of A Little Something Different) is a funny and cinematic look at the biggest dance of every high schooler's life.
Who would be your date to YA prom?