Welcome to The FFBC's blog tour of Sara Raasch's These Rebel Waves! As one of the brand new co-owners of The Fantastic Flying Book Club, I get the exciting privilege of hosting Sara's welcome interview here on my blog! It's a day late, but oh well! We've had some craziness going on over at The FFBC with life stuff and me being added to the team only recently, so we're still ironing things out. Without further ado, here's Sarah!
---
Interview with Sara Raasch
Hello Sara! We are super excited to talk to you about THESE REBEL WAVES and to have you on tour with us.  
ABOUT THE AUTHOR:
1. Favorite Book?
At the moment? Such a mean question! But I always love PRINCE'S GAMBIT by CS Pacat, the second out of her Captive Prince trilogy. It's…well, let's just say yummy and surprising. 
2. Favorite TV show?
Parks & Rec! I could rewatch it forever. 
3. Favorite movie?
I rewatch the Shrek movies an embarrassing amount. 
4. Favorite Song?
Welcome to the Black Parade by My Chemical Romance – I listened to it nonstop while writing THESE REBEL WAVES! 
5. Favorite Food?
Dark chocolate. 
6. Name 3 fictional places you would move to in a heartbeat.
Sharon Shinn's Gillengaria from her Twelve Houses series; also, her country of Welce in her Elemental Blessings series (basically any world Sharon Shinn has created); and the world of Warehouse 13 from the Syfy show 
7. What were your favorite books growing up?
I LOVED the Felicity the American girl series. All of my earliest writings were inspired by Revolutionary War America/Felicity. 
8. Favorite Quote?
"Keep Moving Forward," by Walt Disney. 
9. What do you find yourself "fangirling" over?
Captive Prince by CS Pacat. Avatar: The Last Airbender. ZUTARA. 
10. Name a recent book you read that you would recommend to our YA fans?
SEAFIRE by Natalie C Parker! Futuristic female pirates? SO GOOD! 
ABOUT THE BOOK:
1. Could you tell our Book Addicts a little bit about THESE REBEL WAVES?
THESE REBEL WAVES is a YA fantasy inspired by the Golden Age of Piracy and the Spanish Inquistion. It takes place on the fictional island of Grace Loray as well as the country that used to own said island, Argrid. There's botanical magic and post-war struggles and politics and romance. 
2. Do you have any fave books/movies/tv shows that feature pirates?
I just barely started Black Sails—it's so intense! The actors are AMAZING too. I'm also in love with Natalie C Parker's SEAFIRE, another YA fantasy about pirates coming out this August! 
3. What 3 hashtags would you most associate with your book series? (Could be a word or phrase or anything that would instantly make you think of THESE REBEL WAVES).
#rebels #raiders #revolution 
4. Tell us your favorite quote from THESE REBEL WAVES.
It's a funny line between Vex (the pirate character) and Lu (the ex-soldier girl) where she's been constantly correcting what Vex calls her, and he finally snaps. 
 He beamed at her. "Wicked princesa." 
"Politician." 
"I don't know why you keep bragging about that." 
5. Is there a specific scene that you had the most fun to write?  Or which part was the most difficult to get through?
Every scene between Lu and Vex was so much fun! They banter nonstop, and pick at each other, and it's just hysterical. Ben's scenes were always difficult to write because he's hiding so much from everyone around him that it made it difficult for me to get at the root of his motivations.  
6. If you had to pick one song to be the Theme Song for THESE REBEL WAVES– Which one would you pick?
Welcome to the Black Parade by My Chemical Romance. I have a whole music video planned in my head! 
7. Are there any recommendations you could give your readers to be in the "perfect mood" to read THESE REBEL WAVES (specific music, snacks…)? 
Preferably sit in a lush garden, humidity thick on the air, surrounded by the smell of greenery and dirt and maybe, just maybe, a hint of magic. 
8. What's next for you? 
The sequel to THESE REBEL WAVES comes out next summer, and I have a few other projects lined up that I can't talk about yet. But hopefully I can share soon! 
Thank you so much for everything, Sara! 
Thank YOU! This was such fun!! 
---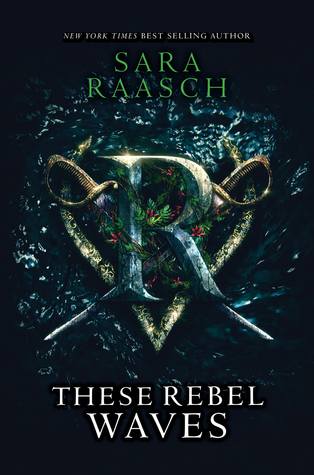 These Rebel Waves by Sara Raasch
Series: Stream Raiders #1
Published by Blazer + Bray on August 7, 2018
Genres: Young Adult – Fantasy
Add to Goodreads • Amazon • B&N • Book Depository
Adeluna is a soldier. Five years ago, she helped the magic-rich island of Grace Loray overthrow its oppressor, Argrid, a country ruled by religion. But adjusting to postwar life has not been easy. When an Argridian delegate vanishes during peace talks with Grace Loray's new Council, Argrid demands brutal justice—but Lu suspects something more dangerous is at work.

Devereux is a pirate. As one of the outlaws called stream raiders who run rampant on Grace Loray, he pirates the island's magic plants and sells them on the black market. But after Argrid accuses raiders of the diplomat's abduction, Vex becomes a target. An expert navigator, he agrees to help Lu find the Argridian—but the truth they uncover could be deadlier than any war.

Benat is a heretic. The crown prince of Argrid, he harbors a secret obsession with Grace Loray's forbidden magic. When Ben's father, the king, gives him the shocking task of reversing Argrid's fear of magic, Ben has to decide if one prince can change a devout country—or if he's building his own pyre.

As conspiracies arise, Lu, Vex, and Ben will have to decide who they really are . . . and what they are willing to become for peace.
---
Sara Raasch has known she was destined for bookish things since the age of five, when her friends had a lemonade stand and she tagged along to sell her hand-drawn picture books too. Not much has changed since then — her friends still cock concerned eyebrows when she attempts to draw things and her enthusiasm for the written word still drives her to extreme measures. Her debut YA fantasy, SNOW LIKE ASHES, the first in a trilogy, came out October 14, 2014 from Balzer + Bray. It does not feature her hand-drawn pictures.
Website | Twitter | Facebook | Pinterest | Goodreads | YouTube