Magic, Myth, & Mischief, hosted by me and Bonnie, is a month-long event that celebrates fairy tales and mythological retellings, as well as retellings of favorite classic novels and books featuring mythical beasts such as mermaids, dragons, and fae! Find the schedule of events and other information here.
Today I'm welcoming Laure Holt, author of Fathoms Above, to the blog to present spooky book recommendations from Hades himself!
---
"Dark, Tragic, and Spine-Tinglingly Terrific"
Halloween Book Recommendations from the God of the Underworld
Ever wonder what the god of the Underworld does in his spare time? Well, when he's not stealing souls, entertaining himself with trivial mortal pursuits, or trekking through spooky forests, ghoulish ruins, hidden underwater halls, and haunted trains in an effort to break a curse, he relishes nothing more than sitting quietly with a wicked read like these. (Curled up on a throne that's as black as his dark little heart in front of a hearth of blazing hellfire, of course.)
Escaping from Houdini by Kerri Maniscalco
Hades has been around for a long time (like several million years). So, a historical retelling written in haunting prose that centers around creepy character Houdini, the famous escape artist, is right up his alley. Especially when the main character's love interest has his own brand of dark, sardonic wit. In Hades's opinion, if this book doesn't get you in the mood for Halloween, he doesn't know what will!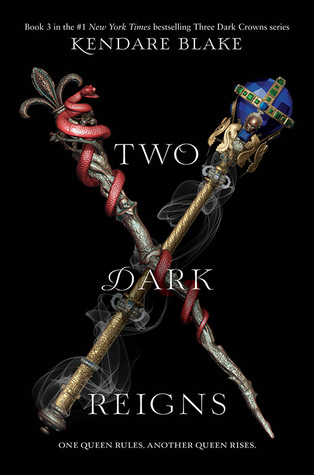 Two Dark Reigns by Kendare Blake
Any book that has the word "dark" in the title makes it onto Hades's tbr, and this next book in the Three Dark Crowns series is no exception. He is especially intrigued with the fact that Kendare Blake got the idea for this story from observing how all the queens but one in a bee colony are killed. Talk about freaky fabulous! The god of death can't wait to see which queen comes out on top, though, if truth be told, he's rooting for Katharine. Using the powers of dead queens and poisoning are, in his opinion, the best way to run a kingdom.
The Dark Descent of Elizabeth Frankenstein and Bright We Burn by Kiersten White
From the vampiric hills of Transylvania to the lightning-struck tower of Victor Frankenstein, one look at the spookerific covers of Kierstin White's latest masterpieces, and Hades was hooked. He is a secret sucker for shiny things (though he likes to blame his collection of bobbles on his raven harbingers). Still, even Persephone had to admit that these books looked pretty good on the shelf next to all of his human skulls and glowing soul jars.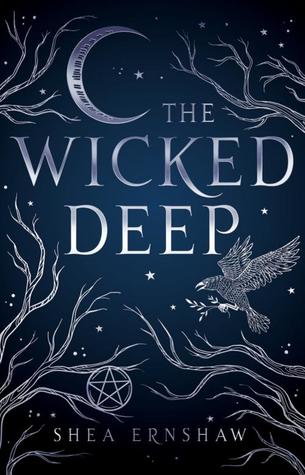 The Wicked Deep by Shea Ernshaw
It should come as no surprise that Hades's favorite holiday is Halloween. Not only is he death personified (though please don't expect him to show up on your doorstep in a black hooded cloak carrying a scythe. That look is so nineties.) But when you live in an underground castle in the land of the dead guarded by a small army of mythical nasties, you've already won the house decorating contest. At that point, all you can do is embrace the inherent darkness. And Shea Ernshaw's debut book, with witches, spooky magic, small town legends, and curses, sounds chock full of chills and thrills. Needless to say, Hades is super excited to give this one a try!
---
Fathoms Between by Laura Holt
Series: Star Crossed #3
Self-published on October 2, 2018
Goodreads • Amazon
It worked.

Cather Stevens thwarted the curse of star-crossed love that has plagued the women in her family for centuries. All it took was a marriage to Peter Ganis, the last living descendant of Pyramus's bloodline, whose sway over her grows stronger with each passing day. The pieces of Thisbe's soul are still out there, though. To erase the curse, Cather must travel to Greece's most mythological places and track each one down with the help of her husband and Hermes, the Book Keeper and Messenger of the gods, who still holds a piece of her heart that neither is willing to give up.

But when an unexpected tragedy befalls Peter, Cather is forced to put her trust in none other than Hades, god of the Underworld and Zeus's biggest rival. With magical assassins on their tail and danger lurking around every corner, they must work together to reunite the soul pieces before Ares, god of War, who was sent to Earth to stop them, destroys them and dooms Cather, her family, and both the men she loves forever.
---
About Laura Holt
Laura Holt is from a small Georgia town, where she lives with her daughter. Growing up as the oldest of three sisters, Laura used her imagination to make up stories as a way to escape from the sometimes crazy-making monotony of everyday life. As she got older, her love of stories grew into a love of books, especially fantasy, and eventually, she wrote her own stories down as well. When Laura isn't busy writing or thinking up a new way to promote the Star Crossed series, she can be found curled up on the couch reading, working out, or spending time with her daughter. A few of their favorite pastimes include watching shows like Merlin on Netflix, shopping, and going treasure hunting. Laura is also active in the children's ministry at her local church, is addicted to Pinterest, loves anything chocolate (as long as it doesn't have soy in it), and is always looking for a new way to get her daily adrenaline fix.