Hello and Happy Holidays! When Jana reached out to me, asking if I'd like to join her A Bookish Little Christmas feature on her blog, I was first, extremely honored, and second, immediately wanting to say yes! I love collaborating with other bloggers in the community, especially for fun holiday features like this one. It's a great way to meet new readers while sharing your own love for reading. So, thank you, Jana for asking me to be a part of this!
If you know me, or follow me anywhere on social media, then you probably already know where my style of reading tends to fall… ROMANCE! I've always been more of a contemporary kind of reader, but in the last five years or so, all I've wanted to read are romances. The romances I've read the most this year have been Adult and fall under contemporary or historical romance. I can never get enough!
With that being said, I would love to recommend a few of my favorite holiday romances I've read, plus share some others I am hoping to get to this holiday season. If romance is your jam, then I bet this post is for you! If you're not so much a romance fan, maybe I could convince you to try something new? Either way, I hope I've added a few new books to your to-be-read lists (and maybe even your holiday wish lists??).
For the Holiday Romance Novella Fan…

Holiday Wishes (Heartbreaker Bay #4.5) by Jill Shalvis
About the book: It's Christmastime again in Heartbreaker Bay!

When Sean O'Riley shows up at the Hartford Bed & Breakfast for his older brother's bachelor weekend, he's just hoping to make it through the weekend. What he's not expecting is to come face to face with the woman he lost his virginity to a decade ago—a woman he's never really forgotten.

The last time Lotti Hartford saw Sean, she told him she loved him while he said nothing. Now, ten years later, she's just looking for a good time. For once, she wants to be the wild and free one, and Sean – the good time guy – is the perfect candidate. 

But as the weekend continues, Sean realizes that after a lifetime of being the hook-up king, he's ready to find happily-ever-after, and he wants it with Lotti. But will she open her heart to him again? As Christmas sweeps through the little B&B, he can only hope love and magic are in the air. [goodreads.com]
This was a fun, quick read if you're looking for something steamy to read during the holidays. The festiveness of the Bed & Breakfast set the scene for a cozy Christmas holiday, and these two characters definitely kept things warm! Jill Shalvis is always a reliable author if you're looking for something to entertain and keep you satisfied. Also check out a previous novella from this same series, One Snowy Night, which I enjoyed just as much – if not more!
Room at the Inn  by Ruthie Knox
About the book: Ambitious and driven, Carson Vance couldn't wait to escape the small town where he was born. But now that Carson is back to spend Christmas with his ailing father, he must face all the people of Potter Falls he's left behind. Topping that list is Julie Long, who's sacrificed so much for Carson's family, and whose heart he broke once upon a time.  

Now the proprietor of the local inn, Julie has blossomed from a shy schoolgirl into a successful, seductive, independent woman—everything that Carson's looking for in a relationship. But despite several steamy encounters under the mistletoe, Julie refuses to believe in happily ever after. Now Carson must convince Julie that he's back for good—and that he wants her in his life for all the holidays to come. [goodreads.com]
If you have not read a Ruthie Knox novel before, then I highly recommend starting with this sweet, sexy holiday novella of hers. It's such a great introduction to her realistically romantic story telling. This particular story is a second chance romance sort of tale. What began as just a physical relationship gets a second go, and satisfies way more than just physical needs. In just these short pages I really got to know these characters and understood their journey, all while told against a sweet Christmas back drop.
For the Historical Romance Fan…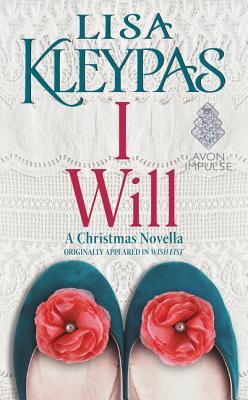 I Will: A Christmas Novella by Lisa Kleypas
About the book: Andrew, Lord Drake, has been cut out of his father's will because of his dissolute manner of living. To be reinstated, Andrew decides to pretend that he has changed his wicked ways. 

As part of his plan, he wants to convince his father that he is courting a respectable woman with the intention of marrying her. The problem is, he doesn't know any decent women, except for his friend's spinster sister, Miss Caroline Hargreaves. He blackmails the reluctant Caroline into helping him, and so the charade begins . . . [goodreads.com]
Oh how I love a fake relationship turns something more! This deliciously romantic tale kept me reading in one sitting (bonus: it's a novella!) and I knew I was in for a treat considering it was from Lisa Kleypas. There's something festive about an English setting during the holidays from the 19th century. Throw in a fun plot and I am sold!
How the Dukes Stole Christmas by Tessa Dare, Sarah MacLean, Sophie Jordan, & Joanna Shupe
About the book:

"Meet Me in Mayfair" by Tessa Dare

Louisa Ward needs a Christmas miracle. Unless she catches a wealthy husband at the ball tonight, the horrid, heartless Duke of Thorndale will evict her family from their beloved Mayfair home. But when her friend begs to switch dance cards, Louisa finds herself waltzing with the enemy: the horrid, heartless–and unexpectedly handsome–Thorndale himself. Now the duke's holding her future in his hands…and he's not letting go.

"The Duke of Christmas Present" by Sarah MacLean

Rich and ruthless, Eben, Duke of Allryd, has no time for holidays. Holidays are for whimsy and charm–the only two things his money cannot buy. Lady Jacqueline Mosby is full of both, even now, twelve years after she left to see the world. When Jacqueline returns for a single Christmas, Eben can't resist the woman he never stopped loving…or the future that had once been in reach. It will take a miracle to convince her to stay…but if ever there were a time for miracles, it's Christmas…

"Heiress Alone" by Sophie Jordan

When Annis Bannister's family leaves her behind in the rush to escape an impending snowstorm, she finds herself stranded in the Highlands, left to fend off brigands terrorizing the countryside, robbing homes locked up for winter. Her only hope falls on her neighbor, a surly hermit duke who unravels her with a look, then a kiss … until she fears the danger to her heart outweighs the danger of brigands and snowstorms.

"Christmas in Central Park" by Joanna Shupe

Women all over America devour Mrs. Walker's weekly column for recipes and advice. No one knows Rose, the column's author, can't even boil water. When the paper's owner, Duke Havemeyer, insists she host a Christmas party, Rose must scramble to find a husband, an empty mansion, and a cook. But Duke is not a man easily fooled and she fears her perfect plan is failing–especially when Duke's attentions make her feel anything but professional. To save her career will she give up her chance at love? [goodreads.com]
Not one, but FOUR historical romance holiday stories in this one! And even better, they're from some of my favorite authors! Tessa Dare and Sarah MacLean's were probably the two I enjoyed most, but all four are definitely a treat that should not be missed this holiday season. If you're like me and having withdraws waiting for the next MacLean novel to come out, this is a nice surprise to tide you over.
For the Steamy Romance Fan…

An Ex for Christmas  by Lauren Layne
About the book: When a psychic tells spunky, superstitious Kelly Byrne that she's already met her true love, she becomes obsessed with the idea of tracking him down before Christmas. Kelly immediately writes up an "Ex List" and starts contacting old boyfriends to figure out which one is the one. When her college sweetheart rolls into town, Kelly convinces herself that they're meant to be. The trouble is, sparks are flying with someone she's never given a chance: her best friend, Mark.

Mark Blakely has watched the guys on Kelly's list break her heart, and he's not looking forward to watching them do it all over again. Mark's always been there for her, but the timing's never worked out for their relationship to be something more. Now, just as Mark is ready to move on, the sexual tension between them is suddenly off the charts. With Christmas morning around the corner, he just hopes Kelly will wake up and realize that everything she wants has been right in front of her all along. [goodreads.com]
Oh how I loved this one!!! Lauren Layne writes some of the yummiest, steamiest romances, in my opinion. Her characters always make me laugh out loud and I end up adoring their relationships. Though I knew where this story would eventually end up, it was still fun to experience. There's an unexpected emotional pull that I felt while reading this one, and for someone who is always looking for substance in her romances, this one definitely hit that spot.
One Hot December by Tiffany Reisz
About the book: Never mess with a woman who carries a blowtorch in her backpack. Welder and artist Veronica "Flash" Redding's playful sense of evil sometimes gets the better of her. Like when her insanely handsome, wealthy, suited-up boss gave her the most sensuously wicked night of her life…then dumped her. Yep, revenge is a dish best served hot.

Only Ian Asher isn't quite letting Flash get away quite so easily. He's not ready to forget the intensity between them. The searing heat when they touch. And the deliciously demanding control Ian wields in the bedroom. Now he has only the holidays to convince Flash that they belong together…and that even the most exquisite, broken things can be welded back together. [goodreads.com]
Whew! Get ready to fan yourself if you read this one. It is HOTTT. If sexytimes in your romances is your jam, then definitely pick up this holiday romance by Tiffany Seisz. She definitely knows how to warm you right up!
Gift Wrapped by Karla Doyle
About the book: After catching her boyfriend cheating two weeks before Christmas, Brinn is seriously lacking in holiday spirit. So when she looks into the eyes of a last-minute shopper after closing on Christmas Eve, she's sarcastic rather than sympathetic. But Brinn is ever the good girl and her conscience wins out. She offers the handsome stranger ten minutes to select a gift and ends up with a present of her own—a date. On Christmas Eve.  

Davis hates Christmas. Especially this year, since a neighborhood heist liberated him of his hard-earned belongings and the few gifts he'd purchased. But the robbery led him to a cute store manager with a sense of humor, smokin' body and no plans for the evening. Mistletoe might be in order after all.  

Their Christmas Eve date is like gift-wrapped, sexy satisfaction. But the best gifts keep on giving, and one naughty night may not be enough—for either of them. [goodreads.com]
I love a good story that highlights two characters that may be down and out, yet when they meet their luck starts to change. These two held great chemistry and kept a fun, sexy romance set against the holidays delightful and entertaining. If sexytimes are your thing, but you also want more substance between the physical encounters, then this holiday romance is for you.
A Few Holiday Romances on My Christmas Wish List…

One Day in December  by Josie Silver
About the book: Laurie is pretty sure love at first sight doesn't exist anywhere but the movies. But then, through a misted-up bus window one snowy December day, she sees a man who she knows instantly is the one. Their eyes meet, there's a moment of pure magic…and then her bus drives away.

 Certain they're fated to find each other again, Laurie spends a year scanning every bus stop and cafe in London for him. But she doesn't find him, not when it matters anyway. Instead they "reunite" at a Christmas party, when her best friend Sarah giddily introduces her new boyfriend to Laurie. It's Jack, the man from the bus. It would be. 

What follows for Laurie, Sarah and Jack is ten years of friendship, heartbreak, missed opportunities, roads not taken, and destinies reconsidered. One Day in December is a joyous, heartwarming and immensely moving love story to escape into and a reminder that fate takes inexplicable turns along the route to happiness. [goodreads.com]
Santa, Baby by Jennifer Crusie, Carly Phillips, and Lori Foster
About the book:

JENNIFER CRUSIE

Mayhem ensues under the mistletoe as a determined shopper grabs the very last hot toy action figure off the shelf, only to find herself plunged into the middle of a real-life spy game–in the arms of a sexy secret agent. . .

LORI FOSTER

Two dedicated coworkers with a lot of secrets (and fantasies!) between them must plan a Christmas party side by side–and discover a love worth celebrating–in this steamy office romance.

CARLY PHILLIPS

A "mistletoe moment" begins when a no-nonsense lawyer intent on seducing her boss meets his twin instead–after giving him a scintillating kiss that leaves him begging for more. . . [goodreads.com]
Coming Home for Christmas  by Jenny Hale
About the book: Allie Richfield loves Christmas, so when she lands a job as House Manager for the amazing Ashford Estate—which includes organizing the Marley family festivities—she is in her element. With a budget bigger than her life savings and a team of staff, how hard can it be?

As one-by-one she meets the Marleys, she's about to find out…

Allie's new boss, Robert, might be gorgeous, but he's also colder than the snow outside and refuses to come home for Christmas. Robert's playboy brother, Kip, flirts with her relentlessly; and his sister, Sloane, arrives home with baggage—both the divorce-kind and the Louis Vuitton kind. Their ninety-two year old grandmother, Pippa, spends her day grumbling at everybody from her mobility scooter.

With Robert intending to sell Ashford, it's the Marley's last chance to create some happy memories in their family home—and Allie is determined to make it happen… even if it takes a little Christmas magic! With the festive spirit in full swing, she might even discover a little happiness of her own… [goodreads]
Thank you, again, to Jana for hosting A Bookish Little Christmas and allowing me to recommend a few of my favorite holiday romances. I hope I've added a few to your own to-be-read lists!
Please let me know if you end up reading any of these.
You can find me at the following:
Blog – http://www.greadsbooks.com
Twitter – https://twitter.com/GReadsBooks
Instagram – https://www.instagram.com/greadsbooks/