I'm so excited to be a part of The 12 Days of Holly Chase blog tour, hosted by Your Book Travels. There's so much fun happening along this festive blog tour!
My post today is pretty fun. In case you didn't know, Holly Chase is a major Scrooge. Well, she was before she died. Now her afterlife has frozen her at age 17, and she works as the latest Ghost of Christmas Past. Obviously, this is a super miserable job. In honor of her, I'm going to share with you some of my favorite lovable, grumpy, Scroogey characters in books.
My Favorite Fictional Scrooges
Mr. Darcy from Pride and Prejudice by Jane Austen
Who doesn't love our grumpy, swoony Mr. Darcy?
Prince Dominic from A Tale of Beauty and Beast by Melanie Cellier
Dominic is really a major jerk in the beginning of this Beauty and the Beast retelling. He's grumpy and rude and you pretty much hate him… until you don't.
Haymitch Abernathy from The Hunger Games by Suzanne Collins
This former victor of the Hunger Games is in a perpetual bad mood and drinks all the time, but he's actually got a big heart.
Gideon from Ruby Red by Kerstin Gier
Gideon is a snarky, experienced time traveler who is a complete nuisance to Gwyneth… in the beginning.
Callum Cook from Hold Your Breath by Katie Ruggle
This guy is very grumpy, and it's even more obvious because Lou is so sunshiney!
Finn Dalton from Starry Night by Debbie Macomber
Finn is a grumpy, anti-social mountain man with this dry wit that leaves you feeling insecure and intrigued.
Lucas Blade from Miracle on Fifth Avenue by Sarah Morgan
Lucas is an actual Scrooge. He hates Christmas and is suer grumpy about it! Readers only see his bad side for a little while. He's a grumpy and stressed author, and he's downright irritating.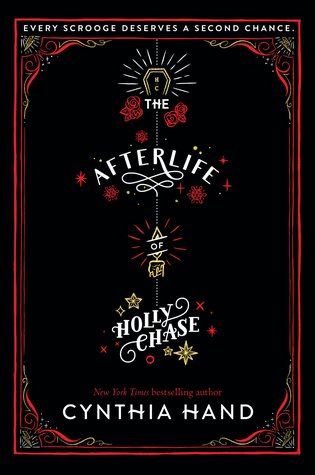 The Afterlife of Holly Chase by Cynthia Hand
Published by HarperTeen on October 24, 2017
Genres: Young Adult Fiction — Christmas, Fantasy, Retelling
Add to Goodreads • Amazon • B&N • Book Depository • IndieBound
On Christmas Eve five years ago, Holly was visited by three ghosts who showed her how selfish and spoiled she'd become. They tried to convince her to mend her ways.

She didn't.

And then she died.

Now she's stuck working for the top-secret company Project Scrooge–as the latest Ghost of Christmas Past.

Every year, they save another miserly grouch. Every year, Holly stays frozen at seventeen while her family and friends go on living without her. So far, Holly's afterlife has been miserable.

But this year, everything is about to change. . . .
About Cynthia Hand
Cynthia Hand is the New York Times bestselling author of several books for teens, including the UNEARTHLY trilogy, THE LAST TIME WE SAY GOODBYE, MY LADY JANE and MY PLAIN JANE (with fellow authors Brodi Ashton and Jodi Meadows), THE AFTERLIFE OF HOLLY CHASE, and the upcoming novel THE HOW AND THE WHY (Fall 2019). Before turning to writing for young adults, she studied literary fiction and earned both an M.F.A. and a Ph.D. in fiction writing. She currently resides in Boise, Idaho, with a husband who's addicted to typewriters, two kids, two cats, one crazy dog, and a entourage of imaginary friends. www.cynthiahandbooks.com
Holly-day Prize Pack Giveaway
The winner will receive a signed copy of a Cynthia Hand novel of your choice, a set of red fingerless gloves (knitted by Cynthia), a holiday spice candle, a copy of A Charlie Brown Christmas, two peppermint mocha bath bombs, a peppermint cream and pomegranate raspberry lip balm set, a "make your own ugly sweater kit," a pair of reindeer glasses, a Christmas mug that reads: "Holi-yays," Christmas pencils, candy cane Christmas kisses, and a limited edition Holly Chase ornament (signed by Cynthia). Digital MP3 download of The Afterlife of Holly Chase: An Alternate Christmas Carol by Lindsey Hunt.