Welcome to The FFBC's blog tour for We Were Beautiful by Heather Hepler! As the organizer for this tour, I got the opportunity to interview Heather!
---
Interview With Heather Hepler
ABOUT THE AUTHOR
1. As an author, what would you say has been the best compliment you've received?
"You've changed my life." Whether it is from the middle schooler struggling to bear up under bullying or the high schooler dealing with her parents' divorce, that one always gets my attention. But it's really the compliment that is implied that keeps me writing – letters and emails from readers who simply thank me because my stories made them feel seen and less alone.
2. Who is in more control of your writing: you or your characters? Why?
The first draft is definitely written by the characters. Initially I just follow them along and take notes, but after that I start shaping the story. I add details that never made it from my head to the page and take out random thoughts or wrong turns that muddy the story that I want to tell.
3. What have been some of your favorite recent reads (YA or not)?
I love fantasy and science fiction. My most recent obsessions have been older science fiction like Philip K. Dick and Ursula LeGuin. I also love Robin Hobb's books. Her ability to bring life to the mundane constantly stuns me.
4. What are you up to when you're not reading or writing?
I teach for two different universities, which keeps me busy. But I also love baking, traveling, and running. If I could, I'd have ten cats and probably as many dogs, but right now I have one of each and some Madagascar Hissing Cockroaches. (Only two, but the female is pregnant, so any day we might have another 50.)
5. What's your next project?
I'm actually working on two books right now. One is a science fiction book and the other is a co-written project about the life in inner-city Houston. I'm also just starting to work on a screen-play which is completely new for me, but very exciting.
ABOUT THE BOOK
1. Describe your book in 5 words or less.
Romantic, thoughtful, quirky, honest, yummy
2. Friendship is a very large theme in We Were Beautiful. Tell us about these friends (especially Fig because she is so interesting)!
I have met friends over the years that have become like family to me. Fig is just this incredible girl that is able to see beyond herself and her own pain to the needs of others. I think all of us need someone like that if our lives – someone who is nurturing and pushy in equal measures. I need someone who is willing to cry with me and watch romantic movies with me, but also willing to tell me 'okay, let's get up and get going again.' I like how each of Mia's friends is like that in different ways. Each of them listens, loves, and then inspires.
3. If you had written yourself into this book, which character (or what kind of character) would you be?
I'm probably Sarah – although I can't sing. I'm quiet and introspective, but when I'm ready to talk, I have a lot to say. I am also be fiercely loyal and will do anything for my friends and family.
4. What message do you hope your readers take away from We Were Beautiful?
I hope readers will realize that healing takes time. You can't run from the uncertainty of it or the pain of it. You just have to keep moving through it, one day at a time, knowing that even when it seems dark, the light is coming.
5. What's your favorite quote from the book?
"If I lean a little farther out, I can see the Brooklyn Bridge and a tiny slice of water. For some reason, seeing that makes me happy, like there's something bigger beyond this apartment and this building and this block. Something bigger beyond me."
---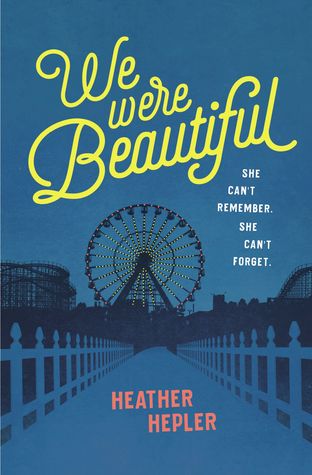 We Were Beautiful by Heather Hepler
Published by BLINK on April 2, 2019
Genres: Young Adult Fiction — Contemporary
Add to Goodreads • Amazon • B&N • Book Depository
It's been a year since fifteen-year-old Mia Hopkins was in the car crash that killed her older sister and left her terribly scarred. The doctors tell her she was lucky to survive. Her therapist says it will take time to heal. The police reports claim there were trace amounts of alcohol in her bloodstream. But no matter how much she tries to reconstruct the events of that fateful night, Mia's memory is spotty at best. She's left with accusations, rumors, and guilt so powerful it could consume her.

As the rest of Mia's family struggles with their own grief, Mia is sent to New York City to spend the summer with a grandmother she's never met. All Mia wants to do is hide from the world, but instead she's stuck with a summer job in the bustling kitchens of the cafe down the street. There she meets Fig–blue-haired, friendly, and vivacious–who takes Mia under her wing. As Mia gets to know Fig and her friends–including Cooper, the artistic boy who is always on Mia's mind–she realizes that she's not the only one with a painful past.

Over the summer, Mia begins to learn that redemption isn't as impossible as she once thought, but her scars inside run deep and aren't nearly so simple to heal … especially when Mia finally pieces together her memories of the night Rachel died.
---
About Heather Hepler
I was born in Kalamazoo, Michigan, which I think is one of the cooler places to be born, because initially people think I'm being funny—like I'm saying I was born on the moon, but then they see I'm actually being serious. It feels like since then I've lived nearly everywhere (well, only in the US—which is a bummer because I want to travel so much). In high school, I was in band and honors society and science club and worked on the school newspaper. All this in Texas where football was king and cheerleaders were the school royalty. When people ask me what I remember about middle school and high school, I stand there for several seconds not saying anything. This isn't because I can't remember anything, but because I remember too many things and I can't figure out what to say out loud.

I spent the first part of college in Alaska, which was amazing. The first time I saw Northern Lights, I thought I was imagining it. I just couldn't get my head around the idea that something so beautiful existed in the real world. That's when I first started writing. This was my bad poetry phase. I think it was the combination of living there with long very cold winters and being in love with a guy that barely knew I existed that made me do it. People ask me all the time if I write poetry. I wish I could and maybe I will someday, but for now I am firmly a fiction writer.