Welcome to my stop along the official Sorcery of Thorns book tour today, hosted by Simon & Schuster Children's Publishing! I've been eagerly awaiting the release of Sorcery of Thorns for so long, so when I was invited to participate I immediately said yes! Unfortunately, due to a lot of heavy life stuff happening all at the same time, I was unable to finish the book in time for today's stop. I'm still reading and enjoying it, though, and thought I'd share my thoughts so far!
---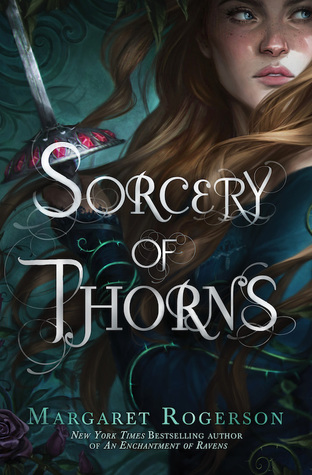 Sorcery of Thorns by Margaret Rogerson
Published by Margaret K. McElderry Books on June 4, 2019
Genre: Fantasy
Pages: 456
Format: ARC
Source: From the publisher
Amazon • Add to Goodreads
All sorcerers are evil. Elisabeth has known that as long as she has known anything. Raised as a foundling in one of Austermeer's Great Libraries, Elisabeth has grown up among the tools of sorcery—magical grimoires that whisper on shelves and rattle beneath iron chains. If provoked, they transform into grotesque monsters of ink and leather. She hopes to become a warden, charged with protecting the kingdom from their power.

Then an act of sabotage releases the library's most dangerous grimoire. Elisabeth's desperate intervention implicates her in the crime, and she is torn from her home to face justice in the capital. With no one to turn to but her sworn enemy, the sorcerer Nathaniel Thorn, and his mysterious demonic servant, she finds herself entangled in a centuries-old conspiracy. Not only could the Great Libraries go up in flames, but the world along with them.

As her alliance with Nathaniel grows stronger, Elisabeth starts to question everything she's been taught—about sorcerers, about the libraries she loves, even about herself. For Elisabeth has a power she has never guessed, and a future she could never have imagined.
Since I haven';t finished yet, my thoughts are kind of all over the place and very unorganized. What better time than now for me to just list everything out! I'll be writing a formal review once I've finished, but here are my thoughts so far…
Right off the bat, I'm in love with this magical library. And the grimoires are actually living things that are capable of getting into so much trouble. I don't know how long the library is going to play a part in this story since Elisabeth has been shipped away to the care of an evil sorcerer for treason.
This book starts off with a major bang, completely capturing your attention.
I've met Nathaniel briefly, but I can already tell he's going to be a bucket of swoons. I always seem to love the evil bad boys. His little… sidekick (??), however… I'm undecided on. He's kinda creepy.
Elisabeth is a very strong character and I love her. Is she afraid of anything? I'm not sure she is. She's relatable.
I'm feeling a slow burning, hate-to-love story brewing and I'm here for it.
I love Margaret's writing. A book about bookishness must be well-written, and I'm really enjoying her prose.
The worldbuilding is also super interesting, and I'm excited to dig deeper.
Ok, there you have my thoughts so far! I'm so grateful to the publisher for understanding that my life got really hard over the last few months, and letting me stay on the tour to help spread love for this book! I haven't read An Enchantment of Ravens yet, but I'm thinking I should! First, though, I need to finish this one… and soon. I can't wait to see what happens next (although I hear the ending is a doozy, so now I'm scared).
---
About Margaret Rogerson
Margaret Rogerson is the author of the New York Times bestseller An Enchantment of Ravens and Sorcery of Thorns. She has a bachelor's degree in cultural anthropology from Miami University. When not reading or writing she enjoys sketching, gaming, making pudding, and watching more documentaries than is socially acceptable (according to some). She lives near Cincinnati, Ohio, beside a garden full of hummingbirds and roses. Visit her at MargaretRogerson.com.