The Debut Dish, a bi-monthly Debut Author Challenge feature, is where you go for the scoop on some pretty awesome debut authors and their new books! Hopefully these interviews will inspire you to add many, many more books to your to-read list. Because, really, who doesn't need more books in their lives?
This issue of The Debut Dish features Adrienne Young (Sky In the Deep).
---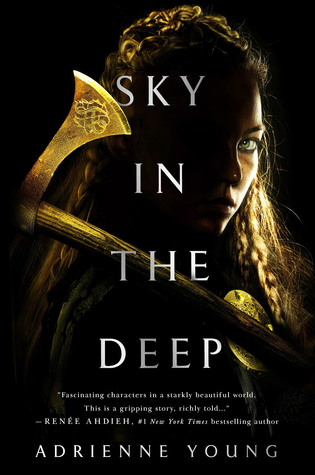 Sky In the Deep by Adrienne Young
April 24, 2018 from Wednesday Books
Add to Goodreads | Author Website
OND ELDR. BREATHE FIRE.

Raised to be a warrior, seventeen-year-old Eelyn fights alongside her Aska clansmen in an ancient rivalry against the Riki clan. Her life is brutal but simple: fight and survive. Until the day she sees the impossible on the battlefield—her brother, fighting with the enemy—the brother she watched die five years ago.

Faced with her brother's betrayal, she must survive the winter in the mountains with the Riki, in a village where every neighbor is an enemy, every battle scar possibly one she delivered. But when the Riki village is raided by a ruthless clan thought to be a legend, Eelyn is even more desperate to get back to her beloved family.

She is given no choice but to trust Fiske, her brother's friend, who sees her as a threat. They must do the impossible: unite the clans to fight together, or risk being slaughtered one by one. Driven by a love for her clan and her growing love for Fiske, Eelyn must confront her own definition of loyalty and family while daring to put her faith in the people she's spent her life hating.
Describe your book in five words or less.

Brutal. Bloody. Introspective. Action-packed.
Tell us about your favorite scene in your book.
I think my favorite scene is the one the title came from. Eelyn is standing on a frozen lake and the ice is reflecting the night sky, making it look like the sky is beneath her. It's the first real moment she realizes that she can't hold on to everything she's ever believed and that when everything's over, she will be different.
Where were you when you found out you were being published?
I was at home. The book went to auction, which means that there was a set day and time when the offers would be submitted. I spent the morning on the phone with my agent going over everything and when I hung up on the final call, my husband and two of my best friends were waiting in the other room with mimosas.
What's your favorite junk food?
Donuts. All the donuts in the world.
What's the oddest thing on your desk right now?
A turtle shell. I love to collect things from the natural world like stones, feathers, insects, or bones!