Adi was a 2014 debut author, with his road trippin' contemporary romance called Let's Get Lost. I love keeping up with our former debuts and seeing what they've been up to since their first book debuted. Let me introduce to you Adi's new book, Never always Sometimes, which comes out on Tuesday, August 4th! Read a little about the book, plus I've included some quotes from the book that I enjoyed to whet your appetite.
---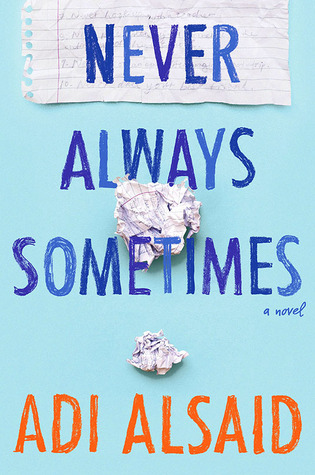 Never Always Sometimes by Adi Alsaid
Published by Harlequin Teen on August 4, 2015
Genres: Young Adult, Contemporary Romance
Amazon • Barnes & Noble • Book Depository • iTunes • Kobo
Add to Goodreads
Never date your best friend

Always be original

Sometimes rules are meant to be broken

Best friends Dave and Julia were determined to never be cliché high school kids—the ones who sit at the same lunch table every day, dissecting the drama from homeroom and plotting their campaigns for prom king and queen. They even wrote their own Never List of everything they vowed they'd never, ever do in high school.

Some of the rules have been easy to follow, like #5, never die your hair a color of the rainbow, or #7, never hook up with a teacher. But Dave has a secret: he's broken rule #8, never pine silently after someone for the entirety of high school. It's either that or break rule #10, never date your best friend. Dave has loved Julia for as long as he can remember.

Julia is beautiful, wild and impetuous. So when she suggests they do every Never on the list, Dave is happy to play along. He even dyes his hair an unfortunate shade of green. It starts as a joke, but then a funny thing happens: Dave and Julia discover that by skipping the clichés, they've actually been missing out on high school. And maybe even on love.
---
Jana's Favorite Quotes
"The sun kept dipping down into the ocean and the lights came on at the harbor, casting sudden shadows on the ground, illuminating the faces that were just a second ago silhouettes. The sky was golden and purple, the ocean a darker shade of violet."
"The Best you can ever do is to leave the world a little better than you found it."
"No point in living a life less ordinary if you don't know what the other side looks like.
"We are more or less kind, or more or less not. More or less selfish, happy, wise, lonely. Just like things are rarely always true, we aren't ever exactly one thing or another. We are more or less.

It's like that in out love lives too. We like to think we're formulas that even out exactly, that we are perfect matches with each other. But we're not. We match up with lots of people, more or less."
"People were always belittling teenage heartbreak. But heartbreak was heartbreak was heartbreak."
---
About the Author
Adi Alsaid was born and raised in Mexico City, then studied at the University of Nevada, Las Vegas. While in class, he mostly read fiction and continuously failed to fill out crossword puzzles, so it's no surprise that after graduating, he did not go into business world but rather packed up his apartment into his car and escaped to the California coastline to become a writer. He's now back in his hometown, where he writes, coaches high school and elementary basketball, and has perfected the art of making every dish he eats or cooks as spicy as possible. In addition to Mexico, he's lived in Tel Aviv, Las Vegas, and Monterey, California. A tingly feeling in his feet tells him more places will eventually be added to the list. Let's Get Lost is his YA debut.