Welcome to my stop along the blog tour for The Marked Girl by Lindsey Klingele, hosted by The Irish Banana Review! FYI, this is Lindsey's debut novel and counts towards the 2016 Debut Author Challenge!
The book cover for The Marked Girl is so beautiful, and I love the colors. I thought it would be fun to pick out makeup in those colors and put together a pretty look for my stop today. See what I chose, and then read more about the book and the author below.
---
Eyes
Video tutorial, pictures, and supplies found here.
Lips
Revlon Ultra HD Matte Lipcolor / Color: HD Addiction
Nails
Fingernails: Julep / Color: Jocelyn / Classic with a Twist  / Finish: Shimmer
Description: Cranberry shimmer with holographic microglitter
Toenails/Accent fingernail: Julep / Color: Cher / May birthstone (Emerald) / Finish: Shimmer
Description: Emerald iridescent shimmer
—
I'm obsessed with green eyeshadow, and always wear it myself because it makes my green eyes pop and highlights the gold flecks. I loved this eye makeup combination as soon as I saw it. The green matches the green on the cover, and the smoky accents give off a feeling of fantasy and mystery just like the book does.
I love bold, saturated nail colors and if there's glitter involved I'm even more excited. These two colors go very well together and match the book cover perfectly. I'm not sure if I would use one color for my fingers and one for my toes, or if I would use the Jocelyn color predominately and Cher for accent nails.
I actually own this lipcolor, and it is AMAZING. It goes on so silky and thick without feeling heavy, and the color is gorgeous. How pretty does it look with the eye color? I love this look, and want to buy everything I don't have so that I can re-create it myself.
What do you think of my choices? Would you wear any of these colors/products?
---
The Marked Girl by Lindsey Klingele
Series: Marked Girl #1
Published by HarperCollins on June 7, 2016
Genres: Fantasy, Time Travel, Romance
Add to Goodreads
Amazon • B&N • IndieBound • iBooks • Book Depository
Once upon a time, in a land far, far away (Los Angeles)…

When Cedric, crowned prince of Caelum, and his fellow royal friends (including his betrothed, Kat) find themselves stranded in modern-day L.A. via a magical portal and an evil traitor named Malquin, all they want to do is get home to Caelum—soon. Then they meet Liv, a filmmaker foster girl who just wants to get out of the system and on with her life. As she and Cedric bond, they'll discover that she's more connected to his world than they ever could've imagined…and that finding home is no easy task…
---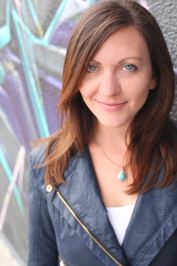 About Lindsey Klingele
Lindsey Klingele grew up in Western Michigan, where she read every book she could get her hands on. She eventually moved to Los Angeles (the real land of make believe) and worked as a writers' assistant for TV shows such as THE LYING GAME and TWISTED. She still loves living in LA, especially since it's home to great television shows, truly excellent cheeseburgers, and her pitbull, Bighead.
---
Tour Schedule:
6/13: Two Chicks on Books – Q&A
6/14: Across the Words – Review
6/15: The Bookkeeper's Secret – Graphic Art
6/16: Charmingly Simple – Review
6/17: Bibliobibuli YA – Q&A
6/20: The Book Cellar – Review
6/21: That Artsy Reader Girl – Makeup Inspirations
6/22: I Am Shelfless – Review
6/23: The Irish Banana Review – Top 10
6/24: Fiction Fare – Review