The Debut Dish, a Debut Author Challenge feature, is where you go for the scoop on some pretty awesome debut authors and their new books! Hopefully these interviews will inspire you to add many, many more books to your to-read list. Because, really, who doesn't need more books in their lives?
---
Whole in the Clouds by Kristine Kibbee
November 7, 2014 from illusio & baquer
Add to Goodreads
Cora Catlin is a misfit at best, and an outcast at worst. She feels out of place, as if everything is backward and something is missing from her life.

And then, on her first day of middle school, everything changes.

When Cora encounters an elfin stranger who speaks of the magical world Clouden, an entire kingdom hidden up in the sky, she can't wait to leave her boring, humdrum life behind. As Cora travels to her new home, where children sprout from the ground and rivers flow with chocolate, she finds herself transformed—and if that weren't enough, she has to adjust to royal parents, talking Pegasuses, a raging war, and an alluring love interest as well.

Exploring this new land, Cora unearths wonders and secrets beyond her wildest imaginings, discovering the meaning of true friendship, love, and what it means to feel whole.
Describe your book in five words or less.
Magic bottled; dreams made real.
Why should readers pick up your book?
Cheesy as it may sound, I feel as if my book is a true escape from the world we live in. As a middle grade reader, I felt very trapped by the confines of a world that seemed backwards and unfair to me. At school, the pretty girls were usually the meanest . . . the athletic, hunky boys picked on the smaller ones. Though I know this is not always the case, as a youngster it helped me to imagine a world where everything was as it should be . . . where everything was as it seemed. I feel that in "Whole in the Clouds", I've given my readers an escape to that world. I've shown them an enchanting, magical, transparent world where they too can live for a time.
What's the best thing about being a debut author?
I believe the best thing about being a debut author is the feeling of hope it gives. Suddenly I feel like I have the key to so many doors that had previously remained locked. The possibilities for the future seem limitless and the knowledge that I will soon be able to share my magical book (and hopefully many more!) with the world is exhilarating!
What's your favorite movie theater candy?
You mean I have to pick just ONE? Well, that's a toughie! I suppose (much as it may be cheating) that I'll have to go with 'Dibs'. I haven't had them in ages but one of our local theaters used to offer them–little chocolate covered dollops of ice cream. I remember that by the time I bought them, settled into a seat, waited for the screen to light up and waded through the previews, the ice cream was just getting soft . . . so that when the anticipation was over and the movie had finally begun, I'd bite into the first one and find ice cream almost explode like a milkshake in my mouth!
What's the oddest thing on your desk right now?
I recently acquired a small, red door with a rounded top and carvings that suggest it may be of Elvin nature. I added it to the back bookcase of my desk, which sits just over my head. I recently told a friend that it's a very exclusive doorway, which only my imagination can enter.
---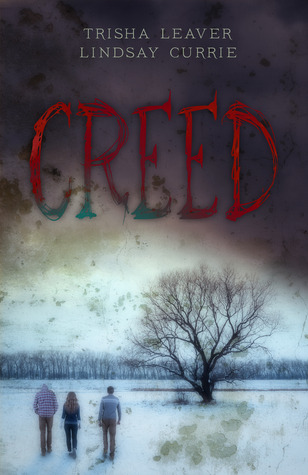 Creed by Trisha Leaver and Lindsay Currie
November 8, 2014 from Flux
Add to Goodreads | Author Website
Three went in. Three came out. None even a shadow of who they once were.

When their car breaks down, Dee, her boyfriend Luke, and his brother Mike walk through a winter storm to take refuge in a nearby town called Purity Springs. When they arrive, the emergency sirens are blaring and the small farming town seems abandoned. With no other shelter, they spend the night in an empty house.

But they soon discover that not everything in Purity Springs is as it seems. When the town's inhabitants suddenly appear the next morning, Dee, Luke, and Mike find themselves at the mercy of the charismatic leader, Elijah Hawkins, who plans to make Dee his new wife. Elijah's son, Joseph, offers to help them escape . . . but the price of his help may be more than Dee and her friends can bear.
Describe your book in five words or less.

Psychological horror with a cult.
Why should readers pick up your book?
Solely based in reality it deals with three normal kids with no "exceptional" talents that find themselves battling an evil that could only exist inside the mind of a crazy man. Essentially…it has the "this could really happen…to me" feel.
What's the best thing about being a debut author?
Connecting with other debut authors who share my passion for writing and meeting teen readers, finding out what their favorite books are, what they are dying to see hit the shelves, and what envision as the perfect book.
What's your favorite movie theatre candy?
Snowcaps, hands down. :)
What's the oddest thing on your desk right now?
A troll statue, aka my muse.
---
A Town Called Dust by Justin Woolley
November 13, 2014 from Momentum Books
Author Website
Stranded in the desert, the last of mankind is kept safe by a large border fence Until the fence falls.

Squid is a young orphan living under the oppressive rule of his uncle in the outskirts of the Territory. Lynn is a headstrong girl with an influential father who has spent her entire life within the walled city of Alice.

When the border fence is breached, the Territory is invaded by the largest horde of undead ghouls seen in two hundred years. Squid is soon conscripted into the Diggers the armed forces of the Territory. And after Lynn finds herself at odds with the Territory's powerful church, she too escapes to join the Diggers.

Together Squid and Lynn form an unlikely friendship as they march to battle against the ghouls. Their journey will take them further than they ever imagined, leading them closer to discovering secrets about themselves, their world, and a conspiracy that may spell the end of the Territory as they know it.
Describe your book in five words or less.

Zombies in post-apocalyptic Australia.
Why should readers pick up your book?
Because it's zombies in a post-apocalyptic Australia! Seriously though I think readers will enjoy the book because of the world and the characters that inhabit it. The Australian desert is a rich landscape that isn't often exploited in fiction but it is the perfect setting for a post-apocalyptic story, just think of Mad Max. In the world of A Town Called Dust the last remnants of mankind battle to survive in the harsh Australian desert only kept safe from the undead ghouls by an enormous fence, until the fence falls.
I guess A Town Called Dust would draw comparisons to books like The Hunger Games, The Knife of Never Letting Go, The Forest of Hands and Teeth, The Enemy and various other post-apocalyptic YA novels so if you like those types of books you'll like this. But that said, it differs from all these books and I hope the outback setting and the world I've built mean it will stand apart while still retaining what is great about the genre. For me, this book is very much the story of the friendship the main characters forge in the midst of the battle facing mankind. The book has wonderful atmosphere, there's some good twists and turns and the ghouls are a fresh take on the zombie/vampire enemy. Plus who doesn't love a good underdog story and basically the whole world's the underdog.
What's the best thing about being a debut author?
It's wonderful that after so many years and so much hard work people are finally going to get to read this story. I'm really looking forward to connecting with readers.
What's your favorite movie theater candy?
Malteasers, they're an Australian candy and I'm not sure if they have them anywhere else around the world. If you don't have them you're totally missing out! Man, now I feel like Malteasers.
What's the oddest thing on your desk right now?
Probably my six month old son's weird rattle that looks like an alien.