The Debut Dish, a Debut Author Challenge feature, is where you go for the scoop on some pretty awesome debut authors and their new books! Hopefully these interviews will inspire you to add many, many more books to your to-read list. Because, really, who doesn't need more books in their lives?
---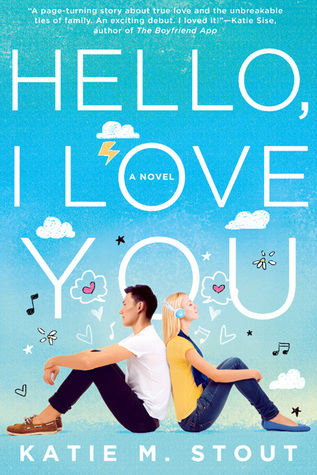 Hello, I Love You by Katie M. Stout
June 9, 2015 from St. Martin's Griffin
Add to Goodreads | Author Website
A teen escapes to a boarding school abroad and falls for a Korean pop star in this fun and fresh romantic novel in the vein of Anna and the French Kiss.

Grace Wilde is running—from the multi-million dollar mansion her record producer father bought, the famous older brother who's topped the country music charts five years in a row, and the mother who blames her for her brother's breakdown. Grace escapes to the farthest place from home she can think of, a boarding school in Korea, hoping for a fresh start.

She wants nothing to do with music, but when her roommate Sophie's twin brother Jason turns out to be the newest Korean pop music superstar, Grace is thrust back into the world of fame. She can't stand Jason, whose celebrity status is only outmatched by his oversized ego, but they form a tenuous alliance for the sake of her friendship with Sophie. As the months go by and Grace adjusts to her new life in Korea, even she can't deny the sparks flying between her and the KPOP idol.

Soon, Grace realizes that her feelings for Jason threaten her promise to herself that she'll leave behind the music industry that destroyed her family. But can Grace ignore her attraction to Jason and her undeniable pull of the music she was born to write? Sweet, fun, and romantic, this young adult novel explores what it means to experience first love and discover who you really are in the process.
Describe your book in five words or less.

American falls for KPOP idol.
Why should readers pick up your book?
Because who doesn't want more swoons in their life?!
If you love romances that are cuter than they are steamy, books set in other countries, YA stories that include parents and siblings, and hate-to-love relationships, then I think you'll like HELLO, I LOVE YOU.
Also, KPOP.
What's the best thing about being a debut author?
There are a lot of awesome things, but I think the coolest part for me so far is having total strangers read the book and connect with it in ways I had dreamed and hoped they would. I remember distinctly an early reader telling me the book made her cry, and that then made me cry. Not to be super corny and lame, but that moment basically made my heart explode with feels.
What's your favorite movie theater candy?
Sour Patch Kids.
What's the oddest thing on your desk right now?
I travel a lot and collect postcards from places I've been, so right now, I've got postcards displayed from Namibia, Northern Ireland, and France.
---
The Night We Said Yes by Lauren Gibaldi
June 16, 2015 from HarperTeen
Add to Goodreads | Author Website
Before Matt, Ella had a plan. Get over a no-good ex-boyfriend. Graduate from high school without any more distractions. Move away from Orlando, Florida, where she's lived her entire life.

But Matt—the cute, shy, bespectacled bass player who just moved to town—was never part of that plan.

And neither was attending a party that was crashed by the cops just minutes after they arrived. Or spending an entire night saying "yes" to every crazy, fun thing they could think of.

Then Matt abruptly left town, and he broke not only Ella's heart but those of their best friends, too. So when he shows up a year later with a plan of his own—to relive the night that brought them together—Ella isn't sure whether Matt's worth a second chance. Or if re-creating the past can help them create a different future.

In alternating then and now chapters, debut author Lauren Gibaldi crafts a charming, romantic story of first loves, lifelong friendships, uncovered secrets, and, ultimately, finding out how to be brave.
Describe your book in five words or less.

Four friends, two crazy nights. (That was hard!)
Why should readers pick up your book?
It has a little bit of everything-excitement, romance, music, friendship, and high fives.
What's the best thing about being a debut author?
Everything is new and exciting. Every email is cause for celebration, ever comment is thrilling. And the community of debut authors is phenomenal.
What's your favorite movie theater candy?
Sour gummy worms (snuck in, shhh).
What's the oddest thing on your desk right now?
A Harry Potter wand. Is that odd? One should always be prepared.
---
Between the Notes by Sharon Huss Roat
June 16, 2015 from Harper Teen
Add to Goodreads | Author Website
When Ivy Emerson's family loses their house—complete with her beloved piano—the fear of what's to come seizes her like a bad case of stage fright. Only this isn't one of her single, terrifying performances. It's her life.

And it isn't pretty.

Ivy is forced to move with her family out of their affluent neighborhood to Lakeside, also known as "the wrong side of the tracks." Hiding the truth from her friends—and the cute new guy in school, who may have secrets of his own—seems like a good idea at first. But when a bad boy next door threatens to ruin everything, Ivy's carefully crafted lies begin to unravel . . . and there is no way to stop them.

As things get to the breaking point, Ivy turns to her music, some unlikely new friends, and the trusting heart of her disabled little brother. She may be surprised that not everyone is who she thought they were . . . including herself.

Debut author Sharon Huss Roat crafts a charming and timely story of what happens when life as you know it flips completely upside down.
Describe your book in five words or less.

When life turns upside down.
Why should readers pick up your book?
Any reason is fine with me! Hopefully readers will relate to Ivy, a musician who suffers from stage fright, who is scared to leave her home and best friend, who is fiercely protective of her disabled brother, who is trying to figure out who she is and where she belongs.
What's the best thing about being a debut author?
The support and encouragement of the YA community has been amazing. I've made so many new author friends, connected with bloggers and readers, and learned so much from everyone. It's a wonderful place to be.
What's your favorite movie theater candy?
Junior Mints.
What's the oddest thing on your desk right now?
Confession: I haven't sat at my desk in weeks. I write outside on the patio under a trumpet vine trellis when it's nice weather, or in a reclining chair, or at the kitchen table. I go to my desk only when I must close the door and shut out my family, which I hate to do. (But will, when a deadline is close.) My 15-year-old son took over my desk to study for finals last week, so it is now covered in Algebra II notes.