The Debut Dish, a Debut Author Challenge feature, is where you go for the scoop on some pretty awesome debut authors and their new books! Hopefully these interviews will inspire you to add many, many more books to your to-read list. Because, really, who doesn't need more books in their lives?
---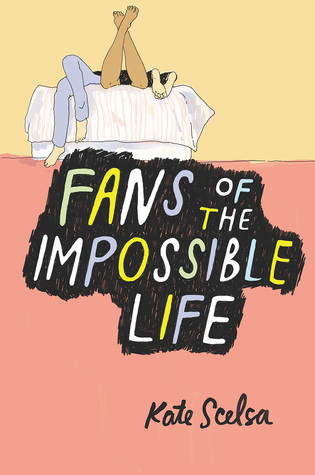 Fans of the Impossible Life by Kate Scelsa
September 8, 2015 from Balzer + Bray
Add to Goodreads | Author Website
This is the story of a girl, her gay best friend, and the boy in love with both of them.

Ten months after her recurring depression landed her in the hospital, Mira is starting over as a new student at Saint Francis Prep. She promised her parents she would at least try to act like a normal, functioning human this time around, not a girl who sometimes can't get out of bed for days on end, who only feels awake when she's with Sebby.

Jeremy is the painfully shy art nerd at Saint Francis who's been in self-imposed isolation after an incident that ruined his last year of school. When he sees Sebby for the first time across the school lawn it's as if he's been expecting this blond, lanky boy with a mischievous glint in his eye.

Sebby, Mira's gay best friend, is a boy who seems to carry sunlight around with him like a backlit halo. Even as life in his foster home starts to take its toll, Sebby and Mira together craft a world of magic rituals and secret road trips, designed to fix the broken parts of their lives.

As Jeremy finds himself drawn into Sebby and Mira's world, he begins to understand the secrets that they hide in order to protect themselves, to keep each other safe from those who don't understand their quest to live for the impossible.

A captivating and profound debut novel, "Fans of the Impossible Life" is a story about complicated love and the friendships that change you forever.
Describe your book in five words or less.

Love and friendship are complicated.
Why should readers pick up your book?
If you like books about the friendships that change us and the friends that help us understand who we are becoming and the things that we get wrong and the way love can save us and the ways that it can't and also thrifting and ritual and glitter and secrets and love, then you should pick up my book.
What's the best thing about being a debut author?
The YA community is so lovely and supportive and just so enthusiastic about books in general, and I've found that to be really inspiring. Getting to meet bloggers and booksellers who are excited about FANS has definitely been the best part of this process.
What's your favorite movie theater candy?
I prefer popcorn, but I wouldn't turn down some M&Ms. And if you want to put the M&Ms in the popcorn then we will be in some salty/sweet heaven!
What's the oddest thing on your desk right now?
There are a lot of odd things on my desk, but the oddest is probably a grey and black bunny figurine that has red eyes. I got him in college when I was taking a class in puppetry. I've never been that good at making things, so my puppets were just weird things I would buy at the drug store. It was around Easter and I guess this guy was supposed to be a festive Easter item, but he's mostly just terrifying. Now he sits and stares at me while I write as a kind of warning. If I don't get my pages done, those red eyes might start glowing a little brighter.
---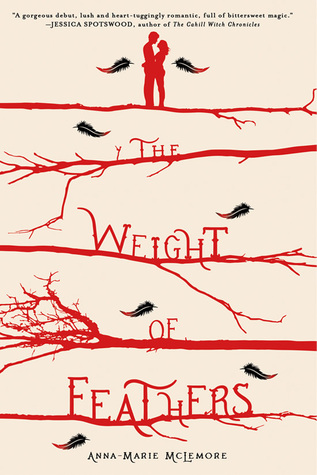 The Weight of Feathers by Anna-Marie McLemore
September 15, 2015 from Thomas Dunne
Add to Goodreads | Author Website
For twenty years, the Palomas and the Corbeaus have been rivals and enemies, locked in an escalating feud for over a generation. Both families make their living as traveling performers in competing shows—the Palomas swimming in mermaid exhibitions, the Corbeaus, former tightrope walkers, performing in the tallest trees they can find.

Lace Paloma may be new to her family's show, but she knows as well as anyone that the Corbeaus are pure magia negra, black magic from the devil himself. Simply touching one could mean death, and she's been taught from birth to keep away. But when disaster strikes the small town where both families are performing, it's a Corbeau boy, Cluck, who saves Lace's life. And his touch immerses her in the world of the Corbeaus, where falling for him could turn his own family against him, and one misstep can be just as dangerous on the ground as it is in the trees.

Beautifully written, and richly imaginative, The Weight of Feathers is an utterly captivating young adult novel by a talented new voice.
Describe your book in five words or less.

A multicultural, magical realism fairytale.
Why should readers pick up your book?
A forbidden romance, a feud between rival families, and a look inside the world of traveling shows.
What's the best thing about being a debut author?
The people you get to meet—publishing industry professionals, fellow authors, book bloggers, booksellers, readers…you meet so many wonderful book lovers!
What's your favorite movie theater candy?
Sour Patch Watermelons.
What's the oddest thing on your desk right now?
A plush Loch Ness Monster. Runner-up is a fuchsia sticky-note dispenser shaped like a heart.
---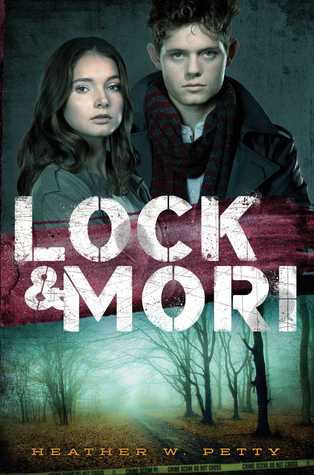 Lock & Mori by Heather W. Petty
September 15, 2015 from Simon & Schuster Books for Young Readers
Add to Goodreads | Author Website
In modern-day London, two brilliant high school students, one Sherlock Holmes and a Miss James "Mori" Moriarty, meet. A murder will bring them together. The truth very well might drive them apart.

Before they were mortal enemies, they were much more.

FACT: Someone has been murdered in London's Regent's Park. The police have no leads.

FACT: Miss James "Mori"Moriarty and Sherlock "Lock" Holmes should be hitting the books on a school night. Instead, they are out crashing a crime scene.

FACT: Lock has challenged Mori to solve the case before he does. Challenge accepted.

FACT: Despite agreeing to Lock's one rule–they must share every clue with each other–Mori is keeping secrets.

OBSERVATION: Sometimes you can't trust the people closest to you with matters of the heart. And after this case, Mori may never trust Lock again.
Describe your book in five words or less.

Nemeses: A Love Story
Why should readers pick up your book?
The book is an origin story for Moriarty and Sherlock, told from the perspective of a 16-year-old, female Moriarty. So, if you like mysteries or Sherlock stuff, or if you've always wanted to see how a teen girl becomes a master criminal in her own words, you should definitely pick up my books. :)
What's the best thing about being a debut author?
For me so far, it's been the people I've gotten to meet, both the S&S BFYR group, which has an incredible publishing team, and the other 2015 debut authors, who are an amazing group of people.
What's your favorite movie theater candy?
Junior Mints.
What's the oddest thing on your desk right now?
I just got a brand new desk, so there is literally nothing but my laptop and a couple of pictures on my desk right now. And a wrapper from my peppermint lifesavers? Does that count? I am completely addicted to individually wrapped peppermint lifesavers. It's ridiculous.