I'm so excited to have Lauren from Bookmark Lit on the blog today to celebrate A Bookish Little Christmas with me! Lauren loves Christmas pretty much as I do, so I was really excited that she wanted to participate this year! She's rounding up some awesome Christmas books today, all of which I've either read or want to read! Hopefully she helps you find your next holiday read.
---
It's no secret that I love Christmas if you follow my blog. I AM one of those people who starts listening to holiday music riiiiight around Halloween. I put my Christmas decorations up somewhere toward the middle of November. I plan a huge holiday TBR each year, sign up for seasonal readathons, and aggressively plan blog posts accordingly throughout December. This year, my first post (a rundown of Netflix, Disney+, Hallmark, etc. Christmas movies releasing in 2019), was posted before November 15th. Hey, if Hallmark is going to debut their new Christmas movies on October 26th, surely I can advertise them before mid-November!
I digress: when Jana announced she was looking for participants for the Bookish Little Christmas this year, I decided I should talk about one of my biggest holiday highlights: BOOKS. I'm a sucker for book covers so I originally planned to chat about those, but I thought it would be good to share some general holiday reading recommendations and highlights from this year's TBR. You can find a number of these on my blog as well, where I did a bit of Christmas in July with 2019 books coming. Without further adoooo….
25 Days Til Christmas by Poppy Alexander | Has there ever been a more perfectly-fitted book cover for a holiday story?! The fact that this looks like an advent calendar – aka a Christmas countdown – matches the title of the book so perfectly. I'm excited to read this one. Also on my 2019 TBR!
Christmas at the Palace by Jeevani Charika | Maybe this cover is a little cheesy looking but for some reason I'm obsessed with it. I haven't read this yet and am not sure I'll get to it this holiday season, unfortunately. I LOVE the font, the snow, the castle, the couple… ugh, perfection!
The Little Bookshop on the Seine by Rebecca Raisin | I love this cover! I think this is slightly more on the winter or New Years side (plot-wise), but don't quote me on that! It's just so cute and has wonderful typography. A bookish holiday story set in Paris?! YES. Also on my 2019 TBR!
Christmas Shopaholic by Sophie Kinsella | I used to love the Shopaholic books but lost steam years ago. I'm really curious to read this one – I have a feeling it will generally stand alone with some recap about the MC's life at the beginning. I ADORE illustrated cover trends and this one is absolutely no exception.
My True Love Gave to Me by Stephanie Perkins and others | I'm a big anthology fan and the Winter and Summer-oriented ones, edited by Perkins, were highly adorable. The covers especially! Also a general TBR recommendation!
The Afterlife of Holly Chase by Cynthia Hand | This book was exactly what I wanted it to be when I read it a couple of years ago. I highly recommend this one, and love the cover! It's simple and dark – not super holiday-ish – but just the right touch of it! It's also based on a Dickens book, so it's a little old-school-looking. Also a general TBR recommendation!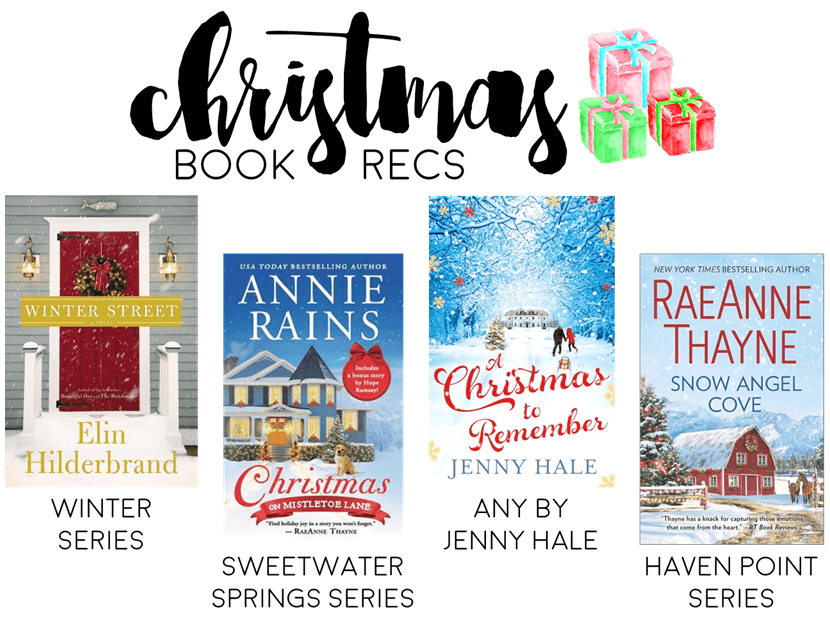 Winter series by Elin Hilderbrand | If you like her other summery stories and would like to see Nantucket at Christmas, give this series a try. I didn't fully LOVE these books, to be perfectly honest, but they're so quick and addicting to read! They're also a bit more on the December/winter side than Christmas but there are some strong holiday feels usually at some point in the stories.
Sweetwater Springs series by Annie Rains | This series has some springtime books as well, which you'll see as a common theme in the "small town romance companion series" trend that I adore so much! The first book, shown here, was lovely, and I'm eager to read this year's Christmas installment!
Any book by Jenny Hale set at Christmas | Yes, they get a little repetitive if you binge-read them, but I recommend reading one of her books RIGHT before Christmas. I always savor them as my last holiday read on Christmas Eve into Christmas Day, because they're the most atmospheric for the holiday. The pictured book is my favorite of hers.
Haven Point series by RaeAnne Thayne | I won't lie: I keep thinking I've reached the last book in this series and she keeps putting new ones out! Not complaining – I ADORE this small town. The book pictured here is the first in the series and like the Sweetwater Springs books, you'll find summertime books mixed in.
Snowfall on Cedar Trail by Annie Rains | Next in the Sweetwater Springs series.
Royal Holiday by Jasmine Guillory | Next in the Wedding Date series, but can be read alone.
Christmas at Silver Falls by Jenny Hale | Her newest 2019 release.
A Wedding in December by Sarah Morgan | I'm on a blog tour for this!
Coming Home for Christmas by RaeAnne Thayne | Next in the Haven Point series.
All I Want for Christmas is You by Miranda Liasson | New series for me!
The Matchmaker's Mistletoe Mission by Jaci Burton | Novella for November's TBR
10 Blind Dates by Ashley Elston | This one sounds amazing!
For more holiday cheer, book reviews, decorations, tags, and more, check out the bottom of this post on my blog (it lists ALL of the holiday-related posts from years past) and here you can see 2018's posts.