Welcome to my stop along the Harlequin Holiday Reads Blog Tour, hosted by Rockstar Book Tours! I absolutely love Christmas books, and this year's line of holiday reads are wonderful! I've read and enjoyed several of them, including The Heart of Christmas by Brenda Novak, which I get to highlight today! Check out my review here. I loved it, and it definitely got me into the holiday spirit.
It's my pleasure to have Brenda Novak on the blog today to tell us all about the ten things she loves about Christmas. She also has a fun giveaway for my readers to go along with the Harlequin-sponsored giveaway of all the books on the tour and some other fun goodies. So basically, this post is full of Christmas goodness!
—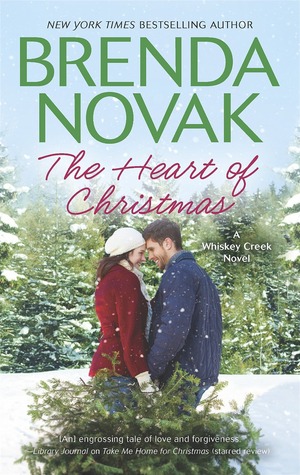 The Heart of Christmas by Brenda Novak
Published by MIRA Books on October 28, 2014
Genres: Romance, Contemporary, Christmas
Pages: 384
Format: Mass Market Paperback
Buy from Amazon • Buy from B&N • Buy from IndieBound • Add to Goodreads
 Eve Harmon has always enjoyed Christmas, but this year it reminds her of everything she doesn't have. Almost all her friends are married now, and that's what Eve wants, too. There's no one in the small town of Whiskey Creek she could even imagine as a husband—until a handsome stranger comes to town.
—
The Ten Things I Love Most About Christmas
by Brenda Novak
1. Christmas Memories. They are some of my best. I will never forget the agonizing anticipation of trying to get through Christmas Eve as a young child. I think that's been the only time in my life when I absolutely couldn't sleep for the tremendous amount of excitement pouring through me. I'll never forget my grandparents (one or the other, since they were divorced), coming to spend the night with us. That changed up our sleeping situation, which put us kids in various beds together. We would squirm and talk and anxiously await dawn—and then we'd get up before the sun only to be sent back to bed until the clock struck six.
2. Dickens Village Pieces. No one loves the Victorian era, or Charles Dickens, quite as much as I do. So I started collecting the Dept. 56 Dickens Village pieces early on. After several years, I couldn't practically store and put out, so I quit adding to the collection. But I still enjoy setting up my village every year. There's something about imagining that era that really gets my imagination going.
3. The hustle and bustle in the air. I love the frenetic activity. Some people eschew the crowds in the mall and on the streets, but I feed off the excitement. Several years ago, we started a tradition of going out very early on Black Friday to grab all the deals we could, and we've had a blast ever since, chasing from store to store with our five children.
4. The food. Need I say more? I think most people will agree with me here. My mother is now in her eighties and can't cook anymore, but I will always remember her big dinners with great fondness. No one can make stuffing the way she could.
5. The lights. I can't say that my husband is quite as excited as I am to drive around and see the lights, but I make him take me. There are certain streets not far from where we live that are famous for their displays. I enjoy getting a cup of hot cocoa and cruising around to take in the beauty.
6. The snow. Okay, this might be stretching it a bit, since I live in California. But I love snow in theory. I love the romanticism of a white Christmas, the beauty of it on Christmas cards (although I'm fine to admire it from afar—LOL).
7. The magic. I know a lot of people complain about the commercialism of Christmas. I'm sure they have a point. There is too much of that. But I also see a great deal of magic happening at this time. The gathering of friends and family builds stronger bonds. We remember associates we haven't spoken to in a long time and take a few minutes to reconnect with a gift, some baked goods or a card. I love that this season causes us to pause and reflect on the things that are most important to us.
8. The gifts. I'd be lying if I said I didn't love the gifts, so I'm going to be honest and include them. LOL
9. The books. There are so many inspiring and uplifting books that come out this time of year. Such stories of sacrifice and forgiveness and community inspire me.
10. The meaning. Peace on earth. Just saying those words makes me feel hope and joy.
—
About Brenda Novak:
Brenda and her husband, Ted, live in Sacramento and are the proud parents of five children—three girls and two boys. She juggles her writing career with her children's softball and soccer games, field trips, carpool runs and homework sessions. Readers can find out more about Brenda at her website.
Find Brenda on Facebook and Twitter
—
Looking for more holiday-themed reads? Click here to discover.
—
Giveaways!
(Each week of the tour holds a separate shared giveaway among that week's tour stops, so make sure to visit stops each week for more opportunities to win)
The Harlequin Holiday Reads prize-pack includes:
– One mass market paperback of each of: Christmas with the Billionaire by Carole Mortimer, Maisey Yates and Joss Wood; Maybe this Christmas by Sarah Morgan; Snow Angel Cove by RaeAnne Thayne; The Heart of Christmas by Brenda Novak; and The Lodge on Holly Road by Sheila Roberts.
– One copy of Her Holiday Man by Shannon Stacey in the digital format of your choice.
– One package of ornament charms
– One box of Harlequin-themed gift tags
To be entered to win an autographed 'Just Likes Mom's' apron from author Brenda Novak, share in the comment section of this post why you think having traditions is an important part of life.