Welcome to my stop along the The Winner's Crime blog tour! I love this trilogy, and am so excited to have Marie on the blog today for a little Q&A! Make sure you enter the giveaway for a hardcover copy of The Winner's Crime as well!
---
TARG: If you wrote yourself into the Winner's trilogy, what kind of character would you be?
MR: I'd probably be Sarsine. I'd be the one telling Arin, "Get your head on straight, will you? I love you, but you're a mess."
But I also feel close to Kestrel in several ways—or at least closer than I've felt with any of my other main characters.
TARG: If you were to give The Winner's Crime a theme song, what would it be?
MR: U2's "With or Without You."
TARG: What already released book do you wish you had written? (Not because it was badly written or anything like that… but because you loved it so much!)
MR: I'm going to choose my favorite recent release: I'll Give You the Sun, by Jandy Nelson.
TARG: Tell us about your most relaxing day ever.
MR: I wake up to the sound of the ocean somewhere warm, preferably in Positano, and lay in bed reading while someone brings me tea and a French apricot pastry. I know that my parents or in-laws are taking great care of my children and they are having a blast. I go down to the beach, swim, read and lie in the sun. When the day gets too hot, I go into the cool interior to write. I take the longest shower ever. I practice the violin for a bit. I go out to dinner with my family and then for drinks down by the dark sea with my best friends. The stars are bright. I can see the Milky Way.
There should be a massage scheduled in there, too.
TARG: Tell us the most unique and/or random thing about yourself.
MR: My spine is slightly crooked. I like to drink plain hot water in winter (I call it "silver tea"). I sometimes have incredibly detailed dreams.
---
Don't you just love Marie? Her perfect day sounds AMAZING, and what great taste in music she has!
So. Time to get excited about The Winner's Crime! If you're brand new to the series, read about the first book, The Winner's Curse. If you feel like tweeting about how excited you are, or how much you love Marie, use #TheWinnersCrime so everyone knows! (Oh, and tweet @marierutkoski and let her know, too!)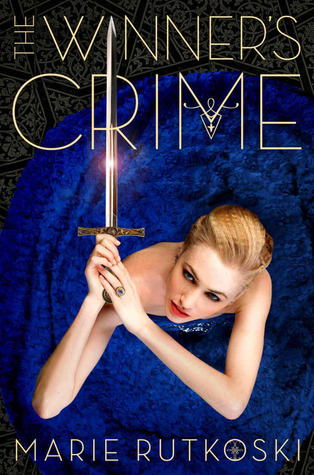 The Winner's Crime by Marie Rutkoski
Series: The Winner's Trilogy #2
Published by Farrar, Straus and Giroux
Genres: Fantasy, Romance, Young Adult
Buy the Book • Add to Goodreads
Book two of the dazzling Winner's Trilogy is a fight to the death as Kestrel risks betrayal of country for love.

The engagement of Lady Kestrel to Valoria's crown prince means one celebration after another. But to Kestrel it means living in a cage of her own making. As the wedding approaches, she aches to tell Arin the truth about her engagement…if she could only trust him. Yet can she even trust herself? For—unknown to Arin—Kestrel is becoming a skilled practitioner of deceit: an anonymous spy passing information to Herran, and close to uncovering a shocking secret.

As Arin enlists dangerous allies in the struggle to keep his country's freedom, he can't fight the suspicion that Kestrel knows more than she shows. In the end, it might not be a dagger in the dark that cuts him open, but the truth. And when that happens, Kestrel and Arin learn just how much their crimes will cost them.
---