Happy book birthday to Harriet Reuter Hapgood and The Square Root of Summer! In celebration of Harriet's debut Macmillan, in partnership with Macmillan UK, has put together and fun time capsule blog tour that focuses on capturing who we are right now. Some of us bloggers chose to answer a series of questions about ourselves in February and again in May to see how we've changed over those three months. Others opted to mail in a physical object that defines them. These objects are showcased over at FierceReads.com, so go take a look.
---
I decided to answer the questions, and I set up two documents so that I could answer in May without seeing what I wrote in February. See how I've changed, and then read a little about this fun, summery book!
What brings you the most joy in life?
February 2016: Turning in a grad school assignment. The earlier, the better.
May 2016: At this very moment, I am feeling joyful because I finished another semester of grad school and feel so much lighter than I have in months.
What are you reading?
February 2016: The Girl from Everywhere by Heidi Heilig and The Girl I Used to Be by April Henry
May 2016: The Crown's Game by Evelyn Skye and Stars Above by Marissa Meyer
What is something you're really looking forward to?
February 2016: Being done with the semester!
May 2016: A relaxing summer with fun trips and tons of time to do what I want.
What is one thing that's worrying you?
February 2016: A marketing assignment for one of my classes.
May 2016: I'm sick right now, and I'm worried it's going to last forever.
What is something that you always have with you?
February 2016: My phone.
May 2016: My phone!
What is something that you wish you could change?
February 2016: Which classes I chose to take this semester.
May 2016: I just got a haircut, and it was cut WAY too short!
---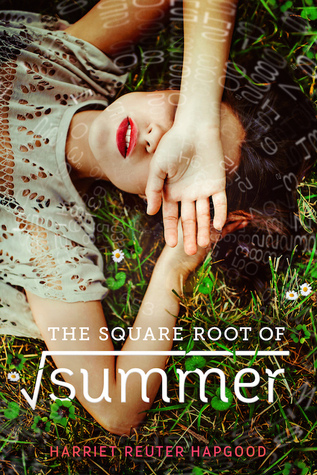 The Square Root of Summer by Harriet Reuter Hapgood
Published by Roaring Brook Press on May 3, 2016
Genres: Romance, Contemporary, Time Travel
Amazon • Barnes and Noble • Add to Goodreads
This is what it means to love someone. This is what it means to grieve someone. It's a little bit like a black hole. It's a little bit like infinity.

Gottie H. Oppenheimer is losing time. Literally. When the fabric of the universe around her seaside town begins to fray, she's hurtled through wormholes to her past:

To last summer, when her grandfather Grey died. To the afternoon she fell in love with Jason, who wouldn't even hold her hand at the funeral. To the day her best friend Thomas moved away and left her behind with a scar on her hand and a black hole in her memory.

Although Grey is still gone, Jason and Thomas are back, and Gottie's past, present, and future are about to collide—and someone's heart is about to be broken.
Join in on social media with #SquareRootofSummer and #thisiswhoIamnow
Visit Harriet's website and follow her on Twitter and Instagram!
And make sure you stop by all the other participating blogs today!
Art, Books, Coffee Blog
Book Briefs
Bumbles and Fairytales
Confessions of a Book Junkie
Manga Mania Cafe
Ticket to Anywhere
The Irish Banana
Firefly Read It
Across the Words
Books and Makeup
Ex Libris Kate
Dark Faerie Tales
Jenuine Cupcakes
Miss Print
Mundie Moms
Nobs Book Reviews
Seeing Double in Neverland
Reading Teen
Starry Eyed Revue
Read Now, Sleep Later
Forever Young Adult
Gone Pecan
Book Rambles
Perpetual Page Turner
Melissa's Eclectic Bookshelf
Twirling Pages
Andi's ABCs
That Artsy Reader Girl
Waste Paper Prose
Evie Bookish
Book Rook Reviews
Fiction Fare
Lady Knight Reads
Book Nerds Across America
Page Turners' Blog
Tripping Over Books
Consummate Reader
Fiktshun
Ageless Pages Reviews
A Perfection Called Books
XPresso Reads
Good Books and Good Wine
Swoony Boys Podcast