I'm happy to welcome Everly Frost, 2016 debut author of Fear My Mortality, to the blog today to share her favorite book covers that feature models with beautiful hair! Following her post, read more about her and her book below. Thanks for stopping by, Everly!
---
Book Covers with Beautiful Hair
by Everly Frost
A while ago, I cut my hair. Not a big deal in the history of the world, except that it ended up far shorter than I'd intended. The main character in my book knows that feeling only too well: she's been waiting her whole life to grow her hair past her shoulders.
Because people in her world (an alternate Earth) can't be killed and live for hundreds of years, they need a way to tell how old a person is. To do that, there's a universal social rule about hair: a person's hair length has to match their age. Children under the age of sixteen aren't allowed to grow their hair past their shoulders and people over a hundred years old are expected to grow their hair past their waist. (This applies to boys as well as girls. Bring on the man buns and dreadlocks a la Thor and Legolas.)
In line with that, I went searching for book covers with beautiful hair – the kind that make me go all heart-eyed and wish I had lovely locks like that.
Here are just a few I found …
Exiled by RaShelle Workman – It's the silvery light reflecting on delicate butterflies that makes this cover so wistful.
Cress by Marissa Meyer – That amazing Rapunzel-style hair just keeps going and going, all entwined with shiny, red ribbon.
Huntress: Life After by Julie Hall – This cover is all about the hair with that gorgeous slash of purple-blue highlighting the layers across the middle.
Throne of Glass by Sarah J. Maas – This is the kind of cover that makes me wish I could stride across a sea of white, deadly weapon in hand and equally deadly locks sweeping behind me.
Nobody's Goddess by Amy McNulty – Everything about this cover is appealing and the hair is simply one more part to love.
Air Awakens by Elise Kova – Sweeping wind and endless grace, I love how the girl's hair is a seamless part of this cover.
And now for the reds – Each of these covers puts red hair front and center, from the rippling waves of Everblue by Brenda Pandos, to the fiery tresses of Fury by Elizabeth Miles, and finally the dark and mysterious locks of Hidden by Sophie Jordan. These beautiful covers really make me miss my long(er) hair.
---
Make sure you grab a copy of Everly's new book, Fear My Mortality, in stores now!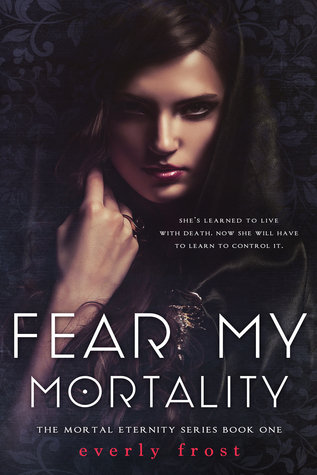 Fear My Mortality by Everly Frost
Series: Mortal Eternity #1
April 5, 2016 from Month9Books
Add to Goodreads
Amazon • B&N • iBooks • Kobo • IndieBound • Book Depository
The future is bright for 16-year-old Ava Holland and the residents of Evereach. They don't have to worry about old age or even getting sick. In their world, humans regenerate, heal, and live for hundreds of years. Mortality isn't something to fear. Disease has been all but eradicated. Everything changes when Ava watches her brother die and he doesn't regenerate. Ava's genetics are called into question by the government, scientists, extremists, and Ava herself. Could her genes hold the answer to mortality? Is she an anomaly or something to be feared? Determined not to become anyone's guinea pig, Ava doesn't stick around to find out. She wants answers too, but the only person who can help her is 17-year-old Michael Bradley, the boy who killed her brother. If either of them have even the slightest chance of survival, they must find the genetic keys hidden in Ava's DNA before it's too late.
---
About Everly
Everly Frost wrote her first story when she was nine. She grew up in a country town, lived for a little while in Japan, and worked for several years in Canberra, Australia's capital city. Now, Everly lives in Brisbane, Australia, with her husband and two children. She doesn't speak Japanese so often anymore, has left the cold Canberra winters behind, but has never stopped writing.
Facebook | Twitter | Website | Goodreads
What do you think of these covers? Can you think of any others that feature beautiful hair?