Welcome to my stop along the blog tour for Sarah Beard's new novel, Beyond the Rising Tide, hosted by Cedar Fort! I feel very honored to be hosting such a special guest post by Sarah, about her life and her book. After her story, read a little bit more about her and her book below.
---
On a hot summer day in 2009, I sat in an oncologist's office and listened to him as he went over the details of my pathology report. His face was grave, his tone careful. He used words like "invasive" and "aggressive" and "a lot of things stacked against you." My diagnosis: breast cancer. My odds of survival: He wouldn't give me numbers, only said the odds were difficult. I went home that day and hugged my three children closer, uncertain and terrified of what the future might bring. They were all under the age of four, and they needed me to live so they wouldn't have to grow up without a mother. So I began the fight. Over the following eight months, I battled cancer through chemo and surgeries and radiation, and never before had I had to tread such a dark and terrifying path. But as hard as it was, it changed me for the better. I saw my world through new eyes, becoming grateful for things I'd never been grateful for before. Such as the ability to do simple tasks like folding laundry, doing dishes, or cooking my family dinner. It reminded me that the most important things in life weren't things at all, but were the people I loved, and I began cherishing every moment with them—every bedtime story, every trip to the park, every mealtime, every conversation and every hug. In due time, I beat cancer. But the lessons I learned have stayed with me, and I am grateful for every day that I can spend with the people I love.
In my YA novel, Beyond the Rising Tide, the two main characters (Kai and Avery) experience a tragedy that forces them to see life in a different perspective and to re-examine what is truly important to them. In fact, Kai is actually dead, so his perception of life is drastically altered. He died saving Avery's life, and when the story begins, it's been six months since his death. He has spent much of those six months watching helplessly as Avery's life is unraveled by his death, and in order to help her, he steals a ring that temporarily gives his body substance. With limited time, he does all he can to restore her life to the way it was before his tragic death, but Kai's half-baked plans rarely turn out the way he thinks they will. The two characters have many challenges to face, but in the end, their challenges make them stronger, bring them closer together, and teach them lessons they could have learned no other way.
It's the same in our lives. When challenges come our way, we can get discouraged and downcast, or we can choose to see the challenge as a way to grow and learn.
---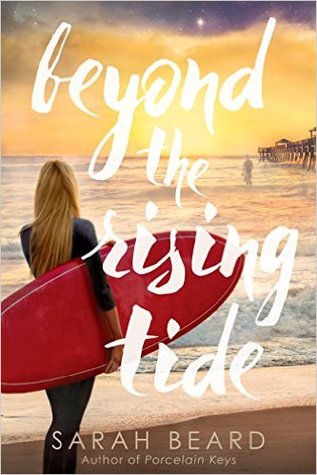 Beyond the Rising Tide by Sarah Beard
Published by Sweetwater Books on June 14, 2016
Genres: Contemporary, Romance
Watch the book trailer!
Add to Goodreads
Amazon
Kai met Avery only once–in the moment he died saving her life. Now when he's not using his new healing powers to help people, he watches helplessly as Avery's life is unraveled by his death. To help her, he risks everything by breaking the rules, dangerously blurring the barriers between life and death.
Praise:
"Vividly imagined, this novel is the perfect mix of modern love story and literary fiction. One brimming with genuine emotion that had me re-reading passages simply because they were too beautifully written to experience just once." –Julie N. Ford, author of With No Regrets
"This book is not only an engaging and satisfying supernatural romance, but also a beautiful story about life, death, and the gray places in between." –E.B. Wheeler, author of The Haunting of Springett Hall
"This is one of those stories that stays with you long after the closing scene. It was beautifully imagined and vividly written and I absolutely loved it!" –Teresa Richards, author of Emerald Bound
---
About Sarah
Sarah Beard is the author of YA novels Porcelain Keys and Beyond the Rising Tide. She earned a degree in communications from the University of Utah and is currently pursuing an MFA in writing from VCFA. When she's not writing, she referees wrestling matches between her three boys and listens to audiobooks while folding self-replicating piles of laundry. She is a breast cancer survivor, a baker of sweets, a seeker of good love stories, a composer of melancholy music, and a traveler who wishes her travel budget was much bigger. She lives with her husband and children in the shadow of the beautiful Wasatch Mountains.