And so begins the official blog tour for Emma Mills's This Adventure Ends, hosted by Fierce Reads! This tour is a LOT of fun, with so many different kinds of posts to celebrate the amazingness that is Emma's sophomore novel! Some of us are posting our easel creations; some of us will be posting reviews of the book; and some of us are hosting interviews, guest posts, and other awesome content! I get to kick things off with my easel!
Inspired by Sloane's adventure searching for the lost piece of art by Gabe and Vera's mother, several of us bloggers on the tour received mini-easels and markers to create our own "This Adventure" pieces of art! We chose the themes, and they are all pretty awesome! My easel is entitled:
This Adventure Travels
I LOVE traveling! I love going on adventures around the world and in the worlds of books. I had to include some of my tickets and souvenirs from my vacations throughout the years in the picture with my easel. I was going to draw a picture of my favorite place in the world, but then I realized I have too many! And there's too many places I still want to go! So I decided to make my picture more broad. If I could, I'd climb in a hot air balloon and travel the world to see all the amazing places and cultures. And, let's be honest… I want to go back to all the places I've already been to as well. Anyone interested in financing this adventure?
What's your favorite place in the entire world? Where would you love to go? And what's your favorite book featuring travel?
---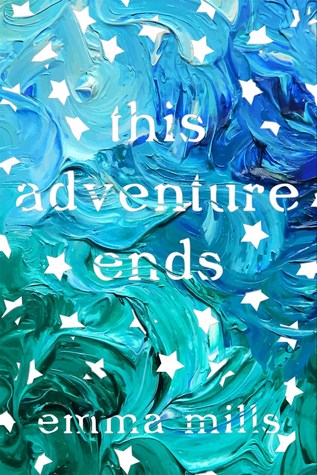 This Adventure Ends by Emma Mills
Published by Henry Holt and Co. Books for Young Readers on October 4, 2016
Add to Goodreads
Amazon • B&N
Sloane isn't expecting to fall in with a group of friends when she moves from New York to Florida—especially not a group of friends so intense, so in love, so all-consuming. Yet that's exactly what happens.

Sloane becomes closest to Vera, a social-media star who lights up any room, and Gabe, Vera's twin brother and the most serious person Sloane's ever met. When a beloved painting by the twins' late mother goes missing, Sloane takes on the responsibility of tracking it down, a journey that takes her across state lines—and ever deeper into the twins' lives.

Filled with intense and important friendships, a wonderful warts-and-all family, shiveringly good romantic developments, and sharp, witty dialogue, this story is about finding the people you never knew you needed.
---
Blog Tour Schedule
9/15 thatartsyreadergirl.com – This Adventure Travels
9/15 crossroadreviews.com – Book Review
9/16 Toofondofbooks.com – Interview with Emma
9/17 avdreader.wordpress.com – This Adventure Paints
9/17 bookrambles.com – Book Review
9/18 whatsarahread.com – Moodboard
9/19 alexalovesbooks.com – This Adventure Explores
9/19 mybookmuse.com – Book Review
9/20 loveisnotatriangle.com – Would you Rather Questions
9/21 Fiercereads.com – This Adventure
9/21 takemeawaytoagreatread.com – Book Review
9/22 gonepecanla.wordpress.com – Emma Guest Post
9/23 supernaturalsnark.blogspot.com – This Adventure Creates
9/23 bookrookreviews.com – Book Review
9/24 skizzles22hu.blogspot.com – Friendship Post
9/25 bookbriefs.net – Book Review
9/26 exlibriskate.com/blog/ – This Adventure Blooms
9/26 fictionfare.com – Emma Guest Post
9/27 booksandmakeup.blogspot.com – This Adventure Inspires
9/27 pageturnersblog.com – Book Review
9/28 yabibliophile.com – Emma Guest Post
9/29 itstartsatmidnight.com – This Adventure Swims
9/29 eaterofbooks.blogspot.com – Book Review
9/30 darkfaerietales.com – Emma Guest Post
10/1 fireflyreadit.blogspot.com – This Adventure Begins
10/1 danasquare.blogspot.com – Book Review
10/2 readwritelove28.com – Emma Guest Post
10/3 swoonyboyspodcast.com – This Adventure Swoons
10/3 curling-up-with-a-good-book.blogspot.com – Book Review
10/4 aperfectioncalledbooks.blogspot.com – Pinterest Board