I'm pleased to kick off the official Five Feet Apart blog tour with this lovely guest post by author, Rachael Lippincott! I didn't know that this story was a screenplay before a book, and that a movie is currently in production. That makes things even more interesting. I have a bit of a personal connection to this story, as someone I care about has cystic fibrosis. It's so nice to get a little background on it, and what inspired its creation before the movie, starring Cole Sprouse and Haley Lu Richardson, hits theaters on March 20, 2019.
---
Rachael Lippincott's Connection to Five Feet Apart
by Rachael Lippincott
To put it simply, this book is the product of the hard work of many, many people. From the screenplay itself, written by Mikki Daughtry and Tobias Iaconis, to Claire Wineland's incredible contributions and spirit, to Justin Baldoni's work as the director of the movie, to my physical writing of it, all of it had this innate desire to raise awareness about Cystic Fibrosis at the very core.
For me, everything started the day I got the screenplay for Five Feet Apart. I poured over the words, finishing it over the course of an afternoon, the story of Will and Stella leaving me filled with a myriad of emotions, from anger to joy to sadness to longing. When I finished, my computer screen was filled with tabs about Cystic Fibrosis and B. cepacia and medical statistics for the disease.
My inspiration started with the screenplay and grew to so much more than that over the course of that afternoon and the coming weeks and months. It became about the real life Wills and Stellas. People like Claire Wineland, who stare CF in the face and inspire so many others to live a life that they can be proud of. It became about a mom in Des Moines with this superhuman perseverance to raise money for the Cystic Fibrosis foundation so that her daughter and so many other CFers can live to see a cure. It became about people that had never heard about Cystic Fibrosis reading Will and Stella's story, or watching it on the big screen, and taking the time to open up google and learn about what the disease is.
I am acutely aware every day that this book could have had anyone's name on the cover next to Mikki and Tobias's. But I was lucky enough to be able to use my greatest passion, writing, to join a team of people committed to raising awareness about Cystic Fibrosis, and I take that very seriously. I can say earnestly that I will do everything I can to raise awareness for CF and I hope beyond all else that Five Feet Apart helps in some small way to bring about a cure.
---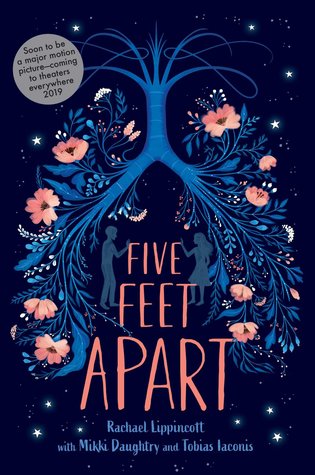 Five Feet Apart by Rachael Lippincott
Original screenplay written by Mikki Daughtry and Tobias Iaconis
Published by Simon Schuster Books for Young Readers on November 20, 2018
Genres: Young Adult Fiction — Contemporary, Romance
Add to Goodreads • Amazon • B&N • Book Depository
Can you love someone you can never touch?

Stella Grant likes to be in control—even though her totally out of control lungs have sent her in and out of the hospital most of her life. At this point, what Stella needs to control most is keeping herself away from anyone or anything that might pass along an infection and jeopardize the possibility of a lung transplant. Six feet apart. No exceptions.

The only thing Will Newman wants to be in control of is getting out of this hospital. He couldn't care less about his treatments, or a fancy new clinical drug trial. Soon, he'll turn eighteen and then he'll be able to unplug all these machines and actually go see the world, not just its hospitals.

Will's exactly what Stella needs to stay away from. If he so much as breathes on Stella she could lose her spot on the transplant list. Either one of them could die. The only way to stay alive is to stay apart. But suddenly six feet doesn't feel like safety. It feels like punishment.

What if they could steal back just a little bit of the space their broken lungs have stolen from them? Would five feet apart really be so dangerous if it stops their hearts from breaking too?
---
About Rachael Lippincott
Rachael Lippincott was born in Philadelphia and raised in Bucks County, Pennsylvania. She holds a BA in English writing from the University of Pittsburgh. She currently resides in Pittsburgh, Pennsylvania, splitting her time between writing and running a food truck with her partner.
The publisher has graciously offered up a copy of Five Feet Apart to a lucky reader of That Artsy Reader Girl!
Blog Tour Schedule
November 12 – That Artsy Reader Girl
November 13 – Vivacious Bibliophile
November 14 – A Gingerly Review
November 15 – Life of a Simple Reader
November 16 – A Glass of Wine
November 17 – Book is Glee
November 19 – Bumbles and Fairytales
November 20 – Adventures of a Book Junkie
November 21 – Jen Ryland Reviews
November 22 – Joyous Reads
November 23 – Chasing Faerytales
November 24 – Folded Pages Distillery
November 26 – Oh, Hey! Books
November 27 – Book Briefs
November 28 – Novel Knight Book Reviews
November 29 – A Dream within a Dream
November 30 – My Guilty Obsession