Interview with Jessica Brody
Can you briefly describe Sky Without Stars and the main characters?
Sky Without Stars is a sci-fi reimagining of Victor Hugo's epic, Les Miserables…set on a distant planet! Basically it's "Les Mis in space!" Here's the short description:
Five-hundred years after the Last Days, an extravagant, elite class reigns supreme on the French-inspired planet of Laterre, but when a shocking murder shakes the foundations of the planet, the fates of three unlikely heroes from very different backgrounds (a thief, an officer, and a guardian) will intertwine as the planet spirals toward revolution.
Dun, dun, DUN! 😊
Who would you say is your favorite character from the story and why?
As much as I probably should say Chatine (inspired by Eponine from Les Mis), because I wrote the first draft of most of her chapters, I think my favorite character is a 13-year-old boy named Roche (inspired by the spunky street urchin, Gavroche in Les Mis). He's a "Fret rat" (meaning he grew up in the Frets or "slums" of Laterre) and an "oublie" (Laterrian term for orphan. In French it literally means forgotten.) But he's so charismatic and has this great upbeat outlook on life, despite his circumstances. He's also quite the negotiator. I perked up every time he entered the scene I was writing!
How did you come up with the idea for the story? Did you find inspiration anywhere?
Back in 2014, I sat in on a retellings class taught by authors Christina Farley and Vivi Barnes. They handed us each a worksheet. On one side they told us to write down any and every classic story we've ever loved. Among many, I wrote "Les Misérables". Then on the other side, they told us to write down a list of interesting settings. Among many, I wrote, "space." (See picture below.) I literally drew a line between the two and a shiver ran through me. Les Mis, set in space? It felt like too big of an undertaking to do alone so years later when my best friend Joanne Rendell told, randomly, that Les Mis was one of her favorite classics, I knew she was the one I had to write it with! And SKY WITHOUT STARS was born!
If you could choose one song to describe your book, which one would it be?
Ooh! Luckily I have countless songs from the Les Mis soundtrack to choose from! Although "On My Own" very much embodies our character Chatine's journey in this story, when it comes to the book a whole, I'd have to say "One Day More." This is the song that marks the middle of the musical, right before the intermission, and it's an ensemble piece where all the characters sing about all the different things they're waiting for and what tomorrow might bring for them. There's a sense of imminent danger in the song, but there's also romance and greed and vengeance and despair, and most of all hope. To me, this the epitome of Les Mis: Danger, romance, greed, vengeance, despair, and hope.
I just hope that we've successfully captured it all in SKY WITHOUT STARS!
What's the best and the worst thing about writing a book with someone else? What are the challenges you guys found while writing Sky Without Stars?
The best is definitely being able to brainstorm with someone else. Jo and I joke that it's like being paid to play dolls. Except the dolls are characters in the story and the "doll house" is a distant planet in a yet-to-be-discovered solar system. We get super into it, acting out scenes, and doing voices, and conjuring up all sorts of dramatic situations for our characters. I've never had so much writing a book in my life. (And I've written more than 15 novels before this!)
The challenge for us has mostly been scheduling and distance. We live 3,000 miles apart on different ends of the country. So we're not able to get together in person as often as we'd like. We rely on modern-day tech like Skype for video chats and Slack for messaging. But we always joke that it would be so great if we lived next door to each other and could hang out and play dolls…er, I mean, write every day together!
Since it is still cold outside, what hot drink do you think would go perfectly with your book?
I would say a nice café au lait (or café crème as they say in Paris!) or chocolat chaud (hot chocolate) to go with the French theme!
Can you recommend any other books in case they are left hungry for more once they finish Sky Without Stars?
Yes! Definitely check out LAST OF HER NAME by Jessica Khoury, which is another sci-fi retelling set in space…this one a retelling of the legend of Anastasia, the lost Romanoff heir! Khoury's world-building and plotting is so magnificent. I could NOT put this book down!
What's next for you?
Joanne and I are about to dive into the revisions of book 2 in the trilogy, BETWEEN BURNING WORLDS. The first draft of that book caused us a LOT of agony and stress (as sequels often do) but in the end, I'm happy with where it is now and can't wait for everyone to find out what happens next on planet Laterre. And yes, as the title suggests, it's pretty explosive!
---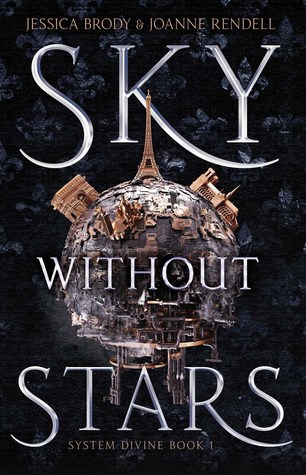 Sky Without Stars by Jessica Brody and Joanne Rendell
Published by Simon Pulse on March 26, 2019
Genres: Young Adult Fiction — Science Fiction, Retelling
Add to Goodreads • Amazon • B&N • Book Depository
A thief. An officer. A guardian.

Three strangers, one shared destiny . . .

When the Last Days came, the planet of Laterre promised hope. A new life for a wealthy French family and their descendants. But five hundred years later, it's now a place where an extravagant elite class reigns supreme; where the clouds hide the stars and the poor starve in the streets; where a rebel group, long thought dead, is resurfacing.

Whispers of revolution have begun—a revolution that hinges on three unlikely heroes…

Chatine is a street-savvy thief who will do anything to escape the brutal Regime, including spy on Marcellus, the grandson of the most powerful man on the planet.

Marcellus is an officer—and the son of a renowned traitor. In training to take command of the military, Marcellus begins to doubt the government he's vowed to serve when his father dies and leaves behind a cryptic message that only one person can read: a girl named Alouette.

Alouette is living in an underground refuge, where she guards and protects the last surviving library on the planet. But a shocking murder will bring Alouette to the surface for the first time in twelve years…and plunge Laterre into chaos.

All three have a role to play in a dangerous game of revolution—and together they will shape the future of a planet.

Power, romance, and destiny collide in this sweeping reimagining of Victor Hugo's masterpiece, Les Misérables.
---
About Jessica Brody
Jessica Brody knew from a young age that she wanted to be a writer. She started self "publishing" her own books when she was seven years old, binding the pages together with cardboard, wallpaper samples, and electrical tape.

After graduating from Smith College in 2001 where she double majored in Economics and French and minored in Japanese, Jessica later went on to work for MGM Studios as a Manager of Acquisitions and Business Development. In May of 2005, Jessica quit her job to follow her dream of becoming a published author.

Since then, Jessica has sold over twelve novels for teens, tweens, and adults including 52 Reasons to Hate My Father, The Karma Club, My Life Undecided, and the three books in the Unremembered trilogy, the first of which is currently in development as a major motion picture by the producers of The Vampire Academy, Zero Dark Thirty, Life of Pi, and Slumdog Millionaire. In 2016, she will release two new contemporary novels, A Week of Mondays (August) and Boys of Summer (April), and in 2017, her debut middle grade novel entitled, Addie Bell's Shortcut to Growing Up, will hit bookstore shelves.

Jessica also writes books for the Descendants: "School of Secrets" series, based on the hit Disney Channel Original movie, Descendants!

Jessica's books are published and translated in over twenty foreign countries. She currently splits her time between California and Colorado.
About Joanne Rendell
Joanne Rendell is the author of three novels and holds a PhD in English Literature. She teaches fiction writing to teens and kids, as well as online writing classes at Udemy.com and Lynda.com. Joanne is a board member for the youth Shakespeare company, New Genesis Productions. With her husband and son, she divides her time between New York City and New Paltz, New York.